Members of a U.S. Army reserve unit that served in Vietnam support each other and their fellow soldiers
Former U.S. Army reservists John Bowen and Steve Whitt, who served together in Vietnam as members of the 319th Transportation Company, have been friends for a long time. Apparently, however, that friendship has its limits – which Bowen discovered when he recently invited his fellow veteran to lunch. He says he offered to drive his friend to the restaurant, but Whitt jokingly said he had no intention of getting in a car with him. 
"Every time we rode together in Vietnam, we got ambushed," Bowen says. 
Otherwise, though, this close-knit group of Central Savannah River Area natives has been a band of brothers since they were activated for service on May 13, 1968. The 138 members reported to Fort Lee, Virginia for four months of training, and they arrived in Vietnam on September 21, 1968. Based in Long Binh, South Vietnam, the five-ton truck company drove more than 1.1 million miles hauling personnel and 92 tons of supplies until returning home August 13, 1969.
"For the last 46 years we've kept everyone together by having reunions every year. We have a big reunion every five years, and we've been told that we're the only group that really keeps everybody together," says Bowen. "When you're in harm's way with someone every day, you become close."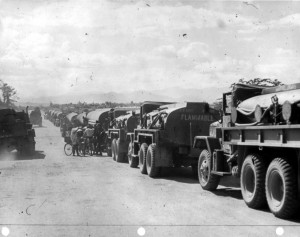 The unit, which was led by Captain Paul Drew Troxler, became known as Troxler's Truckers. They also adopted a roadrunner as their mascot. Involved in seven ambushes and numerous sniper and road mine attacks, the 319th personnel earned three Purple Hearts and 16 Bronze Stars, including three with V for valor. The 319th Transportation Company also earned a Meritorious Unit Commendation for exceptionally meritorious conduct in performance of outstanding service while in Vietnam.
The unit suffered one casualty during its tour of duty with the death of Specialist 5 Roy Miller, and 108 of the "Truckers" still survive today.
"We were just ordinary citizens, and we were thrown together because the unit was activated," says John Trulock, another member of the 319th. "I didn't even have a uniform."
During the 319th's tour in Vietnam, regular Army personnel from other parts of the country filled in with the unit from time to time. However, they belong to the band of brothers as well.
"We Southernized them," says Bowen. "They thought of themselves as part of the 319th."
In fact, some of them have come from across the United States and as far away as Australia to attend the reunions. As part of the reunion each year, the reservists gather at Hillcrest Cemetery and place a wreath on Miller's grave.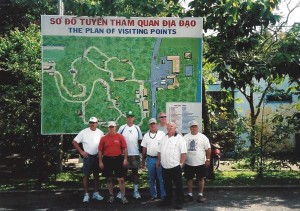 In recent years, the 319th Transportation Company has reached out to other veterans as well. In 2011, for instance, the 319th held a dinner for wounded warriors and the general public. About 60 servers from local restaurants volunteered to work at the event.
Actor Gary Sinise, who played Lieutenant Dan in Forrest Gump, was the guest speaker at the fundraiser. That was the first time Sinise visited Augusta, says Bowen, but he has returned twice since then.
Proceeds supported a joint project of the Augusta/CSRA Habitat for Humanity, Augusta Warrior Project and the 319th to renovate a home in Martinez for wounded warrior and Lakeside High School graduate William Word. "We raised almost $25,000, and that was the seed money to renovate the house," Bowen says.
Members of the unit also volunteer at Thunder Over Augusta, and Bowen says they plan to have another dinner in the future. In addition, he says, reserve units from across the United States that were activated in 1968 and 1969 will have a reunion in Augusta in 2018.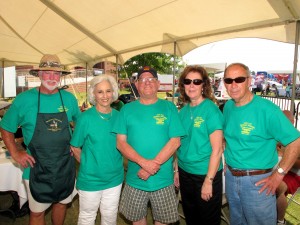 More than 100,000 individual members of the Army Reserve served on active duty each year from 1967 to 1971, many in Southeast Asia. In addition, 35 of the 42 Army Reserve units that were mobilized in 1968 went to Vietnam.
In recent years some members of the 319th have gotten a different perspective of Vietnam. Seven of them traveled together to Vietnam for a visit several years ago. "We followed our footsteps to all of the places we were in combat. There's a fertilizer plant on the site of our company headquarters now. There used to be berms there," says Bowen. "It's a beautiful country, and the Vietnamese people love Americans."