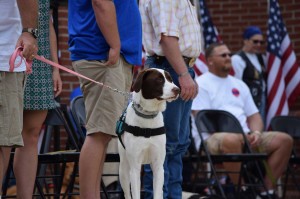 Evans resident Jerry Lyda has trained dogs since he was 12 years old. However, after his father-in-law, who served in Vietnam, died in the mid-1990s, he realized he wanted to help others with his skill.
"My father-in-law died from the effects of Agent Orange, and he had post traumatic stress disorder," says Lyda. "That's when I got to thinking that this is something I can do to help my brothers."
After years of asking questions and learning about incorporating nonprofit organizations, Lyda, who served in the U.S. Navy during the Vietnam era, and his son, Jay, co-founded Veterans K9 Solutions Inc. in 2012. The mission of the organization is to train dogs to rehabilitate veterans with PTSD, traumatic brain injuries or other disabilities.
Some of the soldiers who go through the training program have their own dogs, but others are paired with a dog that has been rescued from a kill shelter.
"The type or size of dog doesn't matter. It just has to have the right temperament," Lyda says. "We match dogs with veterans according to the task the dogs have to perform. To be a service dog, it has to be able to perform at least one task for a disabled person." 
Training classes begin at 7 p.m. Tuesdays and Thursdays beside the Columbia County Courthouse in Evans. "We train outside, but we would love to find an indoor facility so we can train in all kinds of weather," says Lyda.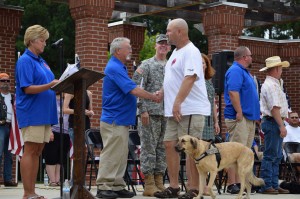 The Charlie Norwood VA Medical Center refers veterans to the program, and many of them have PTSD. Oftentimes, they have lost their families to divorce, suffer from substance abuse or nightmares, or feel overwhelmed in public places. So far, Veterans K9 Solutions, which has two trainers in addition to Lyda and his son, has trained 55 teams of dogs and veterans.
The dogs must pass five skill tests to be certified as a service dog by Veterans K9 Solutions, and in September the organization held its first graduation ceremony at the Columbia County Amphitheater for 36 dogs and their soldiers.
"The service dogs give the veterans an opportunity to lead the quality of life they should be leading," Lyda says.
For more information, visit veteransk9solutions.org or call (706) 231-3856.