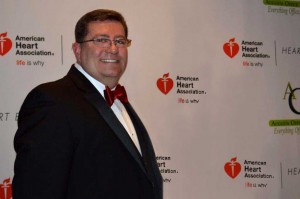 Interim COO of Georgia Regents Medical Center; VP of Partnerships and Strategic Affiliations for Augusta University and its affiliated health system; American Heart Association's 2016 Heart Ball Chairman
Family: Wife Anna; sons Patrick, 16, and Connor, 14
Why I'm Passionate About the Heart Ball: For me, it's very personal. Just nine days after our son, Connor, was born, my wife, Anna, suffered a massive heart attack and spent several weeks in cardiac intensive care. That was tough on our young family, but we survived, and, thankfully, Anna recovered fully. Also, my father has a heart condition. While I support many organizations, the American Heart Association is one that gives so much back to our community. In fact, the AHA provided our university with $4.4 million in funding last year and approved six new grants for our researchers. Plus, their work with women and heart disease is commendable.
Other Community Groups and Charities I Love to Support: I'm very involved with the Columbia County Chamber of Commerce and its mission to support economic development in Columbia County. I support the Family Y of Greater Augusta and its community-minded missions of youth development, social responsibility and healthy living. In addition, I love to support our not-for-profit Children's Hospital of Georgia, a real asset to our community and currently the highest in the nation in quality and safety.
Biggest Career or Life Obstacle I've Overcome and How: I suffered a severe injury while serving in the Marine Corps and faced a long recovery process that included multiple surgeries and significant rehabilitation. Staying positive and taking things one day at a time really helped me overcome it.
Accomplishment I'm Most Proud Of: My two sons; a close second is championing Columbia County's right to have its own hospital.
Favorite Way to Spend Saturday Afternoon: Watching football in the fall and anything that gets me outside in spring and summer
Favorite TV Show: "The Knick"
Favorite Movie: Citizen Kane
Favorite Sports Team: I'm proud to be a Georgia Bulldog 
Favorite Comfort Food: A grilled cheese sandwich
Favorite App: The GPS map on my phone
Last Book Read: Broken Chain by Lisa von Biela
Dream Vacation: I've been fortunate to have traveled extensively throughout Europe and Asia, but I would still like to visit Australia.
Something That Has Changed My Life: Being a husband and a father has changed my life for the better.
Favorite Hobbies: Traveling and golf
Secret Aspiration: To complete the training for my private pilot certificate
Reality Show I Would Totally Win: I don't watch reality shows.
Something People Would Be Surprised to Know About Me: I am a voracious reader of historical biographies. I love history, especially Southern history.