Any day is a good day to give back to the community. However, Augusta University has held a designated Day of Service for a number of years. During the event, AU faculty and staff members, students and their families volunteer for various nonprofits throughout the area. This year's Day of Service will be held from 8 a.m. until 5 p.m. Saturday, September 24.
The event continues to grow in popularity, and about 1,000 people have volunteered their services for more than 40 nonprofit organizations and community partners each of the last two years.
"We're taking advantage of what we do best, and that's giving back to the community," says Karyn Nixon, AU government relations and community affairs specialist.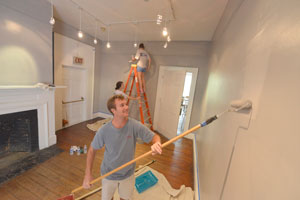 The volunteer opportunities are as varied as the people and organizations that participate. Volunteers can clean or paint buildings, do yard work, mow grass, perform landscaping, pick up trash, sort cans at local food banks, sort clothes and merchandise, walk dogs, play with kittens and puppies clear trails or read books to seniors. Nursing students conduct health screenings at some locations, and student-athletes hold a basketball clinic at the Boys and Girls Club. Volunteers also can play Bingo and hold an ice cream social for veterans at the Georgia War Veterans Nursing Home.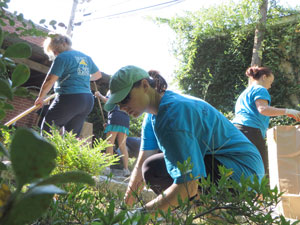 Other places AU volunteers serve include Columbia County Cares, Golden Harvest Food Bank, Phinizy Swamp, Mistletoe State Park, Aiken County Animal Shelter, Lucy Craft Laney Museum and Ronald McDonald House Charities of Augusta. 
"Everybody likes to do something different, but doing anything to help animals is the most popular activity," Karyn says. "I get thank you notes from the organizations. Our volunteers are good workers."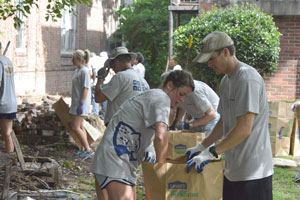 In recognition and appreciation of their efforts, a barbecue and jazz concert will begin at 6 p.m. that night at the university's D. Douglas Barnard Jr. Amphitheatre on the Summerville campus. Dinner will be served to the volunteers, but the concert is open to the community.