Sometimes the best presents of all don't fit under a Christmas tree. Sometimes they come a little early. Anyone who would like to get a jump on the holiday season might consider giving someone on their gift list a memory-making trip to the holiday festivities in one – or all – of these nine mountain towns in western North Carolina. 
Forest City
Through January 6, Main Street will be decked out with millions of lights for "Hometown Holidays." The tradition dates back to 1930 when the town hung its first set of lights on two trees. Now the display centers around the town fountain as lights are suspended overhead and wrapped around the live oak trees. On weekends, visitors can bundle up with a cup of hot chocolate and ride on a horse-drawn carriage or hay wagon through the display of holiday lights.
Chimney Rock
Santa is pretty nimble when it comes to scaling up and down chimneys, but even the most experienced chimney climber needs a little practice before his annual Christmas Eve travels. On Saturday, December 3 and 10, Santa Claus practices his climbing skills on one of the most famous chimneys of all – Chimney Rock. Santa will rappel from the top of the 315-foot Chimney Rock every 30-45 minutes from 11 a.m. until 2 p.m. while spectators gather in front of Cliff Dwellers Gifts for live holiday music, refreshments and children's activities. Santa also will be available for photo opportunities, and Mrs. Claus will serve cookies and hot cocoa.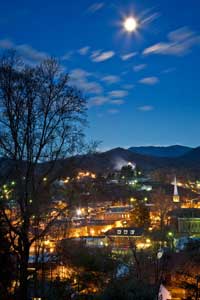 Sylva
Named among the 10 Cleanest Cities in America this year by the travel website Expedia.com, this picturesque mountain village is no stranger to Hollywood. The 1993 blockbuster "The Fugitive" was partially filmed here, and Sylva is where the 2017 (expected release) movie "Three Billboards Outside Ebbing, Missouri" was filmed this past spring. Overlooking Main Street, the most photographed courthouse in North Carolina sits atop a hillside covered with Christmas trees. Visitors can explore the downtown shops and eateries, and they can sample seasonal brews at Innovation Brewing or Heinzelmannchen Brewery. 
Dillsboro
This tiny village just four miles from Sylva has four extra festive nights for its Festival of Lights and Luminaries during the first two weekends in December. In an era of electronic gadgets and LED lights, Dillsboro's celebration is a throwback to simpler times. Adapted from a Scandinavian custom of lighting the way for the Christ child, the festival includes more than 2,500 candles in white bags along the streets. There is no admission charge to the festival, which runs from dusk until 9 p.m. each evening. In addition to the luminaries, Sylva's merchant "elves" trim their buildings – many of them date back to the late 1800s – in traditional white lights. Shopkeepers stay open late and serve coffee, warm cider, hot chocolate and homemade treats to visitors. The festivities also include sing-alongs throughout the town, horse and carriage rides, students strolling the streets in Renaissance costumes and children's art in the courtyard. Santa and Mrs. Claus will set up shop in Town Hall as well.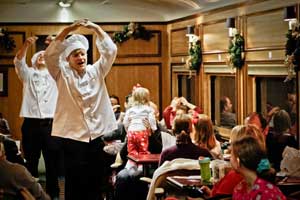 Bryson City
Head to the train depot and hop aboard the Polar Express train to the North Pole on the Great Smoky Mountains Railroad. Through January 8, the 1.25-hour round-trip excursion leaves the train depot for a journey over the river and through the woods to Santa's home. The trip is set to the sounds of the motion picture soundtrack, and riders can enjoy warm cocoa and cookies while they relive the popular story by Chris Van Allsburg. 
More than 70,000 passengers rode the Polar Express last year, and a few special excursions will be available this year on the newly restored steam engine. Santa will board the train when it arrives at the North Pole, and each child will receive a silver sleigh bell.
Coach class ticket prices begin at $42 for adults and $38 for children ages 2-12. Children under age 2 ride at no charge. Crown class ticket costs start at $52 for adults and $38 for children. The cost is $10 for children ages 23 months and younger. First class ticket prices for adults start at $62 and $43 for children ages 2-12. Tickets for children 23 months and younger are $15. Smoky Mountain Trains Museum admission is included with the cost of all train tickets.
A special steam excursion is planned for New Year's Eve. But regardless of which trip you take, don't forget to wear your favorite PJs – even adults wear their jammies, too.
Waynesville
Lighted balls line Main Street, and Holly Days in the first weekend of December kicks off Art After Dark at many downtown galleries. On the second Saturday night in December, an old-fashioned celebration, "A Night Before Christmas," includes caroling, wagon rides, Bethlehem marketplace and luminaries. 
Hendersonville
Boasting the second-largest downtown in the mountains (after Asheville), Hendersonville offers plenty of local stores – including Mast General Store – and restaurants to explore. Stores stay open late for Old Fashioned Christmas on the first Friday in December. 
Brevard
A towering Christmas tree stands guard over the stately courthouse on the town square, and local stores include the popular toy store, O.P. Taylor. The Holiday Twilight Tour will be held 4-8 p.m. on the first Saturday in December, following the 3 p.m. parade. 
Main Street also is home to the quirky Aluminum Tree & Ornament Museum (ATOM), the world's only museum dedicated to vintage aluminum Christmas trees that reached their peak popularity in the 1950s. Dozens of trees and vintage ornaments are displayed in whimsical themes, and color wheels turn to provide a light show. The Atomic Sisterhood will sing original aluminum tree carols at 11:30 a.m. and 1:45 p.m. Saturday, December 3. 
ATOM is the perfect acronym for this museum. After all, the trees were produced during the "atomic age" of the mid-20th century. Millions of aluminum Christmas trees were produced by more than 40 companies in the United States, Canada and Australia from the late 1950s until the early 1970s. The museum is free, but donations are appreciated.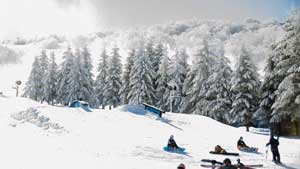 Beech Mountain
If you're dreaming of a white Christmas, then a visit to Beech Mountain might be in order. As the snowiest town in North Carolina, Beech Mountain also is the highest town in eastern America at 5,506 feet. Even if Mother Nature has other ideas and doesn't oblige with a holiday snowfall, the ski resort offers plenty of other winter activities such as tubing and guided snowshoe tours. The Alpine Village features shops, restaurants and a 7,000-square-foot ice skating rink. A free sledding hill for children 12 and under operates next to the town hall from 9 a.m. to 5 p.m. daily, weather permitting. 
For more information, visit romanticasheville.com/christmas-towns.
By Todd Beck