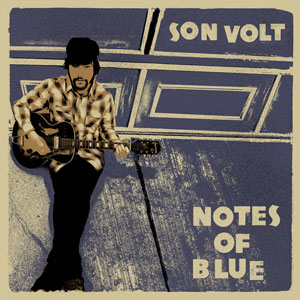 The No Depression genre movement has been a long-standing undercurrent of artists that hail from the outer rim of the Americana Folk galaxy — mixed bag of vagabond troubadours who scour the rust that corrodes the modern blue-collar swagger of Friday nights, beach chairs and overflowing red plastic cups to reveal tones of the true grit that propels the victory and defeat that craft the American dream, leaving no story untold.
Missouri's own Son Volt, fronted by No Depression patriarch Jay Farrar, delivers an authentic soundtrack of heartland blues and crossroad opportunities on their eighth studio release, Notes of Blue. 
Farrar, who was the maple syrup to Jeff Tweedy's gravel in the iconic band Uncle Tupelo, has always taken the reflective route in his songwriting. Channeling the likes of Nick Drake and Woody Guthrie, Notes of Blue delivers a raw account of Farrar's own struggles and victories with identity, purpose and courage with a relatable, gold common thread that accentuates the crushed velvet seats of opportunity as we slow-roll down the streets of life.
Notable tracks include "Promise the World," a galloping march of good advice and lush lap steel guitar, "Cherokee St.," a dusty ol' stomper and "Threads and Steal," a tune that would make Johnny Cash jealous. Notes of Blue or any selection from the Son Volt library is the perfect companion for an autumn road trip or backyard fire pit gathering. 
- Chris Rucker