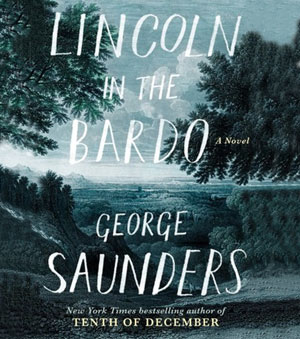 Lincoln in the Bardo is hilariously funny, horribly sad and utterly surprising. If you can fight past an initial uncertainty about the identity of its narrators, you may find that it's the best thing you've read in years. This first novel by acclaimed short-story-writer and essayist George Saunders will upend your expectations of what a novel should be.
The year is 1862. President Lincoln — already tormented by the knowledge that he is responsible for the deaths of thousands of young men on the battlefields of the Civil War — loses his beloved 11-year-old son, Willie, to typhoid. The plot begins after Willie is laid to rest in a cemetery near the White House, where, invisible to the living, ghosts linger, unwilling to relinquish this world for the next. Their bantering conversation, much of it concerned with earthly — and earthy — pleasures, counterbalances Lincoln's abject sorrow.
Saunders takes huge risks in this novel, and they pay off. His writing is virtuosic – and best of all, its highs and lows are profoundly entertaining. You may hear echoes of Thornton Wilder, Beckett and even a little Chaucer, but Lincoln in the Bardo is peculiar and perfect unto itself. Some advice: don't try to read this one in a library. You'll be hooting with laughter when you aren't wiping away your tears.  
- Sarah Harrison Smith