Just in time for beach-reading season, New York Times best-selling author Ann Kidd Taylor releases her warm and vivid new
read more »
The Country Western genre is slowly becoming extinct. What once was a vibrant honky tonk of highway men slinging road-worn
read more »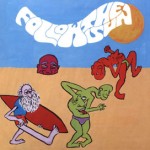 No trip to the pool should be without a perfectly crafted soundtrack — a backdrop of tunes that elicits cannonballs
read more »
Bestselling author John Grisham stirs up trouble in paradise in his endlessly surprising new thriller. Camino Island unspools over one long summer,
read more »
Experiences of life and love, aligned with fables sewn together like a quilt of remnant road stories and pure imagination
read more »
A broken man. A twist of fate. A second chance. From New York Times bestselling author Richard Paul Evans comes the
read more »
In this definitive biography, veteran sportswriter Tom Callahan shines a spotlight on one of the greatest golfers ever to play
read more »
Many of you may remember a quaint music venue and all-around hangout spot on Walton Way called the Red Lion
read more »
Talk about throwing caution to the wind. With Windy City, 27-time Grammy Award winner Alison Krauss has gone solo to
read more »
Lincoln in the Bardo is hilariously funny, horribly sad and utterly surprising. If you can fight past an initial uncertainty about
read more »
In this season of happiness and love, it's always necessary to set the mood. There are classic records through the
read more »
Embrace Hygge (pronounced hoo-ga) and become happier with this definitive guide to the Danish philosophy of comfort, togetherness and well-being.
read more »
In the tradition of The Girl on the Train, The Silent Wife and Gone Girl comes an enthralling psychological thriller that spins one woman's
read more »
Eric Clapton, Ginger Baker, Jack Bruce. If you were into classic rock in the late 60s, you knew them collectively
read more »
New York Times bestselling author Mary Alice Monroe returns to the Lowcountry with another heartwarming novel just in time for the holidays.
read more »