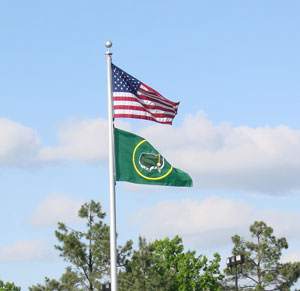 Masters Tournament patrons have a real appreciation for Augusta National Golf Club, so we decided to ask them to tell us about some of their favorite things on and off the golf course. 
1. Allen Fennell, Kingsport, Tennessee (2nd Masters)
2. Eileen Haag, San Diego, California (1st Masters)
3. Mike Yorston, Christchurch, New Zealand (1st Masters)
4. Francisco Basilico, Argentina (1st Masters)
5. Alice Mantz, Virginia Beach, Virginia (1st Masters)
6. Amy McCoy, Atlanta (1st Masters)
7. Christian Stroyberg, London (1st Masters)
8. Katrina Parnaby, Leigh-on-Sea, Essex, England (1st Masters)
9. Don Fuller, Charlotte, North Carolina (20th Masters)
I would like to caddie for _____.
1. Bubba Watson
2. The golfer with the lightest bag
3. Rory McIlroy. I find him exciting to watch.
4. Angel Cabrera
5. That's tough. Either Rory or Spieth, I guess.
6. Jason Day. I probably shouldn't say that because he isn't American.
7. Soren Kjeldsen because I'm Danish, and so is he.
8. Rory McIlroy. He's a Brit.
9. Rory McIlroy
What has surprised you about the Masters?
1. How much it's changed and grown since I was here in 1994.
2. There's no standard bearer walking with the players.
3. The elevations and undulations. That was my biggest gobsmack.
4. The greens speeds and how polite the people are.
5. I had heard it's super-organized and clean, and it is. That's been a nice surprise.
6. How many people are here.
7. It's well organized, and it's beautiful here.
8. It's absolutely beautiful, organized and pristine.
9. I like the elegance and the history. People with dumb haircuts don't holler "You da man."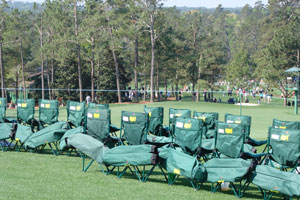 Grandstand or Masters chair?
1. Grandstand
2. Masters chair. I sat in one. It wasn't mine.
3. Grandstand because I don't want to carry the bloody chair around.
4. Masters chair
5. Masters chair
6. Masters chair. We'll get one next time.
7. Masters chair
8. Masters chair. You can pick and choose where you want to sit.
9. I started with the chairs. But I'm 88 years old, so I'm into the grandstands now.
My Masters fantasy is ______.
1. To play
2. To win it
3. To play the course
4. To play
5. To par a hole. Any hole.
6. For my soon-to-be husband to play in the Masters. He loves golf.
7. To see a woman win
8. To shoot a hole-in-one myself. But I've never picked up a golf club.
9. To play. I was the alternate for a foursome once, so I almost fulfilled it.