Englishman Danny Willett capitalized on final-round, back-nine miscues by defending champion Jordan Spieth to win the 2016 Masters Tournament
You have to hand it to the Willett boys. They certainly know how to make an entrance.
Englishman Danny Willett peeled off the white pullover he had worn all day just before tapping in his par putt on the 72nd hole of last year's Masters Tournament to reveal a green shirt underneath. ("I was quite warm," he later explained. "Plus, I thought a little bit of the green looked better than white.") Fittingly, courtesy of his three-shot Masters victory, he also was about to add another piece of greenery to his wardrobe. 
Across the pond his brother, P.J., live-tweeted his way onto the global stage with a series of wickedly witty lines down the stretch of the tournament's final round. ("Green makes you look fat, refuse the jacket," he advised the soon-to-be Masters champion in a show of brotherly love. Who says the Willett brothers aren't fashion conscious?)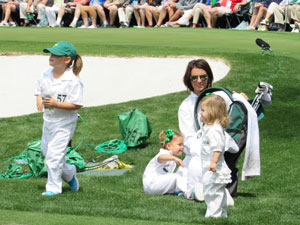 Yet neither brother could have seized his moment in the limelight without the impeccable timing of Danny Willett's newborn son, Zachariah. Due on April 10, aka Masters Sunday, the littlest Willett boy arrived 12 days early ("Hello, world," he said with his debut.) to clear the way for his dad to play in the Masters.
Willett had said he wouldn't play if the baby had not yet been born by the start of the tournament. "Fortunately enough, (he) listened to my prayers and came early," he said. The new father was the last of the 89 players in the field to register, arriving the Monday night before the tournament began. On Sunday night, Willett, who finished the tournament at 5-under-par, was the last man standing after he held off runners-up, Jordan Spieth, the defending champion, and fellow countryman, Lee Westwood. 
"It's just been the most ridiculously awesome 12 days, I guess," Willett said. "Words can't describe what I'm feeling."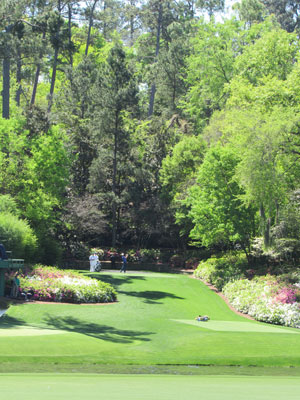 Great Expectations
Last year 20 first-time players, including 14 professionals and six amateurs, were part of the field. The field also included Evans resident Vaughn Taylor, who was playing in the Masters for the first time since 2008, and Aiken's Kevin Kisner, who was making his first Masters appearance. In the weeks leading up to the tournament, expectations were high for the top three players in the world at the time – Jason Day, Spieth and Rory McIlroy. Golfers such as Rickie Fowler and former Masters champions Adam Scott, Bubba Watson and Phil Mickelson were among the favorites to win the year's first major as well. However, as Billy Payne, Augusta National Club Golf and Masters chairman, attested, they were not the only ones who were feeling the weight of expectations during Masters Week.
"Our founders, Bobby Jones and Clifford Roberts, set incredibly high standards as they continuously, obsessively mandated that our tournament be better every year. And believe me, I've learned over the past 10 years that that's a very difficult thing to do," Payne said during his annual Wednesday morning press conference. "But we try very hard to meet the already very high expectations of the players, our patrons, our millions of fans around the world and the press. And hopefully this year will be another very successful year."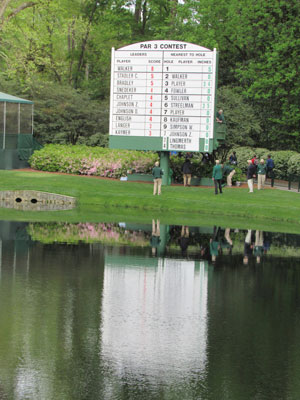 The tournament introduced technological advances such as live broadcasting of Amen Corner in 4K ultra high definition last year, but, said Payne, Augusta National made no major changes to the golf course.
On Wednesday afternoon patrons flocked to the Par 3 Contest, and the players rewarded them with record-breaking performances. Jimmy Walker won the Par 3, setting a scoring record by shooting an 8-under-par 19. Walker's hole-in-one on the second hole was one of nine for the day, which shattered the previous mark of five.
Justin Thomas and Fowler, playing in a threesome with Spieth, had back-to-back aces on No. 4. The gallery good-naturedly booed the defending champion when he couldn't match his playing partners with a hole-in-one of his own. He didn't seem to mind, however. "It might have been the hardest shot I ever had to hit trying to follow them. That was so much fun," Spieth said. "It was fun being the spectator in the group today."
Gary Player, 80, was one of three golfers to ace the seventh hole, making him the oldest person to make a hole-in-one in the Par 3.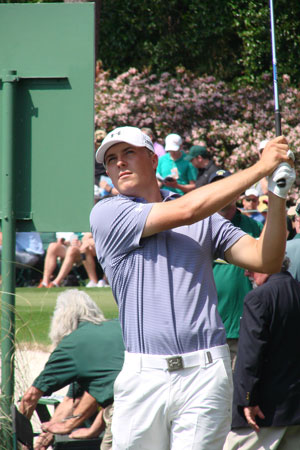 Time-Honored Traditions
The Masters got underway Thursday morning with its customary beginning when honorary starters Jack Nicklaus and Player hit ceremonial drives on the first tee. Even though health reasons prevented him from swinging a club, four-time Masters champion Arnold Palmer, clad in his green jacket, joined them.
"We were delighted to have him there," said Nicklaus. "I think both Gary and I felt it was more about Arnold this morning than anything else, and I think that was just fine."
Player agreed. "It was nice to have him on the tee. I dedicated my first tee shot to him in respect," he added.
Later that morning two-time green jacket winner Tom Watson, playing in his 43rd and final Masters, continued a personal Masters tradition of his own. He placed an egg salad sandwich on the bench at the 13th tee to honor his late caddie and friend, Bruce Edwards. The gesture became a Masters custom for Watson after his caddie died of ALS at age 49 on the morning of the first round of the 2004 Masters.
"He loved to caddie, and he loved to caddie here more than any place in the world," Watson said.
The weather was a factor on the tournament's opening day as blustery conditions, with wind gusts of 30 to 35 mph, confounded players all day long. However, the first round of the 2016 Masters ended just like the finish of the 2015 tournament – with Spieth, who won two years ago in wire-to-wire fashion, atop the leaderboard. He carded a bogey-free 66 to lead the Masters outright for the fifth straight round.
"I would have signed for 2-under today and not even played the round, knowing the conditions that were coming up. Got a lot out of the round with what I felt like was kind of average-ish ball striking," Spieth said.
Willett finished the first round with a share of ninth place, shooting a 2-under-par 70.
The winds continued Friday, and only a foursome of players, including McIlroy, shot under par. All four of them carded a 1-under 71. Spieth shot 74 to maintain a one-stroke lead over McIlroy.
Willett was tied for eighth place and even for the tournament after shooting a 2-over-par 74 in the second round.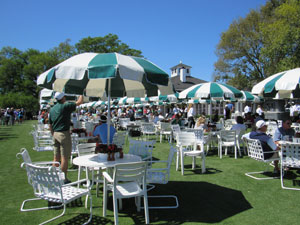 "You look at the conditions. It's not really American conditions, you know," said Willett. "It's tough enough at the best of times, but they try to make it a little trickier, and you put 20 to 30 mile an hour winds in there, and it's brutal. And you've just got to stand there and commit to golf shots and hope that you don't get too many bad gusts on the wrong holes."
At the end of the second round, 57 players made the cut of 6-over-par 150. Tom Watson finished the first two rounds at 8-over to miss the cut by two strokes.
"I've been blessed to be able to play here and have fans," he said after the round. "I hope I entertained some fans here or the patrons here. And I appreciate their applause for me and how they treated me today out there. It was really pretty special."
The Masters got its dream pairing – even though it was a day early – when Spieth and McIlroy played together in the final group on a windy Saturday. The head-to-head matchup didn't live up to the hype, however, after McIlroy shot 77 without a single birdie.
"I was always trying to get something going, and I just couldn't. . . . It was very difficult out there and very difficult to trust what you were doing," he said.
Spieth led at the end of third round after shooting 1-over-par 73, finishing with a bogey on No. 17 and a double bogey on No. 18. He held a one-stroke lead over Smylie Kaufman, who played his way into the final group on Sunday with a 69. Hideki Matsuyama and 58-year-old Bernhard Langer were two strokes behind Spieth, who held the Masters lead for the seventh consecutive round – a tournament record.
"I played better than I scored today," said Spieth. "It was a really tough finish to go from holding a four-shot lead and being in a very similar position to last year to where all of a sudden, now it's anyone's game."
Willett shot 72 in the third round, leaving him at even par for the tournament and, at T5 with Day and Dustin Johnson, three shots behind Spieth.
"I'm kind of expecting to stay five or six . . . back going into the last day, in with a reasonable chance. But you're going to have to do something special," Willett said. "Even if you're hitting it really well, you still got to make putts on these greens."
Ready to Pounce
For the final round Willett was paired with Westwood, who barely qualified for the tournament after sneaking into the top 50 of the Official World Golf Rankings in the last week of December 2015.
"I've played a lot with Lee over the last couple of years since joining (sports management company) ISM. I couldn't have asked for a better pairing, really, for a Sunday in a major when you're both in contention," Willett said.
The winds finally died down on Sunday, and the roars from the gallery, which had been relatively quiet the first three days of the tournament, picked up – especially at No. 16. Shane Lowry, Davis Love III and Louis Oosthuizen had holes-in-one at the par-3 hole. Oosthuizen had the most remarkable ace of the three after his golf ball bumped the ball of his playing partner, J.B. Holmes, on its way into the hole.
"I saw my ball pitch in a good spot to have a chance and then I saw J.B.'s ball and I thought, 'Oh, there goes the chance of a one.' And then I just really watched the crowd and walking up there I could see one was in there obviously really close, and the other one is in," Oosthuizen said. "So I was just hoping that it was my ball that was in and not J.B.'s because then neither of us would have a hole-in-one. He would have had to move his ball back."
Meanwhile, Spieth was birdieing No. 2. He continued his fast start with birdies at holes six through nine, and the one-stroke lead he had to start the final round had ballooned to a five-shot margin.
On the back nine, however, Spieth's round came undone. He bogeyed Nos. 10 and 11 before splashing two shots into Rae's Creek for a quadruple bogey on No. 12, dropping him to 1-under. Suddenly and improbably, the five-shot lead that Spieth had built up on the front nine had turned into a four-stroke deficit after Willett birdied Nos. 13 and 14.
"It's a tough one. I knew the lead was five with nine holes to play. And I knew that those two bogeys weren't going to hurt me," said Spieth. "But I didn't take that extra deep breath and really focus on my line on 12. Instead I went up and I just put a quick swing on it."
Westwood came within a shot of Willett with a chip-in for eagle on No. 15. However, Willett's lead quickly increased to three shots on No. 16 after he hit an 8-iron within five feet of the hole for a birdie. Westwood followed his eagle with a bogey at the 16th hole.
"(Spieth) obviously had a terrible run, 10, 11, 12, which basically put it right back in anyone's hands," said Willett. "And fortunately enough, I was able to seize the opportunities and knock it in close on 16 and take a two- or three-shot (lead) over Westy."
Spieth battled back valiantly to birdie Nos. 13 and 15, but a missed birdie putt on the 16th hole and a bogey at No. 17 squelched his last slim hopes of catching Willett. With pars at Nos. 17 and 18, the Sheffield, England native displayed nerves of steel to finish with a bogey-free 67.
"You never feel comfortable on this golf course until you finish and sign the card and post the number. So yeah, we knew we still had a job to do," he said. "I just feel fortunate that I was in the position that I was able to pounce on the opportunity to accomplish it. If I had been 5-over par, then it wouldn't have mattered what Jordan had done. Fortunately, I was in a position where we were in second place playing quite nicely, and as a result of him doing what he did, we were able to stay in the lead."
As the final golfer in last year's field, Willett's caddie, Jonathan Smart, wore number 89 on his white coverall (the same number that Nicklaus' son, Jackie, wore in 1986 when he looped for his father when he won his sixth green jacket). This year, however, Willett's caddie will wear number 1, which is reserved for the reigning Masters champion.
"It's just crazy, just surreal. You know, words can't really describe the things and the emotion. You're so much involved in what you're doing when you're on the golf course, and you do something special, and it still doesn't sink in quite what you've achieved," Willett said. "I've won a couple of golf tournaments around the world, but this is – this is just a different league. It's a major. It's the Masters."
By Betsy Gilliland