Get close to nature during guided kayak salt marsh tours off South Carolina's Hammock Coast
Off of South Carolina's Hammock Coast, the salt marsh murmurs with rustling grasses, singing birds, spitting oysters, lapping water. The air is so fresh each breeze is like a soft relaxed sigh, every gust an adrenaline-fueled gasp. Light sparkles on water, filters through reeds. 
Here earth and sea mingle to create a muck that houses dozens of creatures and plants that in turn nourish dozens more. Each incoming and outgoing tide churns the water, shifts the current and alters the scenery. Wildlife is more at home here than humans. But you can kayak in and take a peek on a Black River Outdoors salt marsh tour.
The tours set off from Huntington Beach State Park in Pawleys Island, South Carolina, the seat of the Hammock Coast that stretches between Myrtle Beach and Charleston. Each outing is different since weather, time of day, tide level, season and the whims of wildlife all factor into each experience. However, there is one sure bet: You'll get close to nature.
In Good Company 
Another sure thing: It's best to kayak the marsh with a guide. It's too easy to get lost in the tall grasses, plus there are tides and currents to navigate. Black River Outdoors offers a variety of themed tours in different ecosystems, and it's more interesting to share a few hours with someone who knows the area.
"The caliber of our guides is a big thing," says Richard Laurent, owner. "Guides Paul Laurent and Mandy Johnson have deep knowledge of the salt marsh ecosystem as well as local facts, trivia, anecdotes, history and legends. We know the ecosystem, history and social aspects of the area, so we give a pretty well-rounded tour."
Richard maintains a fleet of 100 kayaks for kayakers of all skill levels. "We test a lot of boats. We've found that normally a 12-foot kayak is the sweet spot: It will go straight easily and will turn easily. A shorter boat is swirly and a longer boat takes better skill," he says.
Depending on wind and waves, the amount of exertion needed to paddle the salt marsh shifts in intensity throughout the tour. Longer tours break for a walk about halfway through. "Most people are not comfortable sitting in a kayak for four straight hours," says Richard.For the Birds
On such a walk on a recent tour, Paul pulls out some high-caliber birdwatching equipment. His binoculars and scope zoom in for a closer look at birds soaring overhead and floating on the sea. 
"There's a northern gannet," says Paul, stepping aside to allow kayakers to peer through the scope. Northern gannets are large white birds (adults weigh about seven pounds) with black-tipped wings and butter-yellow heads. They are excellent divers that can plunge from heights of 130 feet to 72 feet deep into the sea and swim even deeper in pursuit of fish. It's rare to see one so close to land.
On birding tours kayakers can see 50 to 100 species of birds, depending on the time of year. The South Carolina Hammock Coast hosts migrating arctic and tropical birds in addition to its residents. "Huntington Beach is kind of a birding mecca," says Richard. "It is considered by many to be the best birding site on the East Coast." On its website, Black River Outdoors lists more than 100 birds spotted during tours including bald eagles, woodpeckers, sandpipers, plovers, ducks, geese, loons, gulls, terns, herons, egrets, raptors and others.
"The neat thing about the birding tour is that you go through many different ecosystems: fresh water lagoon, brackish water lagoon, salt marsh, jetty beach and maritime forest," says Richard. "You see so much variety because different birds are in each of those ecosystems. It's really like five tours in one." 
Mandy points to a little brown bird. "That's a saltmarsh sparrow," she says. "That's one for your life list." She explains that serious birders keep a tally of all the bird species they've identified in their lifetime, and this sparrow is rarer and more special than others since it's limited to salt marshes along the Atlantic and upper Gulf coasts.
When the kayakers float around a bend, they inadvertently spook white egrets and blue herons to wing overhead. A pink bird remains standing in the water, eating. "That's a roseate spoonbill," says Mandy. "Another one for your life list." The pink roseate spoonbill looks like an imaginative combination of a flamingo and pelican, with a rounded beak and jerky stride.
Tours at low tide and high tide have different moods, revealing different creatures. Think jelly fish, hermit crabs, blue crabs, snails, clusters of oysters spitting streams of water into the air, a sea turtle and a dolphin. Each guide can rattle off facts about every creature encountered. Mandy also gives in-depth, more-interesting-than-it-sounds lessons on marsh grass. Paul shares local legends and lore.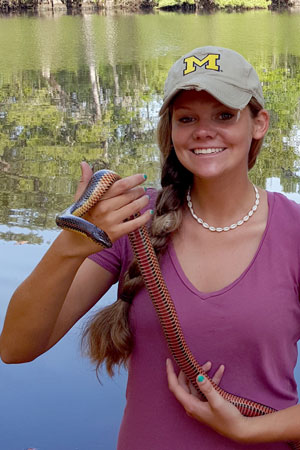 Creatures Great and Small
While the two- and four-hour salt marsh tours rank as the company's most popular, other options include sunrise tours, full moon tours, history tours, fishing trips, cypress swamp tours and a Sandy Island tour.
In the cypress swamp, snakes, turtles and alligators are common sights. "We pick up non-venomous snakes and in 30 seconds or a minute they're calm so we can hand them to interested guests," says Richard. "Kids — and more importantly adults who think they'd never go near a snake — end up holding snakes. We're trying to educate about the reality of wildlife not the mythology; we're raised to be afraid of snakes. This is a wild animal. The true personality of the snake is that it will calm down and lay in arms if you're gentle. Snakes think we're warm squishy trees."
"Our guides' favorite tour is the Sandy Island tour," says Richard. "You go through a cool bog ecosystem with wild orchids, wild iris and carnivorous plants. We land and take a 45-minute walk. There's a very well-hidden path, and depending on rain, there can be several inches of water compressing down the mud. Every time I convince people to wade through it they've all thanked me afterwards."
After all, communing with nature does tend to inspire feelings of thankfulness.
If You Go
What: Black River Outdoors salt marsh tours:
Cypress Swamp Eco-Tour (2- or 4-hour available year-round in the mornings)
Huntington Beach Salt Marsh Eco-Tour (2- or 4-hour available year-round in the mornings; 2-hour evening tours available mid-April through September)
Sandy Island Eco-Tour (4- or 6-hour; available year-round in the mornings)
Georgetown Harbor History Tour (2-hour evening)
Huntington Beach Birding Tour (6-hour kayaking & walking)
Full Moon Eco-Tour (4-hour; available once a month in the evening)
Kayak Fishing Trips (4-hours)
When: Year-round; tour times vary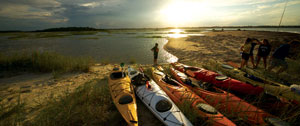 Where: South Carolina's Hammock Coast
How Much: Eco-, history, birding and full moon tour prices are $40 per person for 2-hour, $60 per person for 4-hour, and $80 per person for 6-hour tours ($35/$45/$60 for children age 12 and younger). Fishing trips are $125 per person for groups of two or three; private fishing is $150. Group discounts available, prices subject to change. Reservations required. Tours often sell out. 
More Info: (843) 546-4840 or blackriveroutdoors.com 
By Hope S. Philbrick