Take a five-mile trek through the north Georgia mountains to discover Hike Inn
A journey of a thousand miles begins with a single step, and so, too, does a visit to Hike Inn in Dawsonville, Georgia. Fortunately, however, a mere five-mile trek will get visitors to the front porch of the picturesque inn in the north Georgia mountains. Of course, on foot is also the only way to reach the aptly named Hike Inn.
Trail Mix
The easy-to-moderate trail that leads to Hike Inn begins at the parking area at the top of Amicalola Falls. One of the most popular mountain trails in Georgia, it also is one of the state's most beautiful and diverse. The trail, which takes two to four hours to complete, crosses small streams and traverses mild ridges. Hikers also amble past hickory, pine and oak trees along the way.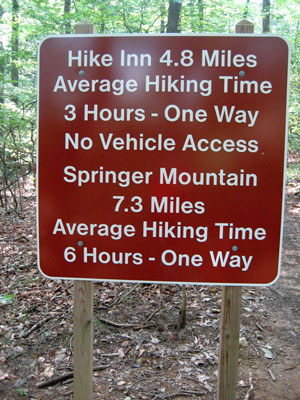 "Some people think that our inn is just for hard-core hikers, but that's not the case," says Eric Graves, executive director of Hike Inn. "We've had visitors as young as 3 and as old as 84. The trail isn't particularly difficult, and visitors can take their time hiking."
Marked by lime green rectangular blazes, the trail is easy to follow. The trail briefly joins with the blue-blazed 4.4-mile Approach Trail that leads to Springer Mountain, the official southern terminus of the famed 2,184-mile Appalachian Trail, and "Backpacker" magazine recognizes it as one of 36 "Best American Hikes."
To reach Hike Inn, which sits on a mountainside in the Chattahoochee National Forest, travelers only need to carry a daypack with toiletries and a camera, of course.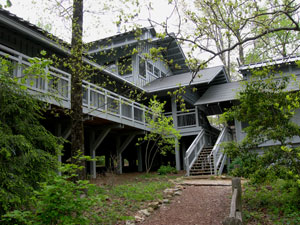 Guests make the trek to Hike Inn for a variety of reasons. Some come to escape the hustle and bustle of their hectic, everyday lives. Others simply want to spend quality time with the friends and family, with a girlfriend getaway or small group outing. More ambitious hikers sometimes make the trip before setting off on the Appalachian Trail. Regardless of their reasons, however, guests find the same relaxing amenities at the end of the trail.
Rustic Comfort
Operated by a Georgia Appalachian Trail Club affiliate and owned by the state Department of Natural Resources, Hike Inn is a sustainably designed state park facility.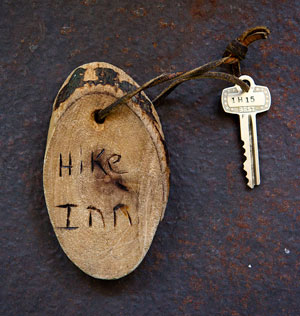 The 20 rustic rooms include bunk beds, linens, blankets, pillows, towels, washcloths, lights, shelves, a sitting stool and a mirror. The bunkrooms also include a number of ways to stay warm or cool, depending on the time of year. While the rooms have electrical lighting, there are no outlets for cell phones, personal computers or alarm clocks. In other words, leave modern technology at home, and enjoy the natural surroundings. Oh, and there is no room service, either.
The lack of room service, however, does not mean that guests don't receive a little well-deserved pampering. Whether guests work up a sweat or an appetite – or both – during their five-mile hike, the inn can take care of each.
The bathhouse, where guests can find a hot shower and a fresh towel, might be the most appreciated amenity at Hike Inn. Separate facilities for men and women include two showers in each section, plenty of sinks for washing up and odor-free, waterless composting toilets. And just in case anyone is undergoing withdrawal symptoms from the lack of outlets in the bunkrooms, the bathhouse has electrical outlets for blow dyers.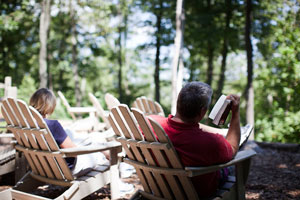 Dinner and breakfast are served family-style at long picnic tables and benches to encourage guests and staff members to get to know one another. Dinner is served at 6 p.m., and it might include chicken, pork or roast beef with vegetables, macaroni and cheese, salad and bread. Desserts and coffee round out the evening meal. Breakfast is on the table at 8 a.m., and the aroma of eggs, grits, sausage or bacon, apple cornbread or biscuits is sure to entice guests from their bunks.
Self-serve beverages are available all day long, and trail lunches are available upon request.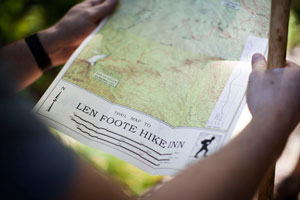 Simpler Times
During some seasons in the evenings, staff members meet guests at the trailhead for a photography or wildflower walk or to listen to nocturnal sounds. After a good night's sleep, some guests take the 8.8-mile round-trip hike to Springer Mountain the next day. 
Of course, not everyone who visits Hike Inn, which is open year-round, comes for nonstop hiking. The Sunrise Room provides guests with a library, board games, puzzles and a cherry wood-burning stove. A wraparound porch offers an eastern-facing view, and many guests – yes, even without their alarm clocks – get up early to enjoy daybreak.
A daily tour at 5 p.m. showcases Hike Inn's sustainable features such as the red wriggler worm composting beds and the recycled barrels that harvest rainwater.
"Part of our mission is to show how buildings and people can have a minimal impact on our environment," says Graves. "Kids love checking out the worm beds that we use for composting. Diners are encouraged to not waste food. We have earned LEED certification for our construction and management practices."
Other evening programs include regional and historical storytelling, discussions about local flora and fauna, and games of "Hike Inn Pictionary" and "Appalachian Trivial Pursuit."
Some people simply prefer to relax in an Adirondack chair on the Sunrise Room porch or at Star Base, a massive granite block formation that channels the rising sun through a cylindrical hole to the back of a small cave behind the formation. Designed by Atlanta's Fernbank Science Center, Star Base marks the extremes of the summer and winter solstices, as well as the four main points of the compass. Both spots offer a view of the Blue Ridge Mountains.
Regardless of the activities they choose to pursue, however, guests simply can enjoy the peace and beauty of the mountains without the distractions of modern life. 
If You Go: 
What: Hike Inn
Where: Dawsonville, Georgia
How Much: From $122 per room for single occupancy; from $175 per room for double occupancy. Prices include dinner and breakfast. Reservations required. All guests must check in at the Amicalola Falls State Park Visitor's Center by 2 p.m. 
More Info: (800) 581-8032 or hike-inn.com
By Todd Beck