Uncork the flavor of North Georgia wine country at the award-winning Wolf Mountain Vineyards & Winery.
There's gold in them thar hills. 
Gold can be found Dahlonega, and it is precious, even if not metal. Look carefully and you can see bright streaks of yellow across the sunset sky, grape clusters dripping like honey from vines, amber leaves rustling in the autumn breeze, and at Wolf Mountain Vineyards & Winery, shiny gold medals hanging off bottles of wine.
Lots of gold medals are there, including the one that Karl Boegner, owner and winemaker, holds most dear: "When you win 'best in class' for sparkling wine at the Los Angeles International," – as he did with his Reserve Brut Rosé – "it pretty much hits the top." Wolf Mountain also has won gold at Tasters Guild International for its Private Reserve Cabernet Sauvignon, Blanc de Blancs Brut and Plentitude blend; San Francisco Chronicle for Claret and Chanteloup blend; the American Wine Society for Claret; and the Atlantic Seaboard Wine Competition for the Instinct blend. Silver and bronze awards raise the winery's overall tally of medals to well past 200. 
Varietals and Blends
Those award-winning wines come from Wolf Mountain's 10 vineyard acres, which were planted by hand in 2000. Construction of the gravity-flow winery was completed the following year. The first 1,000 cases of wine were produced using locally grown fruit in the fall of 2001; the first harvest of estate-grown fruit came a year later. The winery officially opened to the public in the spring of 2003, and in just eight months the first vintage sold out. Though production will always remain limited, due to the hands-on method the Boegner family prefers, production has now reached 5,000 cases a year. 
Fifteen different wine varietals and blends (five sparkling, five red and five white wines) are produced from grapes that are grown on the property and sourced from two local growers. "We do blends primarily because we're in a growing area that is more similar to Europe in that consistent weather is not easy to come by," says Boegner of the challenges of growing grapes on the 1,800-foot elevation of the Dahlonega Plateau. Blending the juice of different grape varietals allows the winemakers (Karl and his son, Brannon) to achieve desired flavors.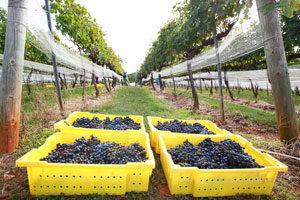 The first batch of sparkling wines was released in 2008. All sparkling wines are created using the traditional methode champenoise, the "French Method" used in Champagne.
"We do things the hard way on purpose," says Boegner. "We're the only winery in the Southeast doing true methode champenoise."
 Every aspect of the sparkling wine manufacturing process is done by hand, which keeps production limited to 1,000 cases a year.
"We started off as a small European-style producer," recalls Boegner. Wolf Mountain's philosophy of winemaking is more European than Californian, incorporating French oak aging with an emphasis on blending grape varietals to achieve more complexity.  "We only use 100 percent vinifera grapes, no hybrids and we don't enjoy making sweet wine," he says.
Boegner cites a focus on hospitality as key to the success of the family business – and it is a family business: Brannon serves as vineyard manager and associate winemaker, daughter Lindsey Smith is hospitality manager, son-in-law Stephen is marketing director and wife Linda oversees weddings.
"I wouldn't have done it without the family's support," Boegner says, though his 45 years of hospitality experience includes stints at Chateau Elan in Braselton, Polo Fields in Cumming, The Atlanta International Wine Festival & Wine Summit competitions and The Roswell Founders Club, among others. Or, as he humbly puts it, "I went in the direction of learning more than I should." He now puts that expertise to use "focused on making sure everybody has a wonderful experience. Our direction is to be Georgia's premier food and wine experience."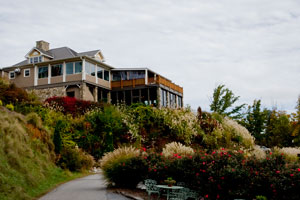 Tastings and Tours
That commitment to hospitality underscores all events, whether it's an educational seminar or a wedding for 200 guests. "Right now we have 60 to 70 private events a year," says Smith. "That can mean three events on a weekend" (Friday, Saturday and Sunday), since only one wedding party is scheduled each day to ensure each bride and groom feels special on the big day. What's more, "We only do evening weddings since we're open to the public during the day," she says. "We feel that when someone gets married it should be a completely private event." 
Couples that love the marriage of food and wine, have a great appreciation for a natural setting and/or want a great blend of the rustic feel of a winery but with elegant, upscale décor are most drawn to choose Wolf Mountain as their wedding venue, she says.
But you need not be getting hitched to enjoy this view of the foothills of the Southern Appalachian Mountains. Just stop by the tasting room (groups of eight or more are asked to make advance reservations). For $15 per person, you can admire the view while sipping a flight of six wines – either a mix of styles or a lineup of sparkling, red or white wines as suits your personal preferences. "We put a focus on education," says Smith. "We pay individual attention to tasters. Our wine stewards spend time with people and go through the tasting of six different wines. By the end, you'll have a good feel for the style of wine we produce and our philosophy of winemaking."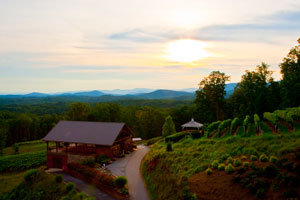 For guests who want an even deeper understanding, guided winemaker tours are offered at 2 p.m. every Saturday and Sunday for $30 per person. "The hour tour starts in the vineyard," says Smith. "Then it's over to processing at the crushpad and the cellar. At the end of the tour, there's an upgraded tasting. You'll really understand the entire process from vine to bottle and everything that goes on in between."
Since wine is often best enjoyed with food, the Vineyard Café is on site to satisfy cravings. "We have one of the best restaurants in north Georgia," says Boegner. Chef Darrin Stegemann's menu serves Mediterranean-inspired dishes with Southern flair. "We're known for gourmet pizzas, Georgia quail sliders, in-house whole-smoked salmon and the variety of specialty items featured on the Sunday brunch menu, where the theme changes each month," says Boegner. Gourmet wine dinners, scheduled periodically, pair wine with upscale fare for four courses.
Visit, taste and enjoy. Whether you raise a glass of golden Chardonnay, sparkling wine or deep red, it will glisten in the mountain light. Cheers!
By Hope S. Philbrick
Photos courtesy of Wolf Mountain Vineyards & Winery