Help herd cows, tend a garden or just retreat from urban noise to a quiet porch at three Georgia ranches. 
Whether you spend your days feeling tied to a desk or wearing down your heels running from one sales call to another, you may find yourself sometimes longing for a simpler time and place. If your escape fantasies from the working world include visions of greener pastures, then a farm stay may be just the vacation you need.
At a farm you can break away from your routine, breathe fresh air and learn something. You can opt for a solo retreat or family getaway, roll up your sleeves and get your hands dirty, or sit back and watch animals graze.
These three ranches offer a glimpse into the cowboy life plus a comfy place to kick off your boots. Yippee Ki-Yay!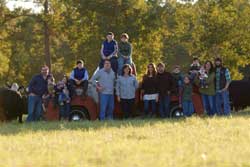 Hunter Cattle Co.
At Hunter Cattle Co., named for the owners' youngest son, you'll quickly be invited to feel like one of the family, whether you help pluck brown leaves from the organic garden and then feed them to a lamb or pull up a chair to join the lunch table and get in on the teasing banter. 
Family-owned and -operated by three generations, this 350-acre farm in Brooklet raises cattle for beef, hogs for pork and chickens for eggs — all without antibiotics, hormones or cages. Other animals such as horses, rabbits, goats, donkeys, turkeys, lambs, ducks and guinea hens roam the pastures as well. The farm is committed to the humane treatment of all its animals.
In the 12 years the farm has been operating, it has grown from a hobby to a business. "We wanted to raise and grow our own food," says eldest daughter Kristan. "Family and friends began asking to purchase our grass-fed beef, and the rest is history." As demand continued to grow, the family expanded operations, eventually adding a processing facility.
Ambitious farm guests can help feed animals, collect and clean eggs, herd livestock, repair fences or tend to the garden. If you're seeking a more leisurely stay, then you can fish in the pond, walk the trails, take a nap or rock in a chair.
Property tours of the pastures, herds, chicken coop, garden, vermiculture beds and other operations will continue to evolve along with the farm itself. "This farm is a work in progress," says Hunter. Don't miss "Moo Ma's Farm Store" to stock up on the farm's own grass-fed beef, pastured pork and free-range eggs as well as products from neighboring farms. "Night on the Farm" events feature live entertainment and dinner.
Stay overnight in the Tobacco Loft or Roost. Both guestrooms are atop an old tobacco barn and outfitted with retro treasures for homey comfort. One overlooks the pasture, one the chicken yard. Rent either room for up to four or six guests or both for a group of up to 10.
After a night of deep sleep awake to the sound of roosters crowing, feeling reinvigorated.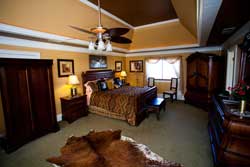 Southern Cross Guest Ranch
At Southern Cross Ranch in Madison you can feel like a ranch hand during the day and pampered royalty at night. Owned and operated by Inge Hartley Wendling and her family since 1991, this horse breeding and sales farm is combined with a 16-room bed and breakfast for hands-on luxury. 
On these 400 acres of rolling green fields and mature woodlands, horses outnumber guests by more than six to one. The philosophy is, "It can't be a horse lover's paradise if it's not a horse's paradise first." Whether you're already a horse fan or want to learn more about them, there's a guest package designed to suit your needs.
Home to nearly 200 Paint and Quarter horses, Southern Cross is best known for its horseback riding opportunities, which include beginners' lessons, guided tours and unguided riding opportunities. Every guest has unlimited opportunities to photograph and interact with horses — the horse barn is never closed so you can interact with horses any time during your stay.
As an overnight guest you can book a package that includes rides or not. Day visitors can join the 9 a.m. and 2 p.m. rides, too, space permitting (reservations required). Before a ride, you'll help groom and tack your assigned horse. Whether you want to take a leisurely ride through lush woods or to canter across open pastures, there's a horse to suit your needs and skill level. "We have horses for every level of rider," says David May, guide. "Every horse a guest rides has first been trained by us for at least a year."
Since the horse you ride as a guest is yours for the duration of your stay (unless you request a change), you'll grow more comfortable each journey on the six miles of trails. Guided rides are in small groups of three to seven riders on average, with riders grouped by skill level. While children under age 4 are not permitted to ride, children age 4 to 9 may ride tandem with an adult.
When not riding, you can enjoy the pool, hot tub, game room, biking and hiking trails, or just sit and gaze out across the pastures. More than two dozen foals are born on the ranch each year from March through May, so it's possible to see a mare giving birth.
Each guestroom is individually decorated in either a Western or Southern theme. All rooms have an upscale vibe and plush furnishings; some boast Jacuzzi tubs, fireplaces and other luxuries. Three meals are served buffet-style in the dining hall every day.
"We're old fashioned," says Karen Roggenkamp, office manager. "You must call to make a reservation because there are so many variables." A package tailored to your needs sets the tone for the gracious hospitality you'll enjoy as a guest.

White Oak Pastures
The livestock at White Oak Pastures in Bluffton roams picturesque land that has belonged to the Harris family for five generations. In its 150 years, the farm has come full circle in its production, moving to and then away from industrialization. "In 1995 we started transitioning the herd and ultimately obtained a production system that is better for the environment, our cattle and the health of the people who eat our beef," says owner/operator Will Harris of his Serengeti approach, which means that large ruminants (cows) in pastures are followed by smaller ruminants (sheep and goats) and then birds (including chickens, turkeys, geese, guineas and ducks), all calmly grazing and pecking.  
White Oak Pastures is the largest certified organic farm in Georgia and the only farm in the United States with both USDA-inspected red meat and poultry abattoirs on site — so these animals are born, raised and slaughtered on the farm. The family takes care to ensure that all of its production practices are economically practical, ecologically sustainable and humane. During a one-hour walking tour, you can see the whole process plus witness egg candling and see the six-acre vegetable garden that was added to the property in 2009. Farm tours are $10 per person for day visitors and free for overnight guests.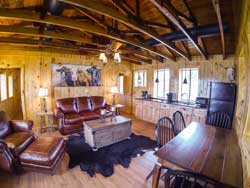 As a guest you can chat with family members, cowboys, butchers, cooks and farm hands. Feast on fresh fare in the dining pavilion, which is open every day for lunch, Wednesday through Saturday for supper and Sunday for brunch. All of the ingredients come straight from the farm.
Overnight guests also can enjoy guided horseback rides, go fishing or kayaking, watch for bald eagles and relax in the picturesque setting. Accommodations opened last August and were "always a dream of mine," says Jodi Harris Benoit, tourism manager. "People would ask for the closest place to stay but there was nothing as cool as our farm." There are now four cabins on the property, each a true rural respite.
Once here you'll never look at food the same way. Before you depart, be sure to visit the farm's on-site shop to stock up on artisan products.
By Hope S. Philbrick