The Victorian Christmas Festival in Thomasville, Georgia celebrates the season with timeless fun. 
Christmas wouldn't be Christmas without its time-honored traditions, but there is always room to add a new custom to the festivities – especially if it conjures up the spirit of Christmases past. A trip to Thomasville, Georgia for the community's Victorian Christmas Festival might be the perfect way to indulge in some old-fashioned holiday revelry.
 The Southeast Tourism Society Top 20 event, which will be held Thursday, December 10 and Friday, December 11, attracts 7,000 to 10,000 people a night. With an atmosphere of family friendly fun that reflects a simpler time, the festival started 29 years ago to revive the city's downtown area.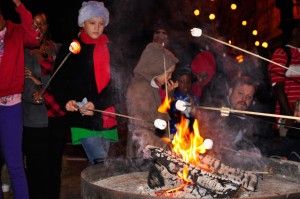 Highlights of the event include carriage rides, marshmallow toasting, chestnut roasting, live musical entertainment, visits with St. Nick and reenactments of Christ's birth at a live nativity scene.
"The festival is a homecoming for so many people, and it just seems to grow every year," says Karen Smith, executive director of Thomasville Main Street and Tourism.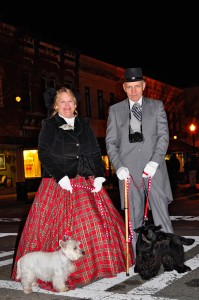 Art and Foal 
With its brick-paved streets and renovated Victorian-era storefronts, downtown Thomasville is the perfect setting for an old-fashioned Christmas celebration. During the festival people clad in Victorian costumes – along with nutcracker, toy soldier and snow queen stilt walkers – will stroll through a six-block downtown area that is closed to traffic.
Some of the new attractions this year include a main stage for the live entertainment, which changes every 30 minutes, and live ice sculpting. In addition, plein air artists will be set up throughout downtown Thomasville.
"The artists will be painting scenes of what they see, and the paintings will be available for sale in the Visitors Center after the festival," says events manager Sarah Turner. 
For the first time this year, festivalgoers also can try to "Stump the Artist," when local artist Rich Curtis creates pen and pencil drawings on demand for $1 to $1.50. 
"People can ask him to draw anything they can think of to see if he can do it," Turner says. "You give him the money, and he gives you the drawing. They can see him draw in real time."
The festival also will feature the world's largest rocking horse, another new attraction this year, to pay homage to a popular Victorian toy. 
The wooden rocking horse measures 18 feet tall and 24 feet long, and people young and old can climb a ladder to rock on the horse adorned with a Santa hat on its head and a garland of poinsettias around its neck. 
For those who prefer a longer equine trek, the 20-minute horse-drawn carriage rides will begin at the historic Thomas County courthouse and travel through the downtown streets.
"The carriages are hand-crafted in south Georgia, and a camera will be set up across the street from our Big Oak downtown to take free pictures as they go by," Smith says. "The oak tree is more than 300 years old, and it will be surrounded by luminaries."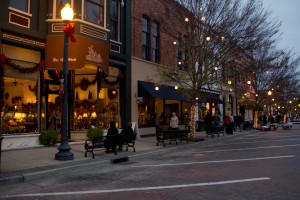 Open for Business
With downtown businesses remaining open both nights, festivalgoers may feel as if they have stumbled into Santa's workshop in the North Pole. The event also will feature a number of outdoor demonstration stations. The crafters, who will sell their wares, will include candle maker Dorcus Miller, candy maker Wes Raley, linocut and printer Janae Easton, and the History Channel's "Forged in Fire" blacksmith Trenton Tye.
Other local shopkeepers will exhibit skills from a bygone era as well. These demonstrations will include the making of waxed canvas and leather goods at Sturdy Brothers, loom weaving inside Wiregrass Gallery and knitting at Fuzzy Goat.
Live freeze models will perform in the large picture windows of The New Image, a local dress shop.
"People can watch them change poses, and it's hard to tell if they are real people or mannequins," says Smith.
Mary Madison Boutique will hold a fashion show each night. Other entertainment on both nights will include Christmas carols played by the musical trio "Revival Railroad" outside of ForeveRetro and a live jazz band performance inside Grassroots Coffee.
On Thursday night a hand bell choir will play inside Trolly's Designer Fabrics, while a book signing featuring Civil War re-enactor James Huffstodt will take place outside The Bookshelf on Friday night.
Christmas face painting will delight the little ones, and Victorian photo cutouts will be set up for fun photo opportunities. Restaurants also will be open, and vendors will sell food and drinks on the streets.
"The festival is a great way to kick off the holiday season," Smith says. "It gets everyone in the Christmas spirit."
By Morgan Davis