Get up close and personal with rescued sea turtles and other marine life at the Georgia Sea Turtle Center on Jekyll Island.
As if sand and sun weren't enough of an excuse to visit the Georgia Coast, Jekyll Island provides an even more compelling lure: The opportunity to help save a life.
At the Georgia Sea Turtle Center, Georgia's only rescue and rehabilitation facility, guests can meet rescued sea turtles with names like Mahi, Waldo and Capt'n Crunch that are being nursed back to health after being found injured or ill.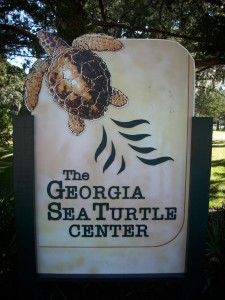 Located in the Jekyll Island Historic District just steps from the historic "cottages" where the nation's rich and famous once came to relax in the seclusion of their own private island, the center also serves as a research hospital and a place where the public can learn more about the turtles. 
There is no typical day at the center, however.
"Sea turtles are a very unique species," says Terry Norton, director and veterinarian. "Having them in our own backyard is something all of us who live on the coast cherish." 
And not just for the delight they bring to anyone who sees one. Sea turtles are ecologically important as well. "Each species fills a different niche," says Norton. "For example, leatherbacks feed on jellyfish, so if the leatherbacks are gone then the jellyfish numbers get larger. Green turtles are herbivores and without them seagrass beds would overgrow; by eating old shoots, green turtles keep seagrass beds healthy and ensure nutrient-rich new shoots are available for other species." Other types of sea turtles feed on sponges and larvae.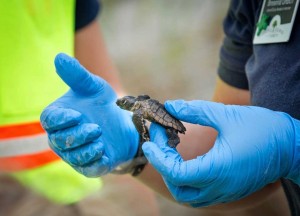 Turtle TLC
One of the most important services that the center, which opened in 2007, provides is tender loving care to turtles in need.
"We have so many patients right now," says Norton. "I'm constantly dealing with animals, going to meetings, multi-tasking."
One of only a few "turtle hospitals" in the United States, the center provides veterinary care for sea turtles along the Atlantic coast. It also conducts research, leads conservation efforts and offers education programs to help protect turtles and their habitats.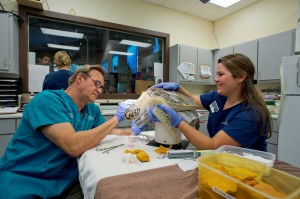 All five sea turtle species that nest in Georgia are threatened or endangered, and the center created and operated by the Jekyll Island Authority is the hub of efforts to save them. "We do a lot of different things," says Norton. "From taking in injured or ill turtles to educating the public, it's a very integrated program."
Health problems commonly faced by sea turtles include debilitated turtle syndrome, boat strike injuries, fishing gear entanglement, ingestion of debris such as plastic bags, starvation, infections and "cold stun" from straying into waters too cold for them to survive. While sea turtles are the focus, the center works with all native turtle species. (It also treats a number of land-dwelling diamond back terrapins that are hit by cars and other creatures including birds.) 
When a turtle arrives, the veterinary team diagnoses health problems through physical examination and diagnostic tests such as blood analysis and x-rays. Every patient's medical record is updated daily with details about activity level, food intake, test results, medications given and more. Treatments may include administering fluids or medications, tube feeding or even surgery, and visitors can watch whatever procedures are being performed at the time of their visit.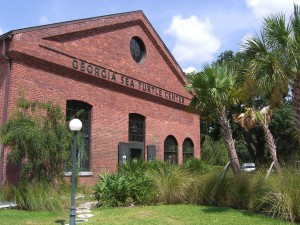 Special Stories
In addition, visitors can explore the interactive Exhibit Gallery where information about sea turtles is shared via displays, signs, film clips, photos, fossils and a window into the treatment room. The Rehabilitation Pavilion, where sea turtle patients reside, is the place to see shelled patients and meet the scientists caring for them. The combination of learning and meeting patients is informative and touching. Additional educational programs are available year-round for guests of all ages.
Norton estimates that 65 percent of sea turtles treated at the center have a happy ending to their treatment when they are released back into the ocean. How well each one fares after that is not known, since not all former patients are tracked. "We track mostly loggerheads," says Norton. "We put a metal tag on the edge of a flipper and microchip in the muscle so we can identify them later on. But satellite transmitters are $5,000, so we can't do it on every turtle, though we've put them on close to 40 since the time we've opened."
Each turtle's story is special, but a few touch even a busy veterinarian. "Gus was a loggerhead sea turtle that had a fish line sticking out of her mouth and back end," Norton says. "We confirmed with ultrasound that she had fishing line going all the way through her and then went in surgically to get that line out. There was no hook associated with it, but we wanted to be sure that we got all the line out and wanted to endoscope her stomach. Once we got her back in the water she was floating because she had a torn lung as well, but she healed up fine and we were able to release her. That was a cool case."
In another memorable case, a boat strike left a sea turtle with an exposed lung. "There was so much marsh mud between the lung and body wall," says Norton. "We used wound therapy, and even with the shell defect, were able to get that lung pulled into place." After about seven months of recuperating at the center, that turtle ultimately was released.
Fortunately, the center has seen a drop in the number of cases related to one tragic issue. "Drowning cases aren't as common now that shrimpers have developed a mitigation strategy," Norton says. "It's a turtle exclusion device that helps turtles get out of nets and it's had a major impact on improving that situation."
People must learn to coexist with sea turtles; it's essential to their future survival. "Caring about wildlife is important so future generations can enjoy them," Norton says.
 If You Go:
What: Georgia Sea Turtle Center
Where: 214 Stable Road, Jekyll Island 
When: Open year-round, excluding holidays. Nightly turtle walks are offered during the nesting months of June and July; August hatchling walks are led at dawn a few times each week.
How Much: $7 for persons age 13 and older; $6 for seniors age 65 and older, active duty military personnel, college students and teachers (ID required); $5 for children age 4-12; free for children age 3 and younger. A behind-the-scenes tour is available for $22 per person.
More Info: (912) 635-4444 or gstc.jekyllisland.com
By Hope S. Philbrick