An Evans couple finds their bliss in their new Riverwood Plantation dream home. 
When Chris and Chip Huffman of Riverwood Plantation decided to build a new home, they didn't have any troubling settling on a neighborhood. In fact, they liked the one where they lived just fine. The Huffmans, who have lived in Riverwood Plantation for nine years, built their new house one street over from their former home. "This is a great neighborhood. We love it," says Chris. "It is super friendly, and we have a lot of close friends who are our neighbors." 
They looked at several lots in Riverwood when they decided to build. However, says Chris, "This lot chose us. It's wide and deep."
The Huffmans moved into their home in the summer of 2016. Chris, the sales and marketing manager for Meybohm Realtors and Winchester Homebuilders, put her new construction experience to work and designed the home herself.
"Our three children are grown, so I designed the house for us," she says. "Everything we need is on the first floor. I wanted to have a place to hang out with our family and friends."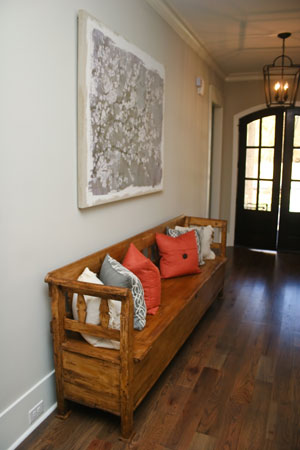 Family Mementoes
Double doors with glass panes beckon visitors into the main hallway. Just inside, a Hungarian settle bench, which includes storage space, lines one wall in the hallway. Chris found the bench at an Atlanta antique market and haggled for the price she wanted. "I negotiate for a living," she says.
Mementoes that span generations sit on top of a chest on the opposite wall. A pair of round, gold wire-rimmed glasses that belonged to their son when he was a boy lie next to a French grammar book, French Reference Grammar and Review Composition. The book was written by Chris' great-grandfather, Paul Linaberry, who was a French professor at Harvard University.
Another piece of family history – a typed note from President Ronald and Nancy Reagan – is framed on a nearby shiplap wall. The note was sent in response to an invitation to the Huffmans' 1984 wedding that Chris' father sent to the president just for fun. No, the Reagans did not attend, but in the note, they congratulated Chris and Chip on their marriage.
Five-inch oak flooring leads into the master bedroom, where Chris and her daughter, Courtney, gave the furniture a new coat of environmentally friendly chalk paint to give it a vintage finish.
"I thought about replacing the furniture, but it's really good, solid, heavy furniture. The paint job was going to be temporary, but it has grown on me," says Chris.
The adjoining master bath features tile flooring, granite countertops, a stand-alone tub, two sinks, a walk-in shower with a pebble stone floor and polished chrome fixtures. "I love the clean look of chrome," says Chris.
The Huffmans also have custom built-ins in their closet, and a stackable washer and dryer in a nook off the master bedroom.
Guiding Lights
While Chris might have surprised herself by deciding to keep the chalk paint on the bedroom furniture, she had definite ideas about some of the features she wanted in the house. For instance, when she first saw the lantern light fixtures that now are above the island in the kitchen, she knew she had to have them. They were the first purchase she made for their new home. "It all started with those lights," she says.
The kitchen also features brushed marble countertops, glass cabinet doors, a subway tile backsplash, black stainless appliances, a convection oven with a microwave and a granite composite sink that is easy to clean. The hood above the stove has an aged, rustic finish.
"I like rustic, but I didn't want everything to be overly rustic," says Chris.
The island includes shelving on one end and storage space, and swivel stools are tucked underneath one side. Chris also decided to put drawers underneath the countertops instead of more cabinets. "A girl can never have too many cabinets, but I hate sticking my head all the way in a cabinet," she says.
The laundry room and walk-in pantry are located off the kitchen. The pantry features a barn door that is as functional as it is attractive because, Chris says, "It doesn't take up space."
Chris also wanted an open floorplan for entertaining, and the kitchen, which flows into the dining area and family room, is the perfect gathering spot for family and friends.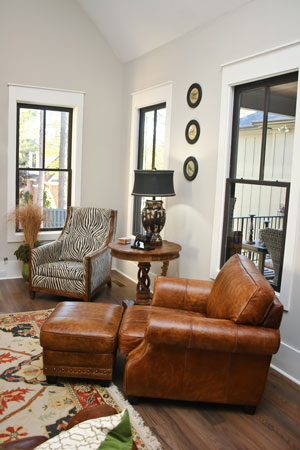 The dining area features a vaulted ceiling, which lends an open, airy feeling to the space. A dough bowl hangs on one wall, and the Huffmans have framed menus from some of their favorite restaurants across the country on the opposite wall. "We started collecting menus from places where we like to eat when we're out of town," Chris says.
The family room has a vaulted ceiling as well. The room also features leather furniture, a drop leaf French table, a TV above the tumble brick fireplace, a ceiling fan, round tables and a coffee table with storage space.
"I built the kitchen and family room for me, and the porch for Chip," says Chris. "I wanted plenty of room to hang out. This is where we gather without being crowded. I want people to come here and feel at home. I'm not formal at all."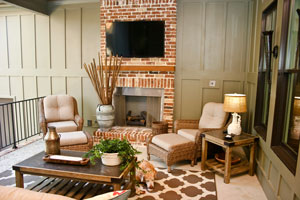 Coming Together
Chip, a sales representative for C&M Equipment in Watkinsville, enjoys as much of his spare time as he can on the back porch. "I'm a huge sports guy," he says. "I love to sit outside watching football and anything else that might be on."
The covered porch includes a TV, a raised hearth gas fireplace, a wine rack against one wall, a ceiling fan and wicker furnishings. Tables on the porch feature slate inlays, and the tongue and groove pine ceiling adds texture to the space. Rock salt that was poured onto the concrete floor give it a textured look, and tumble brick surrounds the flooring. Tumble brick steps lead to the patio as well.
The Huffmans also enjoy the gas tumble brick fire pit in the backyard. "We like to sit by the fire pit with a glass of wine," says Chris. They like to make s'mores on the fire pit as well.
While Chris and Chip each have their own personal space, she admits that, when the house was under construction, she didn't always heed the foolproof advice she gives to her customers. "My biggest challenge was that the builder didn't give me a budget," she says. "Everything I tell my buyers not to do, I did."
She didn't totally abandon her expertise during the building process, though, because she remembered not to sweat the small stuff. "I also tell my buyers not to get caught up in the little things," Chris says. "They can add the little things later."
She still eyes the island in the kitchen and thinks about the extra inches she would like to add to it.
"It's never going to be perfect, so decide what you really want. For me, that was the kitchen," says Chris. "If you're going to take a risk, take it on the inside. It's cheaper to paint the inside of the house."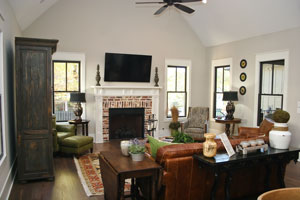 A house is constructed with natural materials such as wood and granite, she says, but it really comes together for families once they put their own décor in the rooms.
"It's a house. You make it a home," says Chris. "It's going to be bumpy. Things are going to go wrong. It's always a work in progress."
By Sarah James