Hard work and a generous spirit help an Evans man share the rewards of his success with family and friends in his Jones Creek Plantation home.
A print, which shows a man atop a rock after pushing it up a hill, hangs on the wall by the interior door to the garage in the Evans home of D.J. Williams. It's no accident that the print, "Sisyphus 2.0" by California artist Ori Bengal, is situated in that particular spot.
"I keep it by my back door," D.J. says, "and I look at it every day before I go to work."
According to Greek mythology, Sisyphus is condemned to roll a rock to the top of a mountain for all eternity, only to have it roll back down to the bottom each time he reaches the summit. However, D.J., the owner of D.J. & Co. Salon, Spa and Gifts – which celebrated its 24th year in business this summer – focuses on the happy ending in the scene.
"This painting captures what happens when he does finally make it, so it's an inspiration for me as I leave for work every day," he says. 
And when he returns home each night, he can enjoy the spoils he has earned with his impeccable work ethic and entrepreneurial spirit.
Hubs of Activity 
D.J. moved into the Jones Creek Plantation home, which he calls a mix of Colorado and California styles, 10 years ago. "It was 90 percent complete, and we got to finish it the way we wanted," he says. 
One of the things he wanted was large doors. The custom-made, mahogany-stained front doors of sapele, an African hardwood, are 9.5 feet tall. Inside, the doors are 8 feet tall throughout the house. "I always wanted tall doors. I love that. It takes you back in time," he says.
The furnishings and accessories in the house reflect his appreciation for the past – and for family and friends – as well.
"I'm an antique junkie. I've gotten a lot of furniture from estate sales," says D.J. "I like new and old and everything in between."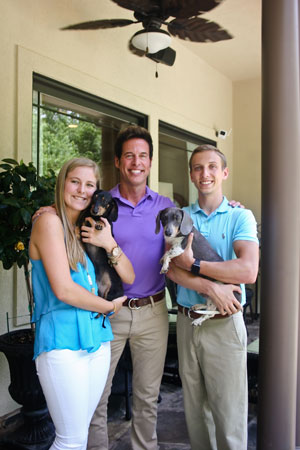 The baby grand piano in the piano room is a reminder of his paternal grandmother, who played the piano for her church for 60 years. She also taught D.J. to play, and she helped him pick out the piano. 
His children, 20-year-old Devin and 16-year-old Anslee, play the piano as well. However, on special occasions – D.J. loves to entertain clients and friends – he usually is not the one on the keyboard. "Typically, I hire somebody for parties," D.J. says. "I want to circulate."
Another print by Bengal, who is a close friend of D.J.'s sister, sits on an easel in a corner of the room. The portrait of a woman, called "Gitana," was inspired by one of the artist's Spanish friends. "He gets inspired by real people. He puts his paintings on Facebook and asks the public to name them," says D.J. "Ori was inspired by the spiciness and passion that Spanish flamenco dancers have. I just thought she was beautiful." 
The room also features a coffered ceiling, wainscoting and a stacked stone fireplace with a raised hearth. The flooring, which is made up of 5-inch oak planks with Brazilian cherry borders, exhibits another one of D.J.'s favorite design features. "I like to mix woods," he says. "I like the different textures." 
Two round ends tables – both are replicas of Maitland-Smith handcrafted furniture pieces –sit on either side of the couch. While one of the tables has inlaid wood, the other features a decorative edge. 
The billiards room opposite the piano room was another personal touch that D.J. added to the home. "This was a library in the original floor plan," he says. "I turned my library into a billiards room/man cave."
The Connelly pool table, which is made of slate, was built on site. Wax was melted with a torch over the slate cracks, and the felt was installed on top. "When I have my staff party, all of the husbands come to the pool room," D.J. says.
D.J. is a James Bond fan, so naturally, framed photos of Sean Connery and Roger Moore as 007 line the bead board walls that mimic wainscoting. A knight stands sentry in a corner. The room also includes a coffered ceiling and a high chair rail.
The chess/checkers table is another Maitland-Smith replica, and an authentic popcorn maker accents the room's movie elements. "You start it for a party, and it's awesome," D.J. says.
The wainscoted main hallway, which separates the piano and billiards rooms, stretches 50 feet from the front to the back of the house. Just inside the front doors, a painting of the house by Richard Worth hangs above a rosewood table.
Mad About Memorabilia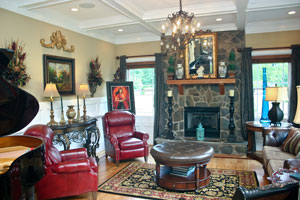 The piano and billiards rooms are hubs of activities, but the side, glassed-in porch downstairs is a solarium where D.J. likes to read or drink coffee. "It's my favorite spot in bad weather," he says. 
The porch includes flagstone flooring, 25 feet of glass with double windowpanes for insulation along the exterior wall, a pair of ceiling fans and wicker furniture. Windows at either end open into the billiards room and the kitchen.
Christmas lights wrap around preserved palm trees, which have real leaves and a metal trunk covered with preserved pieces of bark. Mexican pottery fills black bookcases.  "We like Mexican pottery. Every time we go to Mexico, we bring some back in suitcases," says D.J.
Fittingly, D.J. also collects barber memorabilia, and two antique barber poles stand against the glass wall. "My grandfather was a barber during World War II," he says. "I'm still looking for the perfect barber chair. They're solid metal, and they weigh as much as a Volkswagen."
He turned the upstairs porch, which is directly above the porch on the lower level, into a hangout for his children. "It was a good use of space. The porch never got used," says D.J. 
This space also includes flagstone flooring, a TV and a game table. One of D.J.'s most prized possessions – a child-sized yellow New York City taxi convertible on a stand – is tucked in a corner of the room.
"I cut both of my kids' hair in that, and I couldn't bear to part with it," says D.J. "I had that car in my first salon. A lot of my clients took their kids' and grandkids' pictures in that." 
Fun House
In the family room and the dining room, D.J. has several pieces of Czech crystal that belonged to his grandparents. (His maternal grandfather's side of the family was from Prague.) He also has furnishings from his grandparents including a cherry china cabinet in the family room and the six chairs at the dining room table.
A Czech crystal lamp, which sits on his grandmother's silver chest in the dining room, was his maternal grandmother's piano lamp. In the opposite corner of the room, a wrought iron gate in an arched entry leads to a wet bar.
The family room features a couch that D.J. had made out of saddle leather, and area furniture retailers often call D.J. when they get a piece they think he would like. "I'm big on buying local," he says.
The kitchen includes an old world finish on the cabinets and granite countertops, which can be found throughout the house with the exception of the master bath.
"I love granite because it's so easy to clean," says D.J. "I got big pieces of granite for the larger spaces and used scraps for the smaller rooms." 
Studded leather stools line one end of the island, which also features a vegetable sink that gets lots of use because, D.J. says, "We're big juicers."
The kitchen also has two dishwashers, which is convenient for parties. "Caterers like that," says D.J. "It's a fun party house." 
The downstairs guest bedroom, which has a sleigh bed and was his grandmother's room while she was still living, comes in handy for family parties as well. 
"None of my family lives here. When I throw a family party, everyone spends the night," D.J. says. 
Another guest room includes a cast iron bed, cherry wood bedside tables that are inlaid with leather on the top and a German cedar chest. D.J. got the chest, which is almost 200 years old and is inlaid with two different types of mahogany, from a one of his clients who was downsizing.
The master bedroom features a trey ceiling, a four-poster bed, built-in bookcases and a pair of studded, leather chairs in front of a fireplace. "I always wanted a fireplace in my bedroom," D.J. says.
The wood floor features a medallion of dark oak, light oak and mahogany in the floor in the center of the room beneath the chandelier. D.J. says this was one of the last jobs performed by the late Ray Lilly of Hardwood Floors and More. "He hung a weighted stream from the chandelier to be sure it was centered. I like symmetry," says D.J.
The master bath, which doubles as a steam room, includes an arched entry to the sunken, jetted tub; oil-rubbed bronze fixtures, which can be found throughout the house; a walk-in shower and limestone countertops. 
D.J. made a walk-in closet off of the master bath into an office, which features bead board walls and shelving along the walls to display books and memorabilia. The memorabilia includes the leather strap his paternal grandfather used to sharpen his razors when he worked as a barber, his grandfather's hand-held manual clippers and his electric clippers. He also has a couple of old manual typewriters on the shelves in honor of his maternal grandparents, who helped raise him and owned All Make and Reliable Typewriter Co. in Savannah for 52 years. 
Anslee's bedroom includes an upholstered headboard for the bed and a window seat. A full-length mirror with a door, which opens to a jewelry closet, leans against a wall.
Although he attends Ole Miss now, Devin stayed in town for his first two years of college so they designed his computer room like a dorm room. The room includes a mini fridge, and the grill from his old Mustang hangs on the wall. "I picked the grill up out of the street after he was involved in an accident on Walton Way," D.J. says. "The accident wasn't his fault, but I wanted to keep the grill as a reminder to him to be careful."
Film clips and drawings from the original Star Wars movie by Nick Maley, who created Yoda and some of Hollywood's most-celebrated special effects, hang on a wall in Devin's room. They got them on a trip to St. Maarten.
"He has a store there. If you buy his stuff, he signs it for you," D.J. says. "Anybody can meet him. You just have to stand in line."
Shades of the Caribbean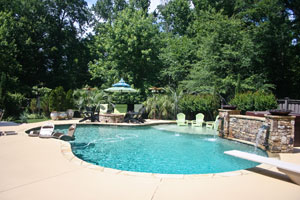 For all of the gathering spots – and sanctuaries – inside the home, D.J.'s favorite place to spend time in good weather is by the pebble tech pool he added in 2009. The pool area is situated between the two creeks on the property line that feed into the Jones Creek Plantation pond. The pool features fountains, a competition-rated diving board (Devin was on the Lakeside High School diving team) and a beach area with Adirondack chairs.
"I love the Caribbean water, and I wanted to emulate it," D.J. says.
A cushioned hammock with pillows is nestled in a shady spot beneath the trees, and a quartet of Adirondack chairs, accompanied by two ceiling fans/lamps, surrounds a fire pit. It's just one more spot where D.J. likes to gather his friends. "I start the fire," he says, "and they bring the wine." 
By Sarah James
Photography by Haley Lamb