An Evans couple enjoys decorating their Sunbury at Bartram Trail home together – especially this time of year. 
Sometimes the house hunting process uncovers hidden surprises that drive potential homeowners away. Other times it offers pleasant surprises that bring house hunters back for another look. Of course, the desire to see more usually has something to do with the house.
Then there's the story of Amanda and Steve Latham.
When Steve was house hunting a couple of years ago, the leasing agent at the model home in Sunbury at Bartram Trail, who was Amanda Russell at the time, showed him a house in the neighborhood. On his first visit to the home that definitely piqued his interest, Steve had his Realtor and a lady friend with him. (Emphasis on friend.)
When he went back – alone – to see the house a second time, however, he had an ulterior motive. "He wanted to let me know when we met that he was single," says Amanda.
Well, not anymore. Steve, who serves in the Air Force, bought the house, and Amanda moved in with him in April of 2014. The couple got married in October 2015.
"We like to joke that he bought such a nice house from me that I had to move in with him," says Amanda.
Finishing Touches
And making the house even nicer is something that the couple enjoys doing together. The house was 85 percent complete when Steve bought it, but he was able to choose the wall colors and the fireplace. He also added stone columns and a 16-by-20-foot patio. 
"The back patio gets afternoon shade this time of year. It's perfectly cool, and you get a breeze," says Steve. "It's such a tranquil, fun spot."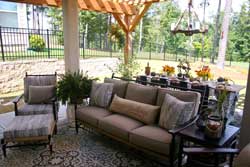 No wonder they spend so much time on the patio, which overlooks the 14th fairway of Bartram Trail Golf Club. "We wanted an outdoor living space because we spend so much of our time out here," Amanda says.
The patio includes a ceiling fan and a flat-screen TV on the wall, and they have been making improvements to the outdoor living space since Steve had it poured while the house was under construction. They added a cedar pergola above the patio and the garage this past summer.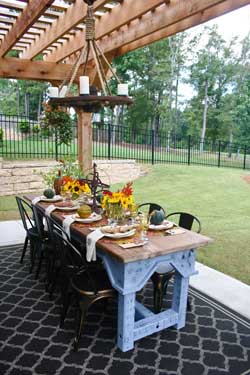 They also wanted an outdoor dining space, and that area of the patio gets lots of use. Amanda belongs to a running group, and she and her friends, who run in 5k and 10k races, jog three miles every Sunday. With 3.5 miles of trails and 200 acres of Audubon International-certified wilderness preserve in the neighborhood, the runners have an ideal place to jog. The Lathams' patio is the perfect place for them to reward themselves.
"After we run, we usually have mimosas and bacon and pancakes on the back porch," says Amanda. "We'll run for bacon."
Steve and his 18-year-old daughter, Lauren, made the farmhouse table on the patio after taking a photo of another table like it. He says it took them two weekends to build the frame and paint the table. "We had a good time making it. It was something for my daughter and I to do together," says Steve.
To mix textures, Amanda surrounded the table with metal chairs that she found online. A rustic orb between two clear vases of fall flowers line the center of the table. The tabletop also features oversized monogrammed beige napkins, silverware tucked in burlap pockets, placemats made up of a pattern of decorative leaves and a gourd or an ear of golden corn on each plate. Steve also made the chandelier above the table with a pulley they got on eBay.
"Amanda and Lauren are more creative than I am, but I can execute the plan," says Steve. "I grew up building houses and laying brick in Tennessee and Kentucky."
Mergers and Acquisitions
While most of the patio furniture and décor are new, it was a bit of a challenge to combine two households when they got married. "We were both established, and we both had fairly substantial four-bedroom homes," says Steve. 
However, they came up with a simple solution to furnish their home. "We kept the good stuff and got new furniture together," Amanda says.
The wine cabinet in the dining area belonged to Amanda before they got married, and she had the idea to add a wine and coffee bar in the adjoining kitchen. "That was a dead space in the kitchen, and when I moved in, I needed more storage space," she says.
Steve says he likes the coffee bar because it makes the kitchen feel larger. "Everything she does elevates the house," he says.
The master bedroom also illustrates the couple's deft handling of the mergers and acquisitions required to furnish their home.
The sleigh bed with an upholstered headboard and footboard, along with a chaise in the corner, were new purchases. However, the entertainment center was part of Steve's former bedroom set. "We kept the entertainment cabinet, but we sold everything else," he says.
The bedroom also features custom-made window treatments and bedding. In fact, the entire house has custom window treatments and custom lights. The master bath includes granite countertops, a soaker tub, a walk-in shower, tile flooring and two sinks.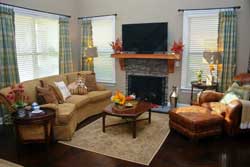 Fall Guy
The couple has learned to blend their contrasting styles in their home décor. While Amanda describes her style as "Southern traditional," Steve prefers wrought iron, natural woods and rustic or French country pieces with texture. 
She likes spa colors. He likes earth tones. However, Steve says, "Fall is our favorite time to decorate together because it fits with my color palette."
In the dining area, a bow-topped lantern on a decorative tree cross section serves as the centerpiece for the table. Pumpkin napkin rings hold natural-colored napkins, and a burlap tablecloth is angled across the table.
"We have different tastes, but there are a lot of common themes in our personal styles," says Steve. "Burlap blends both of our styles."
Other seasonal touches throughout the house include fall-themed pillows, linens and signs; miniature pumpkins and pebbles in glass containers; grape vine pumpkins; twists of burlap; decorative leaves and fall floral arrangements by Amanda's friend, Brandon May, who owns Brooks Haven Floral & Flowers.
"Being a Realtor, I go into a lot of different homes," says Amanda. "When I see a good idea, I like to try to recreate it in our home. I think that real estate and decorating go hand-in-hand."
Personality Plus
Steve and Amanda also like to cook together, and their kitchen offers plenty of amenities for them to practice their culinary skills. The kitchen features double ovens, a gas cooktop, a pot filler, granite countertops, ceramic tile backsplash and stainless steel appliances. Pendant lights with mercury glass and Edison light bulbs, which make the light softer, hang above the island. 
The plumbing, light fixtures and door handles in the kitchen – and throughout the house – have an oil-rubbed bronze finish. All of the doors in the house are paneled, except the maple pantry door, which has frosted glass. 
The living room opens to the kitchen and dining area, and the room features a two-story ceiling, ceiling fan, stone fireplace with a cedar mantel and coffee bean-colored, engineered wood flooring with a hand-scraped look, which also is found throughout the house. One of the Lathams' two rescue dogs, a 6-year-old Spitz named Cody, likes to perch on a pillow on the curved couch and watch the Food Channel. Their other rescue dog, Hamilton, is a 7-year-old Shetland sheepdog. 
On the second story the Lathams have a family room, which has been furnished primarily with pieces that Steve found in his travels. The furnishings include a leather circular couch that he got in Italy and a French antique wine rack that he bought in Germany. The room also includes a wine refrigerator and a vaulted ceiling. A collage of photos of his three daughters in different places around the world hangs on a wall.
The second floor also include his younger daughters' bedrooms, where they stay during summer visits. Two of the rooms, separated by a Jack-and-Jill bath, showcase the personalities of Emily, 16, who lives in Iowa, and Lauren, an Iowa State University freshman who is studying in the apparel, merchandising and design program. (His 22-year-old daughter, Danielle, is married and lives in Maryland.)
Emily's beach-themed room, featuring aqua, gray and white décor, includes a collection of starfish above the bed and a trio of framed shell pictures on one of the sand-colored walls. A full-length mirror leans against another wall. "This is a reflection of her," says Steve.
Lauren's room includes a sleigh bed, a chair in one corner and an ottoman covered in chevron fabric. "We did this when I moved here. I found Pinterest pictures of things that felt like her. We put this together," says Steve.
A large textured picture of a ballerina occupies one wall. "Her mother was a ballerina, and this picture inspires her," Steve says.
Curb Appeal
The Latham home is full of inspiration, and the house's appeal begins outside with the porch scape that Amanda creates for every season. 
"The front porch is the first thing people see when they come to the house. I think curb appeal means so much," says Steve. "If it's not inviting outside, you're not going to want to go inside."
The front porch décor includes a wine barrel and an all-weather bench that are decorated with pumpkins, plants and pillows for fall. A fall wreath occupies the front door, which features wrought iron over glass. A bale of hay and a large wooden "Happy Fall Y'all" pumpkin sit on the porch next the bench.
"We encourage people not to sit on the bench because it might fall, but it's perfect for decorating," says Amanda.
The house also has a courtyard entrance, stacked stone columns, a stacked stone garage and hardy board shake on the second story. While these features remain constant, the same cannot be said for the rest of the house. "Every month-and-a-half, Amanda changes everything," says Steve.
And why not? After all, she is full of ideas.
"I get on Pinterest, and I get inspired by stuff I want. I have a Pinterest board for every room," says Amanda. "This house has evolved in two-and-a-half years."
By Sarah James
Photography by Haley Lamb