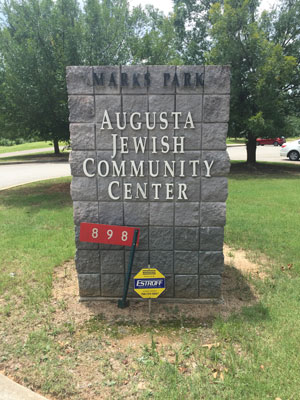 It is the holiest time of the year in the Jewish calendar, but Augusta Jewish Community Center bustles with cultural, recreational and service activities all year long. 
On a seemingly ordinary evening, a large group gathers for an Italian dinner. Sounds simple enough until suddenly, a shriek rings out, and someone gasps, "He's dead!" The girlfriend cries, the mother wails, everyone wonders how this happened and looks at each other with suspicion, wondering who did it. Soon, however, the looks turn to smiles, the questions turn to giggles, more wine is consumed and the crowd grows even rowdier.
No, it's not a scene from a mob movie. It is all part of a Murder Mystery Dinner held at Augusta Jewish Community Center during an evening filled with laughter, 1920s costumes and lots and lots of food. 
Hub of Activity
Because the High Holy Days of Rosh Hashanah and Yom Kippur fall in September this year, the Jewish calendar will be full of activity this month. However, with the Murder Mystery Dinner as Exhibit A, AJCC stays busy year-round. In addition to being a resource for maintaining Jewish life in the area, AJCC opens its activities and membership to anyone regardless of religion, race or any other factors. (Members get free or discounted admission to events, however.)
"One of the things I love about the AJCC," says Leah Ronen, the center's executive director, "is that it is also a meeting place for the entire community. It does not matter what synagogue, church or mosque you belong to. Or if you do not belong to any organized religious institution, the AJCC can still be your home. This philosophy could really only be fully realized as our community began, over the years, to be populated with individuals from religions and races from across the spectrum."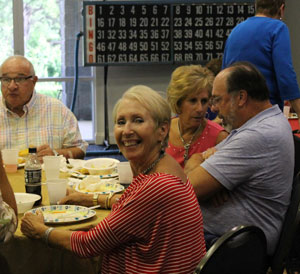 As the second oldest Jewish Community Center in North America, AJCC has been serving the community for more than 160 years. Initially located in downtown Augusta, where it served as a USO for local soldiers, a school and a place for community events, it moved to Evans in 1998.
Many local residents already are familiar with AJCC. They have sent their kids to its summer camp (affectionately called the United Nations because it includes children of every religion, ethnic group and color), taken them to Boy and Girl Scout troop meetings there or participated in one of its many classes such as cooking, exercise or arts and crafts.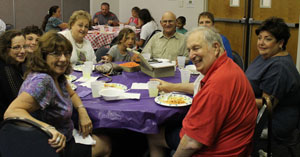 Others may be thinking, "We have a Jewish Community Center? Where is it?" Set on 26 acres off Furys Ferry Road down Three J Road, the AJCC facilities are surprisingly extensive. The main building houses the Beehive Preschool, community activity rooms and banquet facilities that can host 225 guests for a dinner. Available to the public, it has been the venue for everything from weddings to quinceañeras.
 On the grounds, AJCC has a competition-sized swimming pool (swim lessons are offered in the summer, and the Jaws Swim Team is part of the CSRA Swim League), a kiddie pool, tennis courts, a small lake with a dock for fishing, an outdoor pavilion and a playground.
Programmed for Success
Despite its expansive facilities, however, some of AJCC's programs and events have become so successful that they have had to move to other area venues to accommodate everyone who wants to attend.
In the last few years, for instance, AJCC's Empty Bowl, an annual fundraiser for Golden Harvest Food Bank, has moved from the center to the Legends Club. Held for 16 years and counting, the event brings in more than $30,000 annually.
The Augusta Jewish Film Festival, which recently finished its sixth season, is now held at the Jabez Sanford Hardin Performing Arts Center.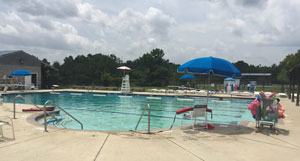 In addition to offering cultural, recreational and service programs, AJCC honors an outstanding member of the community each year at its humanitarian dinner. Last year the dinner was named the Augusta Hero dinner and honored Michael Firmin, the retired founder of Golden Harvest Food Bank. This summer, the dinner became a Roast and Toast to honor Leah and her husband, Charlie. Leah has served as executive director since 2003, and the Ronens will move away from the CSRA when she officially retires in February of 2018.
AJCC is a place where family and friends gather; where seniors come for movies and lunch; where families play Bingo, picnic or enjoy movie and game nights to renew old friendships and create new ones. No matter what event is planned, there will always be plenty of food and room for more people (even if it has to be taken somewhere else). 
By Jessica Punshon