Whether people choose to grill outside or set off fireworks, the Fourth of July is cause for celebration. However, according to Dr. Fred Mullins, president of Burn & Reconstruction Centers of America and medical director of the Joseph M. Still Burn Center at Doctors Hospital, the nation's largest burn center sees an increase in patients around most holidays. To minimize risks, he says, "Safety starts before the grill is lit." 
Even in inclement weather, people should avoid grilling in a garage or indoors. They also need to keep the lid open when they are ready to light the grill and should never use gasoline to help fuel the fire. "That's a recipe for an explosion," says Mullins. "I have seen many very severe burns from grills that exploded."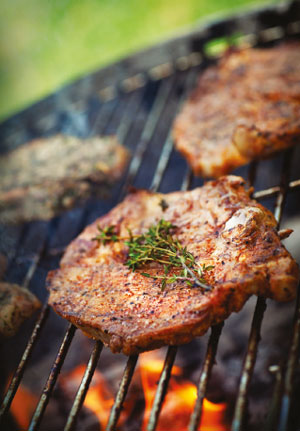 Other grilling tips include:
 Make sure your grill is at least 10 feet away from buildings or bushes that could catch fire. Then check gas lines to make sure there are no leaks.
Establish a safe zone around the burn pit, grill or cooking area. Make sure the area is only accessible to responsible, sober adults.
Properly dispose of hot coals by soaking them with water and stirring the ashes.
Keep the lighter fluid container away from the grill.
Utility/barbecue lighters are not safe for children and should not be left outdoors where the elements may weaken or damage the plastic.
Always follow manufacturers' instructions when operating a grill.
Replace nicked or scratched connectors.
Always turn on the utility light before you turn on the gas or propane.
Always shut off the propane tank valve when not in use.
Never use a match to check for leaks.
Keep gas hoses as far away from grease and hot surfaces as possible.
Mullins also recommends leaving the fireworks shows to the experts. However, anyone who decides to set off their own fireworks should keep the following safety tips in mind:
Create a "blast zone" away from structures, people, dry grass and other flammable items.
Designate a safety person, a shooter and a cleanup crew.
Make sure the shooter is not wearing loose clothing that could ignite, and follow the directions on the fireworks label.
If the device does not have a warning or instructions label, then don't fire it.
Keep a fire extinguisher, hose or bucket of water nearby.
Never set off fireworks of any kind indoors.
Light fireworks one at a time.
Never throw fireworks. A malfunctioning fuse could cause the item to go off in your hand.
Never light fireworks held in someone else's hand.
Never stand over an item that does not fire.
Remember that fireworks, especially sparklers and smaller items that stay on the ground, are still hot – and therefore, dangerous – after they have been used.
Dos and Don'ts for Treating Burn
If you get burned, then these tips can help alleviate pain and skin damage:
Do take a cool shower or bath, or use a cold, damp towel to apply pressure.
Do take an over-the-counter pain reliever such as ibuprofen.
Do wear loose-fitting clothes that will not irritate the skin.
Do apply aloe or lotion to help cool and moisturize the burn.
Don't use butter or oil because they may exacerbate the burn.
Don't burst any blisters because it could encourage infection to set in.
Don't take prescription pain pills without consulting a doctor.