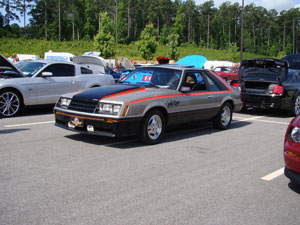 A national Mustang show is wheeling into Columbia County for the second time in four years
People don't have to cue up Ray Charles to have the Peach State on their mind this month, thanks to the Mustang Club of America. The organization, which has four national Mustang shows annually, once again will have one of them – "Georgia on My Mind" – at the Columbia County Exhibition Center on Memorial Day weekend.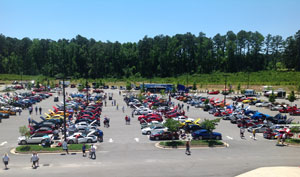 Mike Anchor, president of the CSRA Mustang Club, says about 350 cars from all across the country, including 30 to 40 local cars, will be on display at the show.
"The Mustang is an icon. It's been around for 54 years," says Anchor, who lives in Evans. "Everybody you run into has a Mustang story. They talk about the Mustang they had or the one they dreamed about having. The car brings everybody from all over the world together."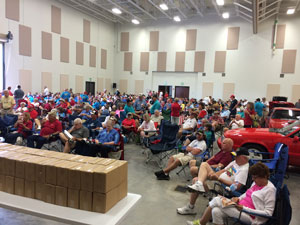 Friday evening activities will include a hospitality reception/meet and greet, and judging in 15 divisions will begin on Saturday. Judges typically look for cleanliness, workmanship and overall quality. Unrestored cars, which usually are low mileage with original factory parts and equipment as ordered, are judged on originality. Unrestored or restored Thoroughbred Mustangs must have the original or correct era parts such as fan belts, batteries, exhaust systems, etc. Absolutely no reproduction parts are allowed. 
Saturday evening festivities will feature a banquet catered by Diablo Southwest Grill, followed by a casino night party and an auction, at Savannah Rapids Pavilion. Community members who are interested in attending can visit motosho.com to purchase tickets at $40 each.
All proceeds from the event will benefit the Rebecca Erryn Moon Foundation, which fights childhood cancer. When the CSRA Mustang Club last served as host for a national show in 2015, it raised $20,000 for the foundation. Since 1989, the local Mustang club has contributed at least $150,000 to various charities, Anchor says.
Those who attend the show can do more than admire Mustangs and raise money for a good cause, however. Vendors will be on hand to sell car parts as well as merchandise like jewelry and Tupperware. 
"We would like for people to come out and enjoy the cars, make new friends and support local charities," says Anchor. "It's all about having fun. I have made friends all over the world because of a car."
If You Go:
What: "Georgia on my Mind" MCA National Mustang Show
When: 8 a.m. – 5 p.m. Friday, May 25 and Saturday, May 26; 8 a.m. – 2 p.m. Sunday, May 27
Where: Columbia County Exhibition Center, Grovetown
How Much: Free
More Info:csramc.org