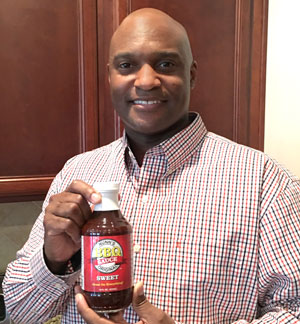 If you're looking for a sweet or spicy barbecue sauce, there are "Nunn" like the ones that a Grovetown resident makes 
Any self-respecting Southerner has a heartfelt love affair with barbecue. It seems, however, that a healthy appetite for barbecue applies to transplanted Southerners by way of St. Paul, Minnesota as well.
Grovetown resident Steve Nunn, a St. Paul native and U.S. Army captain who is stationed at Fort Gordon, developed his passion for barbecue when he was 19 years old. His late uncle challenged him to a barbecue contest, and really, the outcome was inevitable. "I couldn't let him win," says Nunn.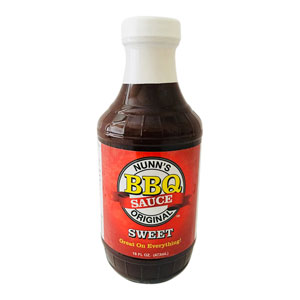 For more than 20 years, Nunn has been experimenting with flavors and seasonings to perfect his barbecue sauces and dry rubs as well as his barbecuing skills. To him, barbecuing is a form of artistry. 
"Everybody has their own ritual when it comes to barbecuing. Everybody is an artist when it comes to barbecuing," says Nunn. "You can meet strangers and talk about it forever."
He started his business, Nunn Family BBQ, in 2016 shortly before he was deployed to Kuwait for nine months. While he was overseas, he "took an operational pause," but he was able to launch his website near the end of his deployment in September of 2017.
He has developed a sweet barbecue sauce, which is available online by the bottle or by the case. The low-calorie, gluten-free sauce can be used as a marinade for steak, chicken, ribs or pork. "It's a great dipping sauce," says Nunn. "You can even put it on a salad." He also is slated to roll out a new spicy sauce by the end of March. 
Barbecue is a passion that must be shared with others, he believes, and he's not alone in his thinking. "Everybody wants to taste each other's sauce," says Nunn. "When you barbecue, it brings out your personality. The sauce is my way of sharing something I love and enjoy."
For more information, call (706) 814-1233 or visit nunnfamilybbq.com.