With Toys for Tots and other community programs, this Marine Corps League Detachment brings generosity into play year-round.
The holidays bring out a giving spirit in everyone, and the Lt. Col. Jimmie Dyess Marine Corps League Detachment 921 is no exception. Its members support young and old alike.
With no Marine Corps Reserve in the area, the detachment sponsors the local Toys for Tots campaign by collecting toys and donations during the holiday season. Last year the detachment collected 86,263 toys for 28,754 children, 12,107 stocking stuffers and raised $58,752.66 – an increase of 1,174 more children than 2015 as well as 3,429 more toys and $16,269.20 more in monetary contributions. The increases occurred despite the reduction in volunteers from 2015. 
During the holidays, members of the detachment also visit the Georgia Veterans' Home and bring Christmas gifts to the veterans.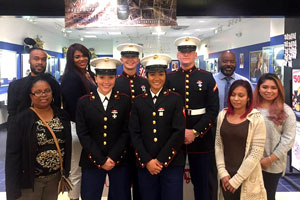 However, the detachment, a nonprofit veterans' organization for Marines, Navy corpsmen who served with Marines in the Fleet Marine Force and FMF chaplains, participates in community outreach and charitable activities all year long. The Marine Corps League, chartered by Congress in 1937, sponsors a Young Marine detachment for youths between the ages of 8 and 18. Similar to other youth organizations, it is designed to help young people develop structure and discipline in their lives through leadership training, growth and promotion opportunities, education and community outreach activities.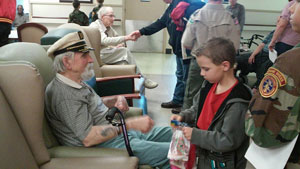 Any parents interested in getting their children into this program can contact Albert Genao, unit commandant, at (910) 238-0499. The detachment also recognizes newly designated Eagle Scouts in the area, and each spring it presents citizenship awards to high school students in the Junior Reserve Officer Training Corps. The detachment also supports the Doctors Hospital burn unit. 
A focus on supporting the military and veterans is a big part of the detachment's mission. Each fall, the detachment supports Fort Gordon's annual Tribute Run for the Fallen, which commemorates individuals who sacrificed their lives in the war on terror. Detachment members also are encouraged to spend time at the VA hospitals and support local veterans.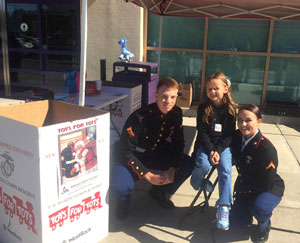 It is no surprise that the Lt. Col. Jimmie Dyess Marine Corps League Detachment 921 is so involved in the community. After all, it was named for someone who embodied caring and service to others. Lt. Col. Dyess was an Eagle Scout, a Carnegie Medal recipient and a Medal of Honor recipient who was killed in action during World War II. He is the only person on record to receive all three of these honors. 
The detachment is always looking for new members as well. Any active or prior-service Marines or Navy Corpsmen, or anyone wishing to support the charitable and outreach activities of the detachment, can help. For more information, visit augustamarines.com or email mcl921@yahoo.com.
- Senior Vice Commandant Randy Hirsch