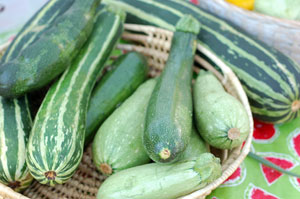 Most of us will look at our calendars this month and simply call August 8 "Tuesday." However, the well-meaning gardeners or practical jokers or do-gooders among us will take advantage of the true significance of the day.
Yes, August 8 is National Sneak Some Zucchini Onto Your Neighbor's Porch Day. Time to shake up an otherwise ordinary day with a little garden mischief.
By the time August rolls around, gardeners usually have been inundated with more zucchini than they can possibly use. When friends, neighbors and co-workers see desperate zucchini growers heading toward them with armloads of the green stuff, they start to turn the other way. 
Yet resolute gardeners can circumvent their friends' reactions to their unwanted advances. To unload their zucchini surplus, sneaky gardeners can get up early or stay up late to do their deed under the cover of darkness without feeling a lick of guilt.
Truly magnanimous souls can first bake the zucchini into bread or muffins and put their handiwork in a cute little basket.
And what to do with all that zucchini the rest of the month? Well, you're on your own.