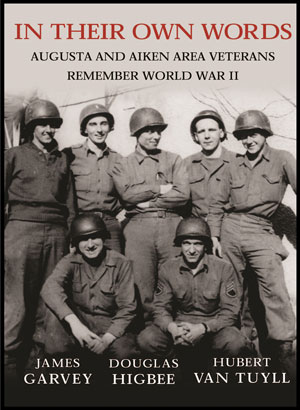 A new book chronicles the firsthand experiences of local veterans during World War II
Ten years ago, the National Veterans History Project, a nationwide storytelling initiative that is affiliated with the Library of Congress, was launched to preserve the stories of World War II veterans through video interviews. More than 850 local veterans were interviewed for the project, and the videos are part of the collection at Augusta University's Reese Library and at the Library of Congress in Washington, D.C.
Now, however, the stories of 147 of these veterans also can be found in a new book, "In Their Own Words – Augusta and Aiken Area Veterans Remember World War II."
"The book traces the veterans' experiences from their training days to going overseas to the Pacific or European theaters," says Fred Gehle, the local Veterans History Project coordinator. "It winds up with references to their post-war activities after coming home. There are some phenomenal stories."
In sharp detail the soldiers describe memories such as coming across Omaha Beach on D-Day, fighting in the Battle of the Bulge in the winter of 1944, entering a German concentration camp just after its liberation, witnessing the explosive crash of two kamikaze aircraft into their ship, seeing friends right beside them on the battlefield get killed and surviving a German POW camp after being shot down over Europe.
Even though the veterans were in their 80s or 90s when they were interviewed, Gehle says, their recollections of their wartime experiences often were more vivid than their recent memories. In addition, he says, about half of the veterans in the book are deceased now.
"The Second World War is becoming a memory, and it receives less and less attention from the generations that have followed," says Gehle. 
The book, which costs $25 (including tax), is available through the Augusta Richmond County Historical Society, which has participated in the project since 2007; amazon.com and local book stores. All proceeds go back to the Historical Society. For more information, email archs1946@gmail.com or call (706) 737-1532.