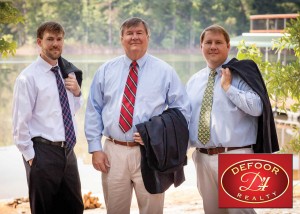 The DeFoor name is well known in the area.  Lloyd DeFoor, who is the Broker at DeFoor Realty, started the company with his father-in-law, John Eubank. Lloyd and Mr. Eubank bought and sold small and large acreage tracts in the northern end of Columbia County and surrounding areas. This led to the official formation of DEW Land Development Company in 1977. By 1980, Lloyd realized that there was a demand for re-sales of the properties that they had originally sold to people so he then formed what is now DeFoor Realty. 
Today, DeFoor Realty is still a family business and Lloyd is joined by his two sons, John and Jeff DeFoor.  John is the Associate Broker at the firm.  Both John and Jeff help people sell their house or find their dream home.  Jeff DeFoor also works on the investment side, helping investors find properties that make great rental returns or can be rehabbed for a profit. DeFoor Realty is a big player in real estate sales around Clarks Hill Lake.  Last year, they sold more lake front homes than any other real estate firm in the area (according to local MLS stats).  DeFoor's expertise extends well beyond lake property to residential properties all over the CSRA, land and commercial property.  They're even experts in new construction, as DeFoor Construction was formed by John to build new homes. Lloyd likes to joke that if all he did was sell lake property, DeFoor Realty wouldn't have survived the recession.
After the formation of DeFoor Realty, Lloyd started selling and re-selling the residential properties in the Colombia County area, specializing in large and small acreage tracts with ponds, streams and other water features.  He was also heavily involved in acreage tracts developments throughout the Augusta and surrounding areas.  He became prolific at finding raw land and seeing the potential through timber harvesting, recreational management utilization and land sales.
Today, DeFoor Realty has expanded beyond Lloyd, John and Jeff to include many real estate professionals.  DeFoor's concentration is on residential homes, acreage tracts, large recreational tracts and timber tracts, as well as continuing to be a dominant player at Clarks Hill Lake.  They want to remain a key player while keeping the personal touch and relationships that their clients have come accustomed to.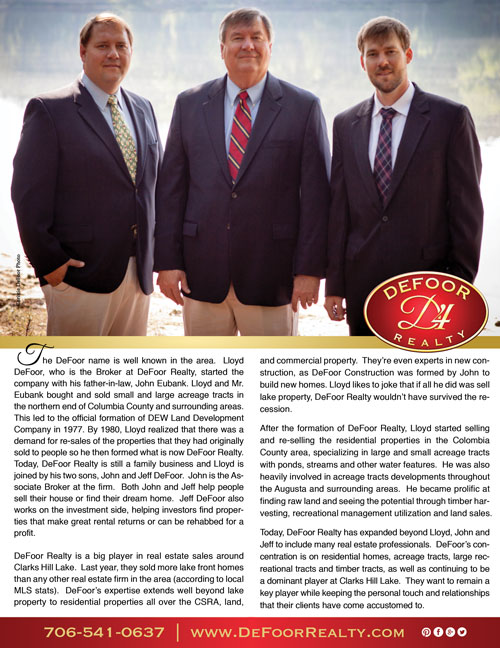 706-541-0637 | www.DeFoorRealty.com