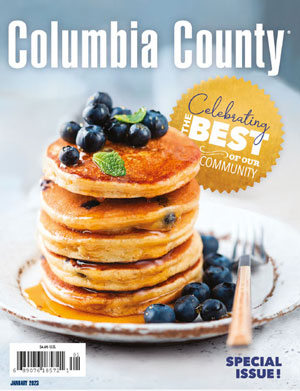 We're kicking off 2023 with the people and places you chose as the best from 2022!
Frequently Asked Questions
Q. How do you choose the winners?
We don't choose the winners — you do. Readers fill out the ballots in our fall issues, and the people or places with the most votes win.
Q. Don't advertisers automatically win?
No, but we love it when they do. The results are entirely based on the ballots.
Q. How can I vote?
Ballots are available in our August, September and October issues. Be sure to vote for your favorites!

Retail Therapy
Best Women's Boutique
1st Place: The Ivy Boutique & Gifts
2nd Place: Swank
3rd Place: Apricot Lane Boutique
Best Men's Apparel
1st Place: Boardroom Clothing Company
2nd Place: Low Country Clothier
3rd Place: Jos. A Bank
Best Bridal Gowns
1st Place: House of the Bride
2nd Place: David's Bridal
3rd Place: Elegant Bridals
Best Shoes
1st Place: Signature Soles
2nd Place: DSW
3rd Place: Dillard's
Best Fine Jewelry
1st Place: Windsor Fine Jewelers
2nd Place: Jared
3rd Place: Martinez Gold
Best Gift Shop
1st Place: Cudos2u
2nd Place: Mish Mash Interiors & Gifts
3rd Place: Signature Interiors
Best Consignment Shop
1st Place: Consign Design
2nd Place: Savvy Shopper
3rd Place: Uptown Cheapskate
Best Home Accents
1st Place: Mish Mash Interiors & Gifts
2nd Place: Signature Interiors
3rd Place: Great Deals on Furniture
Best Home Furnishings
1st Place: Great Deals on Furniture
2nd Place: Weinberger's Furniture and Mattress Showcase
3rd Place: Savvy Shopper
Best Outdoor Furniture
1st Place: Casual Furniture of Augusta
2nd Place: Lowe's
3rd Place: Weinberger's
Best Outdoor Kitchens
1st Place: Fireside Kitchens & Grills
2nd Place: Fireplace Grills & More
3rd Place: Flame Pro
Best Appliances
1st Place: Kelley Appliance Center
2nd Place: Davis Appliance & Furniture
3rd Place: Lowe's
Best Flooring
1st Place: A&D Carpets & Hardwoods
2nd Place: Hardwood Floors & More
3rd Place: Kirkland's Flooring
Best Cabinets
1st Place: Looper Cabinet Company
2nd Place: Crawford Cabinets
3rd Place: Martinez Cabinets
Best Countertops
1st Place: StoneWorks
2nd Place: Countersync
3rd Place: Augusta Granite
Best Lighting
1st Place: Southern Lighting
2nd Place: Hardwood Floors & More
3rd Place: Ferrell Lighting
Best Car Dealership
1st Place: Gerald Jones
2nd Place: Jim Hudson Lexus
3rd Place: Milton Ruben
Best Place to Buy a Boat
1st Place: Platinum Marine
2nd Place: Augusta Marine
3rd Place: Lincolnton Marine
Best Beer & Wine Selection
1st Place: Toast Wine & Beverage
2nd Place: Beverage Outlet
3rd Place: Augusta Liquors
Out & About
Best Public Golf Course
1st Place: Bartram Trail
2nd Place: River Golf Club
3rd Place: Rocky Branch
Best Private Golf Course
(besides Augusta National)
1st Place: Champions Retreat
2nd Place: West Lake
3rd Place: Augusta County Club
Best Annual Festival
1st Place: Arts in the Heart
2nd Place: Thunder Over Evans
3rd Place: Oliver Hardy Festival
Best Outdoor Dining
1st Place: Noble Jones
2nd Place: Doc's Porchside
3rd Place: Rhinehart's Oyster Bar
Best Place to Catch Live Music
1st Place: Doc's Porchside
2nd Place: Southbound Smokehouse
3rd Place: Edgar's Above Broad
Best Wedding Venue
1st Place: Sanderlin
2nd Place: West Lake
3rd Place: Sacred Heart
Best Place to Work Out
1st Place: Evans Fitness Club
2nd Place: Burn Boot Camp
3rd Place: Gold's Gym
Best Happy Hour
1st Place: Ironwood Tavern
2nd Place: Bonefish
3rd Place: TBonz
Best Rooftop Bar
1st Place: Partridge Inn
2nd Place: Edgar's Above Broad
3rd Place: Hyatt House
Best Place for Indoor Sports & Games
1st Place: Topgolf
2nd Place: Active Climbing
3rd Place: Mastermind Escape Games
Best Campground
1st Place: Wildwood Park
2nd Place: Mistletoe State Park
3rd Place: Petersburg Campground

Best Place to Kayak
1st Place: Stallings Island
2nd Place: Betty's Branch
3rd Place: Augusta Canal
Food & Beverage
Best Restaurant, Period
1st Place: French Market Grille West
2nd Place: Cork & Flame
3rd Place: Bordeaux
Best Breakfast
1st Place: Ruth's Family Restaurant
2nd Place: Sunrise Grill
3rd Place: First Watch
Best Place for a Power Lunch
1st Place: French Market Grille West
2nd Place: Ruth's Family Restaurant
3rd Place: Goolsby's
Best Fine Dining
1st Place: Cork & Flame
2nd Place: Frog Hollow
3rd Place: Cadwalladers
Best Desserts
1st Place: French Market Grille West
2nd Place: Boll Weevil
3rd Place: Whipped Creamery
Best Local Coffee Shop
1st Place: Rooted Coffeehouse
2nd Place: Goat Kick Coffee
3rd Place: Inner Bean Cafe
Best Sweet Tea
1st Place: WifeSaver
2nd Place: Chick-fil-A
3rd Place: McDonald's
Best Southern Food
1st Place: Ruth's Family Restaurant
2nd Place: WifeSaver
3rd Place: Goolsby's
Best Barbecue
1st Place: Shane's Rib Shack
2nd Place: Smokeshow
3rd Place: Southbound Smokehouse
Best Fried Shrimp
1st Place: TBonz Steakhouse
2nd Place: Rhinehart's Oyster Bar
3rd Place: Big T's Seafood Restaurant
Best Fried Chicken
1st Place: WifeSaver
2nd Place: Goolsby's
3rd Place: Ruth's Family Restaurant
Best Chicken Fingers
1st Place: WifeSaver
2nd Place: Chicken Fingers
3rd Place: Slim Chickens
Best Chicken Wings
1st Place: TBonz Steakhouse
2nd Place: Doc's Porchside
3rd Place: Southbound Smokehouse
Best Pizza
1st Place: Mellow Mushroom
2nd Place: Pizza Joint
3rd Place: Ironwood Tavern
Best Burger
1st Place: Farmhaus Burger
2nd Place: Ironwood Tavern
3rd Place: TBonz Steakhouse
Best Steak
1st Place: TBonz Steakhouse
2nd Place: Cork & Flame
3rd Place: Bordeaux Steak
Best Sushi
1st Place: Toki Japanese Steakhouse
2nd Place: Tako Sushi
3rd Place: Izumi
Best Mexican
1st Place: Poblano's Mexican Grill
2nd Place: Monterrey Mexican Restaurant
3rd Place: El Alazon
Best Japanese/Hibachi
1st Place: Toki Japanese Steakhouse
2nd Place: Koi Hibachi & Sushi
3rd Place: Tako Sushi
Best Bakery
1st Place: A Piece of Cake
2nd Place: Lil' Dutch Bakery
3rd Place: Bottom Line
Best Caterer
1st Place: Silver Palm
2nd Place: Tastefully Done
3rd Place: Tastefully Yours
Best Food Truck
1st Place: Smokeshow
2nd Place: Diablo's
3rd Place: Whipped Creamery
At Your Service
Best Dentist
1st Place: Myers Family Dental
2nd Place: Riverwood Dental
3rd Place: Jordan Family Dentistry
Best Orthodontist
1st Place: Trotter Orthodontics
2nd Place: Carter Orthodontics
3rd Place: Powell Orthodontics
Best Pediatrician
1st Place: Pediatric Partners
2nd Place: Covenant Pediatrics
3rd Place: The Pediatric Office
Best Family Physician
1st Place: Evans Medical Group
2nd Place: Family Physicians of Evans
3rd Place: Center for Primary Care
Best Eye Doctor
1st Place: The Eye Guys
2nd Place: Augusta Eye MD
3rd Place: Eye Care One
Best Dermatologist
1st Place: Dermatology Specialists of Augusta
2nd Place: Savannah River Dermatology
3rd Place: Evans Dermatology
Best OB/GYN
1st Place: William Barfield
2nd Place: George Williams
3rd Place: Niti Carlson
Best Orthopedics/Sports Medicine
1st Place: Champion Orthopedics
2nd Place: Legend Orthopedics
3rd Place: AU Sports Medicine
Best Place for Plastic Surgery
1st Place: Augusta Plastic Surgery
2nd Place: Savannah River Plastic Surgery
3rd Place: The Georgia Center
Best Anti-Aging Aesthetics
1st Place: Augusta Plastic Surgery
2nd Place: Aesthetic Essentials
3rd Place: Cucumber & Mint
Best Chiropractor
1st Place: Larson Chiropractic
2nd Place: Goss Chiropractic Center
3rd Place: The Joint
Best Senior/Assisted Living
1st Place: Brandon Wilde
2nd Place: Camellia Walk
3rd Place: Marshall Pines
Best Lawyer
1st Place: Michelle Harrison
2nd Place: Scott Klosinski
3rd Place: Andy Tisdale
Best Veterinarian
1st Place: Dr. Edward Gross
2nd Place: Dr. Ashley Wheatley
3rd Place: Dr. James Wilkes
Best Accountant/CPA
1st Place: Cleveland Group
2nd Place: Anderson, Adkins & Company
3rd Place: Serotta Maddocks Evans
Best Financial Advisor
1st Place: Strategic Financial Management
2nd Place: Fehrman Investment Group
3rd Place: Apollon
Best Real Estate Agent
1st Place: Greg Oldham
2nd Place: Greg Honeymichael
3rd Place: Becky Critell
Best Insurance Agent
1st Place: Kelley Lawrence
2nd Place: Hoke Brantley
3rd Place: Robbie Moore
Best Mortgage Lender
1st Place: Silverton Mortgage
2nd Place: First Choice Mortgage
3rd Place: Guild Mortgage
Best Staffing Company
1st Place: Augusta Staffing
2nd Place: Sizemore
3rd Place: Peak
Best Financial Institution
1st Place: Queensborough National Bank & Trust Company
2nd Place: South State Bank
3rd Place: Security Federal Bank
Best Builder
1st Place: Ivey Homes
2nd Place: Newsome Homes
3rd Place: Southeastern Family Homes
Best Home Audio Video Installation
1st Place: Aiken Augusta Audio
2nd Place: Everything Install
3rd Place: Mac Electronics
Best Interior Designer
1st Place: Michael Siewert
2nd Place: Brittany Wallace
3rd Place: Gina Speegle
Best Housekeeping Company
1st Place: Merry Maids
2nd Place: The House Keepers
3rd Place: Living Spotless
Best Local News Station
1st Place: WJBF
2nd Place: WGAC
3rd Place: WRDW
Best Florist
1st Place: Ladybug's Flowers & Gifts
2nd Place: The Bloom Closet
3rd Place: Charleston Street
Best Hair Salon
1st Place: D.J. & Co.
2nd Place: Hair & Essentials
3rd Place: Mane 18
Best Spa Services
1st Place: Sol Himalayan Salt Cave & Spa
2nd Place: Tuscany
3rd Place: Serenity Spa
Best Tanning Salon
1st Place: Blush & Glow
2nd Place: The Spray Bar
3rd Place: Palm Beach
Best Place to Board a Pet
1st Place: Paradise Kennels
2nd Place: Paws in Paradise
3rd Place: D'Tails
Best Groomer
1st Place: Paradise Kennels
2nd Place: Paws in Paradise
3rd Place: D'Tails
Best Doggie Daycare
1st Place: Paws in Paradise
2nd Place: D'Tails
3rd Place: The Animal House
Best Pest Control
1st Place: Horne's Pest Control
2nd Place: Hargrove Pest Solutions
3rd Place: Borden Pest Control
Best Heating & Air
1st Place: Busby's Heating & Air
2nd Place: Gold Mech
3rd Place: Westside
Best Plumbing
1st Place: Universal Plumbing
2nd Place: Yohe
3rd Place: Gold Mech
Best Electrician
1st Place: BZ Electric
2nd Place: Rob Zapata's Electric
3rd Place: Robec Electrical
Best Appliance Repair
1st Place: Mr. Appliance
2nd Place: Ray's Appliance Repair
3rd Place: Evans Appliance Repair
Best Roofing
1st Place: Lovelace Roofing
2nd Place: Enon Hopkins Roofing
3rd Place: Crosby Roofing
Best Fencing
1st Place: East Georgia Fence
2nd Place: Maner Fence & Specialties
3rd Place: American Custom Fence Company
Best Pressure Washing
1st Place: MEGAH Softwash
2nd Place: Veterans Pressure Washing
3rd Place: All Clean Pressure Washing
Best Paint & Body Shop
1st Place: Rick's Paint & Body
2nd Place: Kendrick Paint & Body
3rd Place: Cushman Paint and Body
Best Auto Maintenance & Repair
1st Place: C&C Automotive
2nd Place: Butler Automotive
3rd Place: Rusty's Automotive
Best Car Wash
1st Place: Sparkle Express Car Wash
2nd Place: Tidal Wave
3rd Place: LuLu's
Best Tree Service
1st Place: Eben Gray's Tree Service
2nd Place: Big Dog Stump & Tree
3rd Place: Stallion Tree Service
Best Trash Service
1st Place: Augusta Disposal & Recycling Inc.
2nd Place: Advanced Disposal
3rd Place: Junk in the Box
Best Landscaping/Lawn Care
1st Place: Pebble Creek
2nd Place: Home Pro Services
3rd Place: The Groundsman