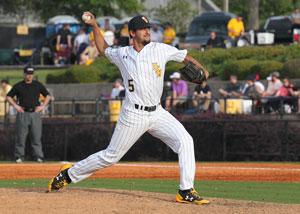 In some ways, little has changed in two years for former Greenbrier High School baseball standout Nick Sandlin – and that's a good thing. He led the Wolfpack to the Class 5A Georgia state baseball title in 2015, and now he is cutting a striking figure at the University of Southern Mississippi as well. 
The sophomore relief pitcher finished this past season with a 10-2 record and had eight saves in 11 opportunities. He had an earned run average of .238 and struck out 80 batters in 56⅔ innings. He allowed only one home run and limited the opposition to a .201 batting average.
Recently selected a second team All-American by Collegiate Baseball, Sandlin attributes his success to USM pitching coach Michael Federico and his teammates.
"I've been lucky to have him both years," Sandlin says about Federico. "Freshman year, I was learning from the older guys on the team and what to expect at the D1 level. I've just been on good teams with a good defense behind me."
Arriving as a freshman at 5-foot-11 and 148 pounds, Sandlin has bulked up to 170 pounds as a result of strength training and a healthy diet. In high school, his fastball peaked in the mid-80 mph range. Now, he's throwing in the upper 80s and low 90s. 
He also has added a splitter or changeup to complement his fastball and slider. It's another pitch to confuse batters.
In addition to his pitching prowess, Sandlin recently was named a third team Academic All-American by the College of Sports Information Directors of America. He has earned a 4.0 GPA over two years in construction engineering technology.
"We've got a good academic support staff," Sandlin says. "You gotta learn how to balance them (baseball and academics) your first year in college. Once you figure it out a little bit, it's not too bad. You stay busy. It's just the daily routine."
The Golden Eagles set a school record for wins this season, compiling a 50-16 record. Southern Mississippi lost to Mississippi State 8-6 in the Hattiesburg Regional Final on June 5 to end its season. However, Sandlin has continued to sharpen his skills this summer by pitching for the Hyannis Harbor Hawks in the Cape Cod League for collegiate players in Massachusetts.
By Jim Irish