Do you need a boost to your holiday décor? Check out the creativity at Augusta Ballet's annual holiday home tour.
Every family has its Christmas traditions, and those customs typically include holiday décor. Whether people prefer the latest decorations or favorite family heirlooms, however, everyone can use a new decorating tip from time to time. And the Augusta Ballet Holiday Tour of Homes is full of ideas. 
This year the fifth annual Holiday Tour of Homes, which benefits Augusta Ballet, will showcase homes in Summerville. The event will be held 11 a.m. – 5 p.m. Friday, December 8 and Saturday, December 9 and 1 p.m. – 5 p.m. Sunday, December 10. Tickets will cost $20 and be available online at augustaballet.org until Friday, December 1. After that date, they will be available for $25 online and at the door. Tickets also will be available at some interior designers' locations. However, the event not only offers the latest in Christmas décor. 
"The home tour gets a lot of people aware of the ballet," says Larry Baratto, Augusta Ballet executive director. "It lets people know who we are and what we do. This is another way of working with the community, and Augusta has a thriving arts community." 
Burlap, Bouquets and Ballerinas
Last year's tour featured four homes in River Island. Three homeowners decorated their own houses, and local interior designers showcased their talents at the home of Stan Stanton.
Fleur de Lis designers set the tone for the home by decorating the mailbox with greenery and red berries. More greenery surrounded the front door, and lanterns hung from the garage.
In the foyer, where Brooks Haven Floral & Flowers designed the décor, a wreath with a gold bow and red and gold balls, hung on the mirror. A small bouquet of flowers peaked out of a small red package on the chest, and a pair of topiary reindeer dressed in a green wreath with a gold bow looked as if they were ready to fly to the rooftop. A narrow tree with gold balls and ribbons guarded the front doors, and greenery adorned with more gold ribbon and red and gold balls topped the doorways.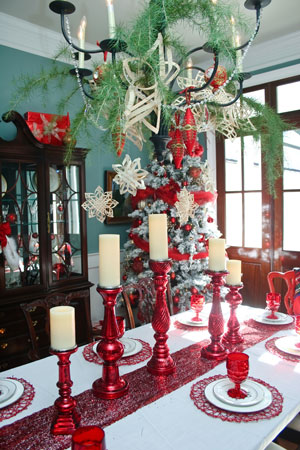 Ballet symbols were found in various parts of the house, including the dining room that was decorated by Brittany Wallace Interiors. In one corner of the room, a tall black soldier's hat was perched atop a mannequin torso clad in a red tutu and red epaulettes with gold fringe.
"Every year Brittany Wallace does the ballerina," says Jan Hodges Burke of the Augusta Ballet board of trustees.
White, fur-trimmed ballet slippers were tied to the china cabinet with red ribbon, and a white flocked tree decorated with red balls and red ribbon occupied a corner of the room. Topped with a white tablecloth and a red table runner and round red placemats, red and white was the color scheme for the table setting as well. Red goblets sat in the middle of white plates, and the centerpiece featured white pillar candles atop tall red candlesticks.
Royal Stewart tartan plaid throws were draped on the two head Chippendale chairs. Eye for Design added a red lacquer finish and painted fabric seats, which offer a pearlescent look, to the two chairs. The local interior design shop employs veterans to paint, wax or custom finish "rescued furniture" and décor.
Snowflakes that were handmade by Augusta Training Shop employees hung from the chandelier, which was decorated with greenery, ornaments and strand of clear beads.
The hardwood flooring in the house continued into the kitchen, which featured granite countertops with a leathered finish and a brick backsplash, and Cynthia C. Balentine Interiors added lots of greenery to the room. Greenery was tucked into fruit bowls on the counter, and two small, live trees with white lights reached for the ceiling from stockpots on the island.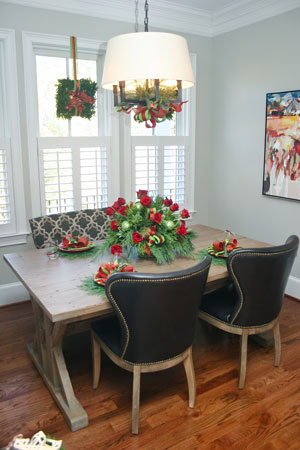 A rustic manger scene on a side cabinet featured handmade papier mache figures that were wrapped in wool.
Vince Smith of Indigo Floral Studio trimmed the breakfast area with red and lime green décor. A centerpiece of red roses with shimmering lime green balls situated in greenery sat atop the wood planked tabletop. Red plates topped with lime green napkins were wrapped with red and green ribbon that was tied in a bow. Wreaths hung from the windows by ribbon, and greenery with a red and green bow adorned the chandelier.
Greenery and burlap made up the décor by Home for the Holidays in the butler's pantry. A trio of wreaths with snowflakes and burlap bows hung on cabinet doors, and wooden boxes filled with pinecones, greenery and burlap twists were arranged on the countertop. Greenery was tucked into the wine racks as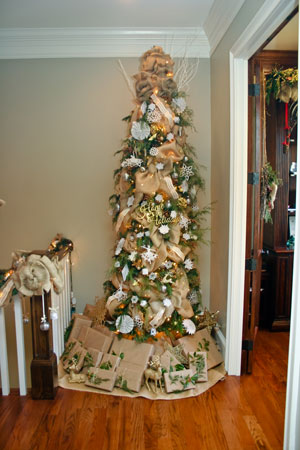 well.
The Sound of Music
Home for the Holidays also decorated the back hallway and study. In the hallway, brown paper packages tied up with string sat beneath a tall Christmas tree trimmed with burlap ribbon, ribbons made of sheet music and homemade snowflakes. A handmade snowflake even served as a tutu for a ballerina ornament. Swag on the staircase railing included greenery interwoven with burlap, gold berries, balls and lights.
A pair of reindeer and a red lantern sat on one end of the kidney-shaped desk in the study, where a tree was decorated with red and brown burlap ribbon and poinsettias. Ornaments included burlap boots with fur trim, owls, antlers, pinecones and red and burlap balls. A reindeer head poked out of the burlap tree topper.
Pinecones on red ribbon dangled from greenery on the shutters and from a framed map on the wall behind the desk.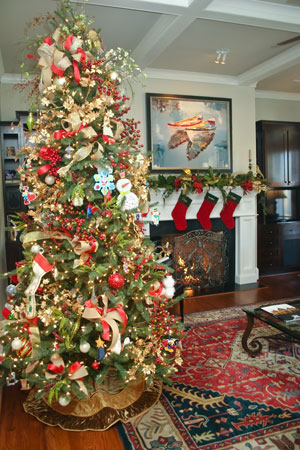 In the family room, which featured a coffered ceiling, LMT Designs trimmed a Christmas tree with red and gold ribbon and ornaments that range from elegant gold leaves and branches to whimsical Disney characters and red berries. The mantel was covered with magnolia leaves, gold ribbon and red silk flowers. A self-playing grand piano filled the home with Christmas music.
Even the laundry room, designed by Kim Landrum Designs, was awash with Christmas spirit in a scene straight out of the North Pole. Looking as if he had made a clean break from his toy-making duties, an elf poked out of a sudsy bed of snow in the washing machine. A clear bowl, filled with peppermints and a silver scoop, sat on a bed of greenery on top of the dryer. Three red-striped 'Santa Baby" sleepers hung on a rod while a pair of elf boots sat on the countertop.
Santa's freshly laundered red suit was laid across a plaid chest on the tile floor, and oversized mugs of hot chocolate filled with artificial marshmallows and candy canes sat on a tray on another countertop.
Green wreaths with red berries hung by red ribbons from hooks in the adjoining mudroom where three stuffed bears, along with a stuffed Santa and a Christmas pillow, lined a built-in bench.
All Snug in Their Beds
Christmas was celebrated in the bedrooms in the home as well. The master bedroom, which was designed by Martina's Flowers and Gifts, featured an outdoorsy theme. A Christmas tree by the window included burlap ribbon, giant mushroom cluster ornaments, red beaded balls and gold balls. While a pair of owls and twigs topped the tree, small burlap trees surrounded the base. Birdhouses were set on a bedside table and at the end of the four-poster bed, and bright red cardinals were perched on the tables as well.
A grapevine wreath with red berries and cardinals hung on a wall, and a box on the upholstered bench at the foot of the bed was filled with pinecones and red berries.
The theme spilled into the master bath, which also was decorated by Martina's. An arrangement on the vanity was filled with greenery, sticks, red berries and cardinals, and swag on the walls featured red bows and burlap poinsettias.
Continuing the natural décor, another bedroom, decorated by Peacock Hill, included stuffed bears and a wreath with pinecones above the bed. One bedside table included a Santa and a small lighted tree, and the other featured reindeer, greenery and pinecones. A needlepoint pillow on the bed said, "Like Friends, It's the Old Ornaments That Mean the Most."
In a basement bedroom, S.E.E. (Stage + Embellish Enterprise) placed a white tree on a bed of turquoise fabric on a white dresser. Bright pink, purple and turquoise ornaments dangled from the branches, while pink and purple nutcrackers stood at attention on the dresser. A trio of acrylic and collage canvases depicting ballerinas by Lillie Morris Fine Art hung on the walls, while four golden turtledoves nestled beneath a gold tree decorated with angel wings, gold leaves and gold branches in a corner of the room. A pair of golden ballet slippers sat on a glass-topped table.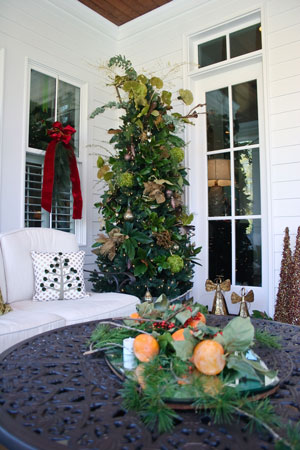 Brooks Haven Floral provided the décor, where burgundy and gold dominated the color scheme, for a second basement bedroom. A tree was trimmed with red and green ribbon, gold ornaments and red berries. Two small cone-shaped trees stood at the base of the Christmas tree in front of a picture of jolly old St. Nick on the wall. A wreath hung on the wall above the bed while another wreath was tied to the footboard with gold ribbon. Gold busts of the three wise men were nestled in greenery on the TV cabinet.
Another tree in the basement by the billiards room, also decorated by Brooks Haven Floral, featured gold balls and red and gold ribbon. The red and gold ribbon, along with leopard-print ribbon, formed the bow at the top of the tree. More leopard-print ribbon was intertwined with greenery in the light fixture above the pool table, where the pool cues were tied together with red and gold ribbon.
The theater room had a touch of Christmas spirit as well. Brooks Haven Floral topped the coffee table with a white flocked tree trimmed with turquoise ribbon, plaid ribbon and bows, and white twigs. For a finishing touch, even a wooden sled was tied with a turquoise bow.
By Betsy Gilliland