Local hurling and Gaelic football players try to ignite interest in the Irish sports 
The people of Ireland have a gift for storytelling. Even though their history is filled with strife, the Irish always seem to bring the tales they weave to a glorious conclusion. I'm not Irish, though, and it wasn't too long ago that my saga linked to the Emerald Isle had no happy ending in sight.
The story began in 2004 when I visited Ireland for the first time and fell in love with its music, history, culture, and especially its sports. Yes, they play soccer, rugby, and basketball there. But those are foreign sports, and all of them fail to capture the essence of what it means to be Irish. 
For that, we have to look back more than 3,000 years to when the Celts introduced warrior training practices to the green fields of their homeland. They used flat, curved wooden sticks to propel a stuffed, leather ball toward a goal, fighting off opponents along the way. "Hurling," they called it. And it hasn't changed much over the millennia. Warriors in every corner of Ireland still play, simply for the pride of their home parish.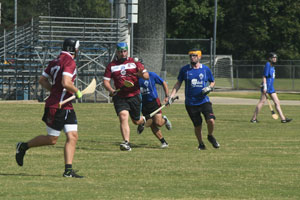 Growing in Number and Skill
When I was in Ireland, a stadium in Dublin full of 80,000 exuberant fans woke me from a sporting slumber. I bought a stick, or "hurley," and brought it home, hoping I could find some way to be part of what I had just witnessed.
Like it always does, life got in the way. Two jobs, rent, car repairs, and before I knew it, years had passed with nothing to show for it. It took the death of a close friend to remind me that we aren't guaranteed time to accomplish our goals.
Within four months, I was learning hurling from an Irish coach in Atlanta. Months later I was teaching three friends everything I had learned. From there, the Augusta Hurling Club was born.
We invited friends and family, but not having enough for our own full team, we played with the Atlanta club every chance we got. We grew in number and skill. We were doing the unimaginable, something that blew the mind of every Irish person I spoke to: Developing a club of American-born hurlers in a small Southern town.
Six years ago, we aimed to introduce hurling to more people. They came, and we were glad to have them. Since that time, the sports have taken off across the country. In the Southeast alone, the number of clubs has grown from five in 2011 to 20 today.
To attract soccer and rugby players, we began playing hurling's sister sport, Gaelic football, in 2012. We even changed our name to Augusta Gaelic Sports Club to reflect that we included both of Ireland's national pastimes. Those changes paid dividends as well.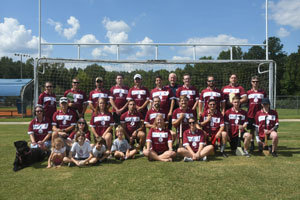 Resurrected Dream
Like every good story, though, complications must arise to create drama. As time pressed on, many of our members drifted to other pursuits. Some found jobs and moved away. Some got married, or joined the military. By spring of 2014, weekly practices had dwindled to a twosome. After months of futile effort reminding everyone we knew about these awesome sports, we decided to pack it in. The dream was over.
For two years I didn't touch a hurley. The bags of equipment I bought for others to try, all sat in the dark corner of a closet I never opened. I returned to a familiar old pastime – playing pickup basketball with a couple of former Club members, Appling residents Chuck and Will Renfro, on Tuesdays.
Hurling eventually came up during between-game conversations. They missed it, they told me. I did too, but there was no sense in disturbing that ghost. Then another Appling resident, Nathan Montgomery, overheard us.
"Now, what sport is that?" he asked.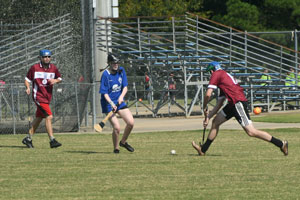 We explained it the best we could: "Kind of like a cross between field hockey, lacrosse, soccer, and rugby, but like nothing you've ever seen."
I showed him some videos on my phone, then dusted off my hurleys and brought them the next week. To our surprise, Nathan was excited to give it a try. Still skeptical, I scheduled a trial event to gauge interest in restarting the club. We planned to meet on a September Sunday afternoon last year at Patriots Park. Then the floodgates opened.
The first was a Navy man, Erik McTaggart, who had played hurling at Purdue University. He had just completed his training and been stationed at Fort Gordon. He was praying that our club was still functioning. Then came a sergeant in the Army, Sean Fox, who had seen hurling and Gaelic football in Ireland and wanted to play.
Next was Thomson resident Kim Jenkins. While living in Seattle, she had played both sports after being introduced to them during Irish Week. She was ecstatic to again have a place to play. Then came Lee Doby, a lacrosse coach from Grovetown, looking to connect to his Celtic heritage. He was followed by USC-Aiken professor, Eric Carlson, who had played in the early days of the Milwaukee Hurling Club, now the largest club outside of Ireland.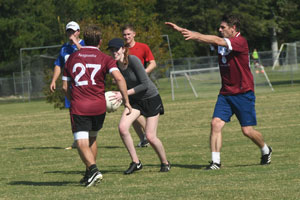 Competition and Fellowship
One by one, the messages came through email and social media. Our past members wanted to give it a go once more, and people new to the area or new to the sports were eager to try. As we continued to play, the new folks brought their friends, who brought their friends.
"I literally couldn't stop thinking about how I wanted to play more," Montgomery remembers. "Kris let me borrow a hurl, and I would just hit the ball from one end of my yard to the other, over and over again."
In the year that has passed, we held our own tournament and are doing so again on Saturday, November 4. We participated in tournaments in Atlanta and Charleston and helped two former members who had moved to Athens start a club of their own. We even got a club sponsor, Cornerstone Granite Company, allowing us to order authentic Gaelic jerseys.
At recent practices, we've had between 15 and 20 participants. But we're still growing and spreading the word. In fact, despite how far we've come in such a short time, we still have a long way to go. Our story isn't over yet. But with testimonials from people like Montgomery, who has dragged his entire circle of family and friends to the park to join us, we are sure the games will catch on to an even larger audience.
"I love the sport and the character of the guys and girls who play it here in Augusta," he says. "Even though it can be a physical sport, American hurlers have this incredible respect for each other on and off the field."
While our members love to play, once the competition is over, the fellowship afterward is what many anticipate most.
"Practice and food," Jenkins says, listing the two club events she looks forward to most. "I love the camaraderie. The team is very welcoming to all skill levels and is very inclusive."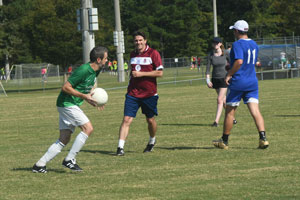 Come One, Come All
We haven't even considered that there's any other way to be. For other sports, there may be a tryout, or organizers may only gather people they know are talented enough to help the team win. We are on the other end of that spectrum; we don't discriminate. We accept everyone, from the person who has never played any sport in his life, to the Irishman who grew up with a hurl in one hand and a Gaelic football in the other.
We take pride in teaching new folks how to play. We play hard while on the field, and we shake hands after the final whistle. Then we share a meal and drink together while weaving our own tales of the battle that just ended. 
If this sounds like a story to which you want to contribute, don't hesitate. Joining us is easy, and we will welcome you with open arms. Anyone can reach us at facebook.com/AugustaGaelicSportsClub, at twitter.com/AugustaGaelic, or at augustahurling@gmail.com.
By Kristopher Wells