After losing their home to fire, a Clarks Hill couple found a silver lining in potentially disastrous circumstances.
Sometimes things have a way of turning out for the best, even if they don't go according to script. Just ask Beverly and Andy Allgood of Clarks Hill. For 13 years, they have lived on a prime piece of real estate overlooking the Savannah River in Furey Plantation. 
Now they have their dream home to go along with that idyllic location. The two just didn't come together for that storybook, happily-ever-after ending until their previous home was destroyed by fire in November 2014.
"As tragic as things can be in life, it seems as though so many beautiful things have come from it," says Beverly. "We have found little treasures, and we still have each other. You never know what's ahead of you."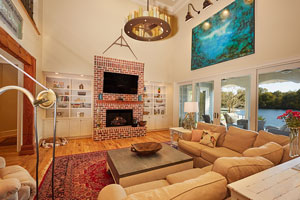 Changes for the Better
On a Sunday night, the Allgoods had put out a fire in the downstairs fireplace and headed for bed upstairs, where another fireplace was stacked on top of the one below.
When Beverly heard noises in the fireplace that sounded like a family of squirrels, Andy banged on the mantel of the upstairs fireplace. Instead of seeing bushy-tailed squirrels, however, they experienced the equivalent of an ominous musical score in a horror movie – fiery flames shooting out the window. They got themselves and their dogs out of the house. Andy briefly went back inside and came out with a rifle in each hand (after all, he had a hunting trip to Saskatchewan coming up) and a ring that he had given to Beverly on one finger.
Beverly called 911, and Andy valiantly turned a garden hose on the fire. And then, Beverly says, "We watched the house burn to the ground."
They later learned that there was a crack in the flue that allowed flames to get to the roof.
With neighbors coming to their aid, Beverly, who owns a Pilates studio, and Andy, a dentist, spent the rest of the night in an unoccupied home in the neighborhood. And the next morning brought them a new reality.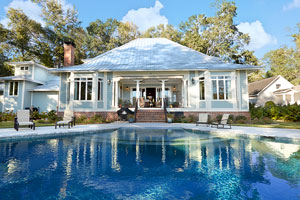 "We woke up and had nothing," says Beverly. "We had lost everything, but the world kept ticking. You find out how small you are."
They went to Walmart to get the basics. (Imagine a dentist waking up without a toothbrush.) They also had to supply their insurance company with a list of everything they had in their house. And in the midst of one of their darkest hours, the Allgoods were presented with an opportunity. They had a chance to rebuild their home just the way they wanted it.
Granted, Andy says, "It's not something we chose to do. It's something we had to do."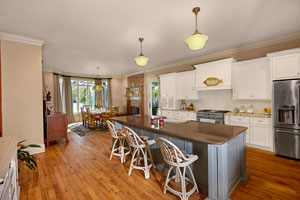 They started working on new house plans, which they finished the following February. After a year of rebuilding, they moved into their new house in March 2016. "You get exactly what you want," Beverly says. "You get to put your personality into it."
As self-described "treasure seekers" that are "always on the lookout for stuff," they started hunting for things for their new home.
"Andy is a buyer. I am a shopper," Beverly says. "I'll get down in the dust balls. I can find anything."
First and foremost, they wanted to create a river house that reflected their personalities. 
"This house is made for dogs and people who like to relax," says Beverly. "We want people to come in and kick their shoes off and feel at home. It doesn't matter if you spill something, and it doesn't show dog scratches. We'll always have animals."
They also made some changes to the design of their new home to make it more practical. Unlike their former cypress, two-story house, which was built 12 feet off the ground with an open bottom, this house is closer to the ground. While the new home has two stories, the master bedroom is on the first floor. There are no stacked fireplaces inside, and the new house has a metal roof.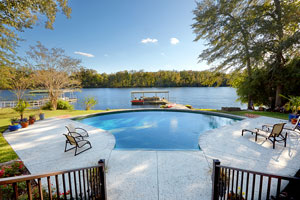 "It's totally us from top to bottom," says Beverly.
To keep that "totally us" feel, the Allgoods tried to salvage what they could from their former house. In fact, once the smoke was gone, Beverly returned to the site several days after the fire to sift through the ashes – only to find a bulldozer on site. Suffice to say, the macho earth-moving machine was no match for the petite Pilates instructor. She positioned herself in front of the bulldozer, held up her hands and yelled, "Stop!"
The sympathetic workers gave her three or four days to go through the debris, and she was rewarded for her efforts. She found several things of value ranging from a necklace and a David Yurman bracelet and matching earrings to family photos and her three children's baby books.
"The things that I prayed for and asked for," Beverly says, "I found."
She also found a cross Andy had given her sitting on top of the ashes. "That was a sign that everything was going to be OK," says Beverly.
Wood, Water and Sky
With its two-story ceiling, the family room sets the tone for the ambiance the Allgoods, who met when Beverly was Andy's instructor in a cycling class, wanted to create.
"We knew we wanted a full, open feel," says Beverly. "We modernized the new house."
They also wanted a lot of natural wood in the home, such as the maple wood flooring with an oil finish that runs throughout the first story. They found the wood in an old textile mill, which was built in the 1850s, in Calhoun Falls, South Carolina. The nail holes in the floor are vestiges of the nails that had held the maple to the three-inch pine subfloor in the mill. The columns in the family room are made of 24-foot pine beams.
Their affinity for natural wood is reflected in their accessories as well. The home décor includes small wooden bowls that Beverly's business partner's husband, who also is a dentist, made out of wood from trees in the yard.
In the family room, a wooden antique yard measurer hangs on the wall above the fireplace, and a black walnut bowl sits on the raised-hearth, gas – not wood-burning – fireplace. A pottery jug that survived the fire sits next to the walnut bowl, and an antique dough bowl with a handle occupies the coffee table.
The family room also features built-ins, backed by bead board, on either side of the fireplace, and sliding doors to the back porch. A contemporary painting with swirling shades of blue and sea green hangs above the doors.
"We wanted a window above the doors in the family room, but Andy found this incredible painting," says Beverly. "It looks like the water and the sky."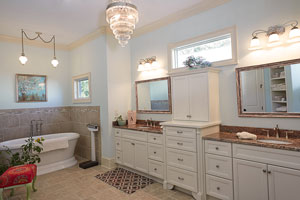 Things of the Past
The Allgoods, like Andy's late parents, are avid antiquers (his mother had an antique shop), and the fire forced them to get out and hunt for vintage treasures. "We hit the ground running after the fire looking for things," says Beverly.
They found the mantel in their breakfast area, which features a bay window overlooking the river, at an antique shop. A grain drain sits next to the fireplace, and a nativity scene occupies the mantel shelf.
"The nativity scene stays up all year," says Beverly. "It was one of the first things we bought after the fire – and underwear at Walmart."
The buffet in the breakfast area belonged to Andy's grandmother, while an antique rocker in the corner came from Andy's mother's house. The light fixture in the breakfast area previously lit up an old hotel. Above the island in the kitchen, a pair of lights, which had been in Andy's parents' house, were once in an old pharmacy.
However, the kitchen has modern touches as well. The island features a Quartz countertop, and the perimeter countertops are textured leather granite. The kitchen also includes a farmhouse sink and stainless steel appliances. "This is a good, working, functional kitchen," says Beverly.
The wet bar off the kitchen includes a hammered copper sink, countertops with a textured leather granite finish and glass-front cabinets.
A walk-in pantry leads to the mudroom, which features a sliding barn door made out of 200-year-old pine wood from their cabin in Lincolnton. The space also includes a set of school lockers, and a bench that was made out of beams that came from the Calhoun Falls mill.
Andy's study is full of nostalgia as well. For instance, an old wooden dental cabinet (he had another one in their previous house, but it did not survive the fire) is the perfect place to store memorabilia. A football, autographed by former University of Georgia and current Detroit Lions quarterback Matthew Stafford, sits atop the dental cabinet. He got the football from one of his patients, who is originally from Detroit and has a brother who works in the Lions' locker room. In fact, he had another autographed football in their former house, but the patient replaced it for Andy after the first one was lost in the fire.
Andy is an avid hunter, and in his study, he has a lamp that is made out of some of his guns that they found in the ashes. He has hunting trophies including deer, fish and ducks on the walls as well as an embroidered picture of ducks that his grandmother made.
Two face jugs that were saved in the fire are in his study as well. His father liked pottery, and Andy has some pieces that belonged to his father on his desk. One is a piece of clay pottery of an Indian princess with a rattlesnake wrapped around her head. He also has another piece that has an Indian princess face on one side and an Indian chief face on the other side.
A painting of Squeaky's Tip Top, a former watering hole on Central Avenue, in his study brings back fond memories as well. "When I was in dental school, we would head to Squeaky's on Friday afternoons," Andy says.
Calm and Serenity
However, the ambiance in the master bedroom, which has Oriental influences in the décor, is decidedly different. A framed Oriental handkerchief hangs on a wall, and Japanese lanterns are suspended from a stand. Two dragonfly paintings hang above the bed.
"It's serene and calming. It's good feng shui," Beverly says.
The room also includes a bay window overlooking the river, wicker furnishings, a trey ceiling and a ceiling fan.
"I can wake up in the morning and see my man and the river," says Beverly. "It doesn't get any better than that."
The adjoining master bath features tile flooring, a stand-alone tub, granite countertops, a chandelier and a walk-in shower with a pebble floor and tile walls.
Despite the serenity of the master suite, Beverly and Andy spend most of their time on their back porch, which features two ceiling fans and a mini fire pit with a wrought iron tabletop.
"This is where we eat most of our meals. This is where we live," says Beverly. "I am not a traveling woman. I like to sit on the back porch and stare at the river."
Other amenities, such as the beach-entry, saltwater pool, are just steps away.
Andy built the big fire pit in the yard, and the dock, where they keep their kayaks and pontoon boat, survived the fire. They like to ride up to the dam and watch the sun set.
"We have so much fun wherever we are," Beverly says. "This house has brought us so much joy."
By Betsy Gilliland