From illustrating a children's book to selling prints of her paintings for worthy causes, a Martinez artist and runner uses her talents to give back to the community.
Some people would love to be artistic. Others dream of being athletic. Some, like Martinez resident Carrie Brooks, are lucky enough to be both.
As a child she watched her mother make dolls in her art studio and her dad work in his woodshop, so art runs through her veins. Her maternal grandfather was a portrait artist, and her maternal grandmother was a greeting card illustrator.
"Since I was a little kid, I have been making art," Carrie says. "Before I could even write my name, I was making art. 
As an adult Carrie, who teaches ceramics at Lakeside High School – her alma mater – took up running "to keep her sanity."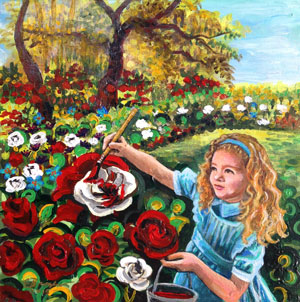 Painting with Purpose 
She also intermingles her talents to make a difference in the community. She often creates paintings, along with signed and numbered prints to sell for charity, to commemorate events she participates in such as the Augusta University Half Marathon, 10K and 5K race and the Ironman 70.3 Augusta (She has participated in the triathlon since it began in 2009.)
"I started using my art as a way to raise money," says Carrie. "I've been motivated athletically to make art. When someone gets something for their donation, they're more likely to donate."
She has raised more than $10,000 for various endurance events by selling prints of her art that relate to the races. Often, she will paint scenes that she sees along race routes. "People like to buy prints because they're symbolic of something they did," Carrie says. "They like to put up prints in their house that remind them of something they worked for. It's something besides a medal or a T-shirt."
Carrie has raised $1,700 for the Scott Rigsby Foundation, an Atlanta-based nonprofit that promotes health and fitness for people with physical disabilities, by selling prints of her artwork. Rigsby lost his legs in an automobile accident when he was 18 years old, and his foundation also trains disabled people to participate the Ironman 70.3 Augusta.
"It motivates me in my art, and it gives me a reason to train besides staying in shape," Carrie says of running. "Just making art to make a buck doesn't motivate me."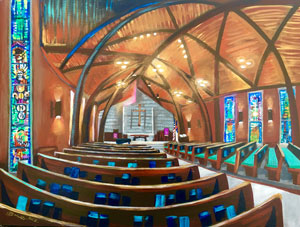 She sold prints through the Augusta Striders website to raise money for a bronze memorial, which includes a soldier's boots, rifle and helmet, near the pedestrian bridge at Savannah Rapids Pavilion in honor of Major Michael Donahue. An active member of the local running community when he was stationed at Fort Gordon from 2009 to 2012, Donahue was killed in Afghanistan in 2014. The memorial was dedicated July 4, 2015 before the start of the Yankee Doodle Dash on the canal tow path, and Carrie, whose father is a Vietnam veteran, spoke at the ceremony.
She even raised money for a kiln for her ceramics classroom by selling prints of the Lakeside seal and panther mascot to commemorate her 20th high school reunion last year.
Her prints not only hang on walls, however. Carrie also illustrated the children's book Manners and More for Girls by Gail Reed, a retired 42-year educator who taught at Blue Ridge Elementary School. She did 19 illustrations for the book, working on them from January until August 2016. The book was published in January 2017.
"Gail was very specific about her vision. She had already published two other books," says Carrie.
She took on the project even though she has been apprehensive about doing portraits ever since she got a stinging critique about her portraiture from a college professor. However, she decided to take her own advice.
"I tell my students they have to practice to get better," she says. "I just knew I had to paint little girls for the book. Gail didn't say what they had to look like. I have a hard time copying likeness, but I can make a face look human. It's a challenge for me to paint faces, but I know I can do it if I have to."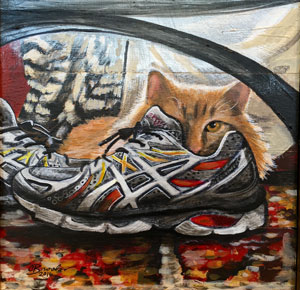 Some of the girls in the illustrations look like Carrie's two nieces, and one of them looks like a young Carrie.
"It was an awesome project to be a part of. It made me want to write and illustrate my own book one day," she says. "It was such a growth opportunity."
Getting Series-ous
Carrie has completed other series of paintings as well. "I like working on multiple paintings at one time, but within a certain theme," she says. "I can go back and forth between the paintings and experiment with an idea."
She completed a Time and Space series, which she painted on old wooden cabinet doors that she found at a secondhand store, in 2010. "When I did the Time and Space series, I was running downtown several times a week and kept marveling at all the historically rich buildings along my route. The Miller Theater was in the early stages of being renovated, and the idea of architecture and history and time was at the forefront of my mind," she says.
The idea also inspired her to visit a clock store downtown, where the personnel donated clock parts to her.
"Clock parts are timeless and historical, and I have been collecting clock pieces for five or six years," she says. "I love to incorporate mixed media things in my paintings."
Two years ago Carrie had a show at the Arts and Heritage Center of North Augusta in the city Municipal Center. Inspired by her running, the exhibit featured a series of shoe paintings on old, 2-foot-by-2-foot wooden planks. "I liked the connection between the shoes and the floorboards," she says. "Every one of the paintings tells a story."
For instance, one of the paintings shows her cat with her running shoes (Brooks brand, of course). "My cat likes to stick her face in my running shoes," Carrie says. "That's a sign of unconditional love."
She also has finished the first of a 10-painting series that she plans to do of sanctuary interiors of local churches. The painting depicts the interior of Covenant Presbyterian Church, where she and her husband, Bo Golden, were married five years ago.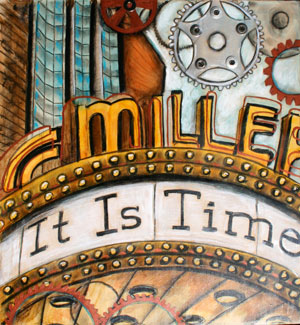 "You always see paintings of the outside of churches, but the inside is where people are saved. That's where people's lives and hearts are healed," Carrie says. "I have had friends that have had important transformations in their lives because of church."
Carrie, who also taught photography in the past, frequently takes photographs of scenes from different angles with her smartphone and paints from those images. She paints primarily with acrylics because they dry quickly, and she likes to incorporate lots of color in her artwork.
"Color appeals to me. Color speaks to people," says Carrie. "I can't pick, so I just use all of them."
That 'Aha' Moment
While she prefers painting for her own pleasure, ceramics is her favorite medium to teach. When she was a little girl, her mother often gave her clay to mold.
"Ceramics hasn't changed a lot in 2,000 years," says Carrie, who also leads trips abroad during the summer. "I like the longevity and sustainability of ceramics. You learn about cultures through ceramics."
She has 180 students, ranging from first- to fourth-year students, and her classrooms have included everyone from valedictorians to special needs students.
"Ceramics lends itself to beginners. It's a step-by-step process," she says. "When people have the medium all over their hands, it means something to them. I want my students to make things that are meaningful to them. If there's no point behind it, they're not vested in it."
Her own struggles have helped her in her career as well. Carrie was diagnosed with dyslexia in college and attention deficit disorder when she was in graduate school.
"Creative students can compensate for disabilities, but it made a lot of things make a lot of sense," she says. "If you judge a fish on its ability to climb a tree, of course it's going to feel stupid. There are different ways that kids learn, and you have to find a way that makes sense to them."
She encourages her students to work within parameters because they "can be more creative with some parameters than with full freedom." However, she says, they don't have to know the end result when they start a project.
"Making art is a metaphor for life. Things don't always go according to plan," says Carrie. "I like allowing kids to discover that they have an artistic side. I like to watch that 'aha' moment. I see the stress leave their shoulders when they walk through that classroom door."
She had an "aha" moment of her own after her first year of teaching. She wasn't making time for her artwork, and she had not started running yet. She was simply in "survival mode," and she realized that something was missing from her life. Now, however, everything has tied together.
"Running inspires my art. Art inspires my running," Carries says. "Teaching inspires everything else."
By Betsy Gilliland