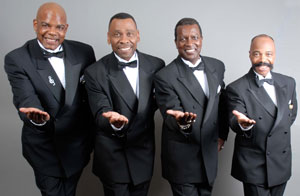 Get ready to go Under the Boardwalk, get All Shook Up and recapture Time in a Bottle.
The Hardin Performing Arts Center will be rockin' and rollin' this month with performances that evoke feelings of nostalgia with their music. 
On Friday, September 14, The Drifters will show how they brought several firsts to the music business. They were the first rock 'n' roll group to include string instruments in rhythm and blues music with the song, "There Goes My Baby." They were the first group to sell two million records with the pop classic, "Up on the Roof." Their hit "Under the Boardwalk" is the most played R&B disc of all time, and in a 15-year span, The Drifters were part of the longest running sold-out concert show in Las Vegas history. The Drifters also have sold more than 200 million records across the world, a feat that has been topped only by Michael Jackson, the Rolling Stones and Adele. Tickets are $44.50.
On Friday, September 21, A Tribute to the King featuring Travis LeDoyt will showcase the genius of Elvis Presley, whose songs shaped a generation. Born in 1977, the year Presley died, LeDoyt never saw the King in person. However, with his remarkable resemblance to the man and his talent to emulate Presley's voice and style, he captures the essence of the star in his prime. Specializing the 1954-1959 years, LeDoyt offers those who never saw Elvis Presley perform the next best thing. Tickets are $39.50.
A.J. Croce, son of the late Jim Croce, comes to the area Wednesday, September 26. Although he has experienced a lifetime of comparisons to the father he lost when he was only 2 years old, his music bears little resemblance to that of his singer-songwriter-guitarist father. The younger Croce, a piano man-singer-guitarist, has a sound that is part New Orleans, part juke joint and part soul. Tickets are $39.50.
All concerts begin at 7:30 p.m. For tickets or more information, visit augustaamusements.com or call 706-726-0366.