The employees at Augusta Training Shop have turned snowmaking into an art form
There is plenty of snow in the forecast this holiday season, and snowflakes of all shapes and sizes will land right here or make their way across the country. The skilled artisans who work at Augusta Training Shop weave these snowflakes in a flurry of activity all year long. And just like the people who make them, each of these snowflakes is 100 percent original.
The employees at Augusta Training Shop, a nonprofit work center that teaches mentally and physically challenged adults to repair and refinish furniture so they can make a living, started making the snowflakes in 2012.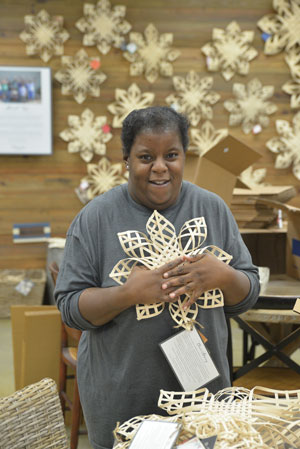 Making a Name for Themselves
Audrey Murell, executive director, partnered with Adrian Williams, a nonverbal employee, to create the snowflakes. She had the idea, and he came up with the prototype. "It was something for them to do and another way to generate revenue," she says. "One finished snowflake provides up to three people with a job." 
The snowflakes, which are made out of seat-weaving material, come in about 40 patterns and sizes. The patterns have names like Augusta, Adrian, Audrey, Revival, Heirloom, Foundry, Georgia and Cate.
"All of the names have special meaning to the shop or to my life or to the South," says Audrey.
The board of directors named a snowflake in her honor, for instance, and the Foundry is named after the business owned by the late Gordon Huff, who served on the ATS board of directors for more than 26 years.
Social media has spread the word about the snowflakes, and about 10 employees weave the designs. The snowflakes are sold online, at the training shop and at local shops and specialty stores across the country.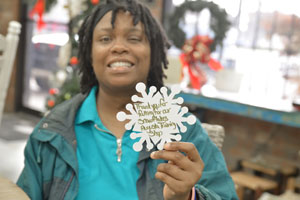 "The smaller ones are the hardest to make," says Audrey. "They take the most time."
A Job for Everyone 
Training shop employee Trenton Martin started making snowflakes in 2016. "It was difficult at first, and I made mistakes at first," he says. "But it makes me feel good. I love my job. The best part is making the snowflakes. When I don't know how to do it, I ask for help. When I see the finished product of the snowflake, I feel good about it if it looks good." 
His co-worker, Donna Swanson, agrees. "I enjoy making snowflakes of all sizes. I like working with my hands," she says. "I feel proud when a snowflake that I made looks really good. It makes me feel even better when someone buys it because that means they really liked it." 
Cheryl Schmidtbauer who started working at the training shop through Experience Works, an organization that hires senior citizens, helps make snowflakes during the busy season two or three months of the year.
"You can see how much detail goes into them. You want them as near perfect as you can get them," she says.
She, along with Tricia LeBlanc, helps train the employees to make the snowflakes. "I love the people," says Tricia. "I enjoy what I do."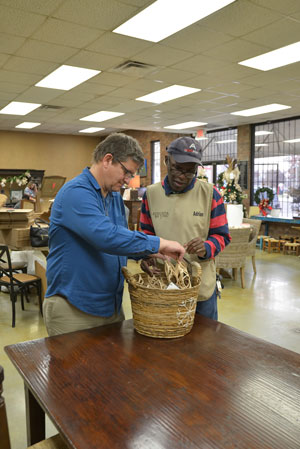 Augusta Training Shop employees contribute to the snowflake-making process in other ways as well. Some pack them for shipping. Shanon Brooks writes a message in gold ink on a white cardboard snowflake, which is shipped with each order. The message says, "Thank you for falling for our snowflakes."
 Each snowflake also includes a tag with a photo of the person who made it, along with biographical information about the artisan. 
"They make it more personal," Audrey says of the tags. "They showcase the workers and their talents." 
By Sarah James