Columbia County has a new app to help small vehicle operators safely navigate through traffic signals at area intersections.
Traffic mitigation is one of the biggest concerns in Columbia County, and officials are offering a mobile application to make traveling easier countywide for small vehicles such as bicycles and motorcycles.
The county's traffic engineering department has partnered with EmTrac Systems to design and implement the app, Ride on Time Columbia County, which is available for a free download in the Apple and Google stores for iOS and Android. Columbia County is the first place in the United States to release this app, which initiates phase sequence for traffic signals, to the public.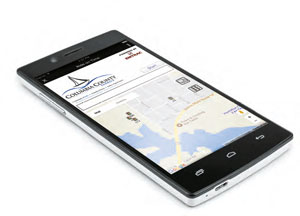 As a small vehicle enters the detection zone, or virtual loop, of a traffic signal, it sends a notification to the intersection for triggering a green light. As part of the pre-emption system, the Ride on Time Columbia County app will not necessarily trigger a green light for the motorist, but will ensure they are not skipped during a traffic phase. This will increase riders' safety on county roadways by discouraging them from making illegal turns while waiting for signals to change.
Currently, 67 units have been installed at intersections with traffic signals throughout the county. Only intersections in construction zones are not yet equipped with the technology, but units will be installed and activated at these intersections once construction is complete.
Any future intersections in Columbia County will be required to have the EmTrac receivers installed once they have been completed and released to the traffic engineering department. Any user who has a problem with the app should contact the traffic engineering department at (706) 868-4223.