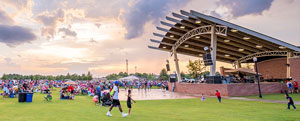 Columbia County is seeking information from residents about its recreational facilities to develop a master plan for its Parks, Recreation and Events department. Through a needs-assessment project called Recreate Columbia County, residents can offer input about the recreation facilities they use most frequently and the types of amenities they would like to see added or expanded in the future.
At the website, recreatecolumbiacounty.com, residents can make comments or suggestions, respond to an online survey, learn dates for public meetings and share feedback through social media.
The department oversees a variety of events, programs and recreational activities for a community of more than 160,000 people, and nearly 1 million visitors use the recreational amenities annually.
Wood+Partners, Inc., a Hilton Head Island landscape architecture firm, and the Indiana-based PROS Consulting, Inc., which specializes in helping local governments with sports and recreation projects, have partnered with the county. The project is expected to be complete by March.