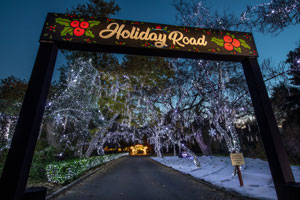 A new lights attraction is coming to suburban Atlanta for the holidays.
If a holiday road trip is on your wish list, then Holiday Road will deliver.
This event – a dazzling display of lights at The Horse Mansion @ Bouckaert Farm in Fairburn, Georgia – is new to the Atlanta area this year.
Located just 20 minutes southwest of Hartsfield-Jackson Atlanta International Airport, the 8,000-acre Bouckaert Farm is a full-time equestrian event facility that features 10 miles of frontage along the Chattahoochee River.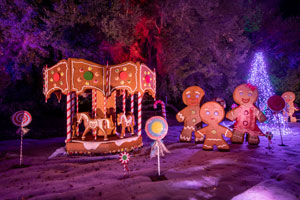 While it typically is a popular film, music festival and wedding site, the farm will transform into a must-see destination with thousands of bright Christmas lights for the holiday season. Santa and Mrs. Claus, their trusty elves, reindeer, countless candy canes, Christmas villages and "snow"-covered trees can be spotted at The Horse Mansion as well.
Holiday Road got its start in Los Angeles last year. This season, however, Atlanta and Northern Virginia are joining Tinseltown as venues for the show.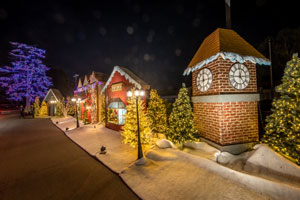 "Atlanta is an ideal market for Holiday Road, and we are happy to be able to bring the experience to the community," says spokeswoman Dianne Murphy. "We are looking forward to making Holiday Road an annual holiday tradition for the greater Atlanta area."
Light Up the Night
The lights display is set up along a 1/2-mile, self-guided walking trail at the venue (yes, restrooms are available along the trail and throughout the grounds).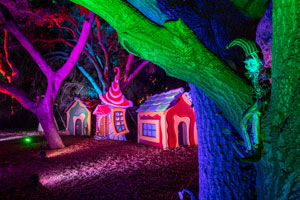 Generally, it takes one to one-and-a-half hours in total to complete the trail and to participate in activities in the pre-show area. However, visitors can follow the trail at their own pace.
Guests can enjoy much more than the bright and colorful bulbs that light up the night sky, however. In the pre-show area, they can join the fun with interactive experiences or enjoy the food and drink that will be available for purchase by a rotation of vendors.
Hot drinks for cold winter nights and other seasonal beverages will be on the menu. Visitors ages 21 and older can indulge in holiday cheer with adult beverages at the Holiday Bar. Think creative cocktails, wine to unwind and craft beer to get in the holiday spirit. They also can take their drinks along with them on the trail.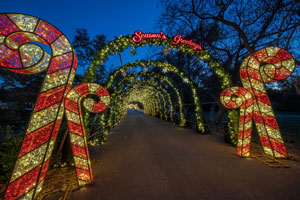 Of course, those who consider having an adult drink on an empty stomach might land on the naughty list, so they can make nice by sampling the fare offered at various food trucks onsite.
The souvenir shop offers keepsakes for visitors to take home lasting memories, and visitors are encouraged to take lots of photos and post them on Instagram and Facebook (@holidayroad). Be sure to tag them with @holidayroad or #holidayroad.
Timing is Everything
The new attraction will be open daily 5 p.m. – 11 p.m. November 26 – January 2. Advanced ticket purchase is required online, and trail tickets are available on the half-hour at designated time slots from 6 p.m. until 9:30 p.m.
Visitors must be present at check-in during their arrival window, which begins 30 minutes prior to their ticket time. Anyone who is not present during the arrival time will be turned away, and no refund will be provided.
Parking also must be purchased online in advance with admission tickets, and a pass will offer access to the parking lot.
Strollers are allowed on the walking trail, but no pets are permitted on the grounds. However, service animals with proper documentation can accompany visitors.
"We'd like for the community to come out and celebrate their holiday season while creating festive memories together at Holiday Road," Murphy says.
All tickets are non-refundable. The show will operate rain or shine.
If You Go:
What: Holiday Road USA Atlanta
When: 5 p.m. – 11 p.m. November 26 – January 2
Where: The Horse Mansion @ Bouckaert Farm, 10045 Cedar Grove Road, Fairburn, Ga.
How Much: $24.99 – $29.99 per person; free for children age 2 and under; parking pass $4.99 per vehicle; online advanced ticket purchase is required
More Info: holidayroadusa.com