A new practice facility is making the cut at the former Jones Creek golf course.
There will be a new player in town starting Masters Week. On Monday, April 3, Bond Golf Global will open "The Practice Club at Jones Creek" on the site of the former golf course in Evans.
"The golf course has been closed for five years, and we want to inject some life back into it," says Andrew Brooks, founder and owner of Aiken-based Bond Golf Global. "We want to create a good community and a family friendly facility that anybody can use. We want to direct people into the game of golf. It's open to everybody 100 percent."
Powered by Toptracer, the high-tech facility will feature eight outdoor bays, eight indoor bays, two covered suites, a sitting area to watch sports and a Junior Golf Academy.
Although the clubhouse is not part of the project, The Practice Club will offer food and beverage services as well.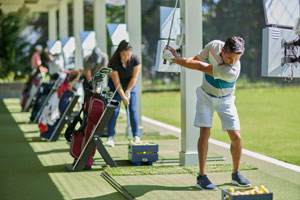 In its second phase, the facility will add a putting green, a chipping green and a practice bunker. Brooks says these areas should be open by the end of June.
"Our vision is to bring back the golf course. We're looking at what's required," he adds. However, he says no timetable has been set for these renovations.
Future amenities also will include club fitting and club repair services.
While some practice facilities are geared toward entry-level golfers, Brooks says, "This will be a next-level facility where people can hit real balls onto a range. It's a pathway onto the golf course. It's going to be a special place."
For more information, call (803) 477-6824 or email bondgolfgobal@gmail.com.