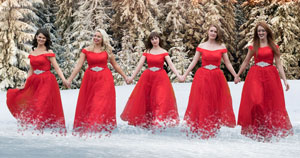 Celebrate the holiday season with songs that have a classical, country, contemporary or Celtic twist
Worship services, baking, shopping, gift wrapping and family fellowship are some of the traditional hallmarks of the holiday season. However, it would be impossible to celebrate Christmas without music. Two upcoming holiday concerts will showcase the place that holiday tunes hold in our hearts – especially when the music comes with a folk music or a Celtic twist.
The Annie Moses Band will perform a Christmas-themed show with a blend of folk and classical music on Wednesday, November 28. The band, made up of musicians from the same family, has a sound all its own. The siblings call their style "chamber pop," a blend of classical, jazz and pop, mixed with some good, old-fashioned country. Tickets are $49.
On Monday, December 10 the Irish Cultural Academy, in association with CMI Entertainment (USA), will present the first Christmas tour of the Celtic Angels Christmas production, a holiday celebration of Christmas in Ireland, highlighting yuletide music from across the centuries. The show features vocal and instrumental seasonal favorites alongside Irish, contemporary and original Christmas themes – with Celtic flair, of course. Routines by world champion dancers will accompany the music. Tickets are $44.50.
The shows will begin at 7:30 p.m. at Hardin Performing Arts Center. Dinner reservations for a pre-concert meal are available as well. For more information or to order tickets, visit augustaamusements.com or call (706) 726-0366.