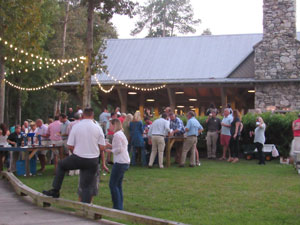 Central Savannah River Land Trust celebrates success with its annual oyster roast and party at the river
Perfect fall evenings beg for perfect fall celebrations, and it will be hard to beat Central Savannah River Land Trust's 15th annual Bash on the Banks. 
The popular event once again will feature an oyster roast with oysters from the Gulf of Mexico, classic Southern food catered by Sweet Magnolia's Deli and Grille in Pelion, South Carolina, and local spirits from River Watch Brewery in Augusta and Carolina Moon Distillery in Edgefield.
Entertainment will include corn hole, a live auction, a raffle, live music by blues band Packrat's Smokehouse, and new this year, a cigar bar.
Raffle items include a 12-foot angler's kayak, passes to the National Wild Turkey Federation's Palmetto Shooting Complex, a wood bowl turned by Dave Welter and gift packages from local boutiques. 
The auction will include experience-based items such as fly fishing lessons, a fly fishing trip and rounds of golf at area courses. In one of the highlights of the evening, local artist Richard Worth will paint a nature scene during the party, and the acrylic will be auctioned off to the highest bidder.
"We are celebrating everyone's combined efforts of conservation success and the generous community support," says Bethany Surles, the Land Trust membership and events coordinator. "This is our way to celebrate with the community. We couldn't succeed without them." 
The Land Trust is funded entirely by grants and donations. By preserving local forests, farms, rivers and open spaces, the nonprofit organization protects the quality of life in the area and leaves natural resources intact for future generations. Since 2001, the Land Trust has protected more than 7,300 acres of land throughout Georgia and South Carolina.
Preserved areas include 315 acres in Columbia County, 1,761 in Richmond County and 773 acres in Aiken and Edgefield counties such as Greystone Preserve in North Augusta. Through partnerships with local developers, the Land Trust has saved more than 2.5 miles of the banks of the Savannah River along the edge of Columbia County. The conservation organization has preserved land in several Columbia County neighborhoods as well. 
"It's our desire to connect conservation properties throughout Columbia County. With both green spaces and the greenway project, we are focused on this high density and developed area," says Surles. "For any remaining landowners who are interested in still preserving their land, we would love for them to reach out to us."
In the meantime, however, past accomplishments must be celebrated. "We are really elevating the experience this year," Surles says. "It's going to be a great event. We're really excited." 
If You Go:
What: 15th annual Bash on the Banks 
When: 6 p.m. – 9 p.m. Thursday, October 25 
Where: River Island Clubhouse 
How Much: $75 admission; $20 drinks (three alcoholic beverages, unlimited soft drinks), $5 single drink; $20 raffle tickets
More Info: csrlt.org