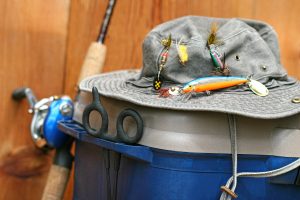 Clarks Hill Lake is home to some of the best fishing in the southeastern United States.
Clarks Hill Lake has a large population of game fish including striped bass, hybrid bass, catfish, crappie and many other species. Yellow perch fishing is popular below the dam. On average, the Georgia and South Carolina Departments of Natural Resources stock the lake with more than 220,000 striped bass and 610,000 hybrid bass each year.
The two state agencies have a reciprocal license agreement, so residents of both states may fish most areas on the lake (from boat or shoreline) or its tailwaters with a license from either state. Anyone age 16 and older must have a current license in possession to fish. Licenses are available at select marinas, sporting goods and hardware stores, bait and tackle shops and each state's Department of Natural Resources by mail, phone or online.
An annual recreational fishing license costs $15 for Georgia residents age 16-64 and $10 for anglers under age 16. Ages 65 and older are eligible for a free lifetime license.
Fishing from the shore or a boat is permitted in most areas of the lake except at boat ramps, courtesy docks and any area marked as restricted or prohibited access. Many areas along the shore are marked specifically for fishing. Fishing piers are also located at several lake recreation areas.
Free Fishing Days
If you've ever wanted to try fishing or take the kids, June 5 and June 12 are the perfect days to test the waters. On these two days — Free Fishing Days in Georgia — no fishing license is required.
Free Fishing Tackle Loaner Program
The Georgia Department of Natural Resources' Fishing Tackle Loaner Program offers rods, reels and tackle box equipment free of charge for the day as long as the supply lasts. Visit georgiawildlife.com/Fishing/TackleLoaner for a list of participating parks.