The Drive, Chip and Putt Contest, which was canceled last year because of the coronavirus pandemic, will take place this year on Sunday, April 4 at Augusta National Golf Club. Golf Channel will broadcast the event live.
A joint initiative founded in 2013 by the Masters Tournament, United States Golf Association and the PGA of America, the contest is a free nationwide junior golf development competition aimed at growing the game by focusing on the three fundamental skills of golf.
The contest is open to boys and girls ages 7 – 15. They compete in separate divisions in four age categories: 7-9 years old, 10-11 years old, 12-13 years old and 14-15 years old. The 80 finalists advance to the Drive, Chip and Putt competition at Augusta National through local, subregional and regional qualifying events. The regionals are conducted at 10 sites, and the overall champion in each of the boys and girls divisions from the four age categories advance to the national finals.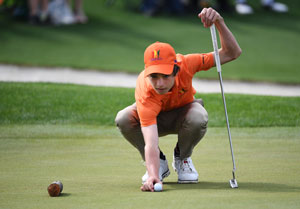 Each national finalist this year will be invited to compete at Augusta National in the same age division for which he or she previously qualified in 2020, regardless of their age.
Participants hit three shots per skill (drive, chip and putt) for a total of nine shots. Points are accumulated per shot at each skill. The overall champion in each division is determined by accumulating the most points between all three skills.
Registration for the 2021 – 2022 Drive, Chip and Putt qualifying also is open at DriveChipandPutt.com. Local qualifying begins May 1, and it will continue throughout the summer with 330 events in all 50 states.
"Drive, Chip and Putt is a fun, accessible way for boys and girls of all skill levels to enjoy playing the game, and we are excited to offer this opportunity once again for participants across the country," says Fred Ridley, chairman of Augusta National Golf Club and the Masters Tournament. "We appreciate the commitment of our partners at the USGA and PGA of America in our efforts to conduct this year's qualifiers responsibly and provide a pathway for juniors to develop a lasting connection with golf."
By Betsy Gilliland