Although a limited number of patrons will be in attendance, the second Augusta National Women's Amateur will be held as scheduled this year.
The inaugural Augusta National Women's Amateur in 2019 was a display of camaraderie, sportsmanship and exciting golf. After being canceled in 2020 because of the worldwide coronavirus pandemic, the tournament is back this year.
Scheduled for March 31 – April 3, the Women's Amateur will feature 85 players from around the world to compete for the championship.
"On behalf of the membership at Augusta National, it is my distinct honor and privilege to welcome these talented competitors to the 2021 Augusta National Women's Amateur," says Fred Ridley, chairman of Augusta National Golf Club and the Masters Tournament. "While the wait for the return of this championship has been longer than expected, the excitement generated by the sportsmanship and competitive spirit showcased in the inaugural edition still resonates with us today. We look forward to hosting this elite field this spring and showcasing the future of the women's game."
Beginning the week before the 85th Masters, the amateur golfers will compete in 54 holes of stroke play. The field will be cut to 30 players after 36 holes. The first two rounds will take place on the Island and Bluff nines at Champions Retreat Golf Club on Wednesday, March 31 and Thursday, April 1.
The entire field will play Augusta National for an official practice round Friday, April 2. The final round for those who make the cut will take place at Augusta National on Saturday, April 3.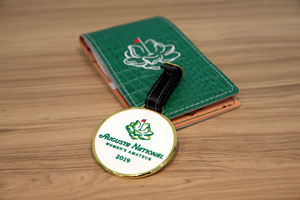 Jennifer Kupcho, who now competes on the LPGA Tour, won the inaugural championship two years ago. The world's top-ranked amateur at the time, she played the final six holes in five under par, including an eagle on the par-five 13th at Augusta National, to take the title.
Tickets to the tournament are sold out following an online ticket application process. No tickets will be available at the gates, and a limited number of patrons will be allowed to attend this year's event.
"Following the successful conduct of the Masters Tournament last November with only essential personnel, we are confident in our ability to responsibly invite a limited number of patrons to Augusta National in April," Ridley says. "As with the November Masters, we will implement practices and policies that will protect the health and safety of everyone in attendance. Nothing is, or will be, more important than the well-being of all involved. While we are disappointed that we will be unable to accommodate a full complement of patrons this year, we will continue our efforts to ensure that all who purchased tickets from Augusta National will have access in 2022, provided conditions improve."
NBC Sports will produce and broadcast three hours of live final-round coverage at Augusta National. Golf Channel will deliver onsite highlights, live reports and news coverage throughout the event.
By Betsy Gilliland