From the absence of Arnold Palmer for the first time in 62 years to a major victory for Sergio Garcia at long last, the 2017 Masters Tournament tugged at heartstrings from start to finish 
At the 2017 Masters Tournament, the spirit of winners past loomed large over the competition. The opening round began with a poignant tribute to Arnold Palmer, who died in September 2016, at the honorary starters ceremony, and the final round fell on what would have been the 60th birthday of Spain's Seve Ballesteros, the two-time Masters champion who died in 2011. The significance of that date was lost on no one, especially since the final round began with Spanish golfer Sergio Garcia in a tie for the lead and in prime position to win his first major title.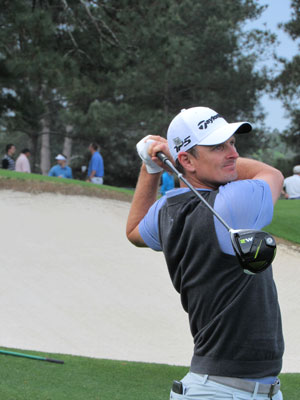 When he was growing up, Garcia said, he idolized Ballesteros and another two-time Masters winner from Spain, José Maria Olazabal.
"I don't even know how much it would mean to be able to join both of my idols as a Masters winner," he said after the third round. 
Just 24 hours and an extra hole later, however, he found out. Garcia, whose career sometimes had been plagued by petulance and self-doubt, bested Justin Rose of England on the first hole of a sudden death playoff for the victory.
He said he thought about Ballesteros several times during the final round. "I'm sure he helped a little bit with some of those shots and some of those putts," Garcia said.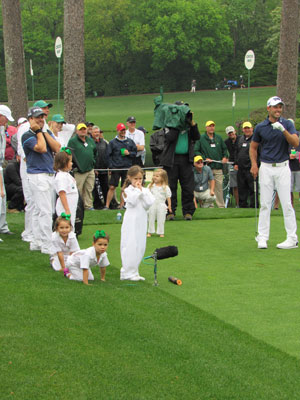 The Elements and Emotion
While it took an extra hole to decide the Masters on Sunday, rainy weather made it difficult for players to get in practice holes at the beginning of the week. The Monday practice round was suspended from noon until 1:45 p.m. A tornado watch suspended play for the day about 45 minutes later. Sunshine and balmy temperatures prevailed on Tuesday, but inclement weather returned Wednesday.
A siren sounded about 10 a.m. to clear the golf course because of approaching storms, and play was suspended for about two-and-a-half hours. The popular Par 3 Contest got a late start at 12:30 p.m. The reprieve was short-lived, however, as inclement weather closed the golf course again about an hour later for the remainder of the day.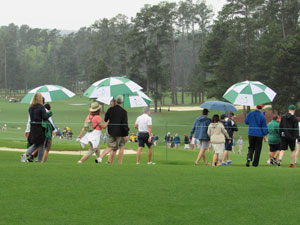 Even though six threesomes teed off on the nine-hole course, the Par 3 ultimately was canceled for the first time in its 57-year history. No winner was declared. And with no winner, there was no jinx. A golfer has never won the Par 3 and the Masters in the same year.
Wednesday morning, Billy Payne, chairman of Augusta National Golf Club and the Masters, remembered Palmer, a four-time green jacket winner, during his annual remarks.
"For the first time in over 60 years, our sport is without its preeminent hero – a man whose greatness as a player and a champion was exceeded only by his qualities as a man. Arnold Palmer let us all into his life, not from the distance that is typically maintained between a superstar and a fan, but into his life close-up, so that we could literally push him to greatness and regale in his accomplishments as though they were our own," he said.
Payne said the traditional honorary starters ceremony, where Palmer served as an honorary starter from 2007 through 2016, would be a time for "an emotional good-bye, but at the same time, an even more powerful thank you to the man we dearly love."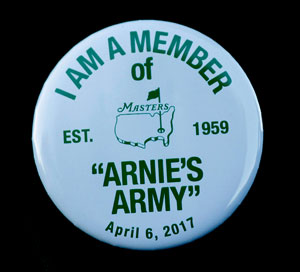 Capitalizing on Experience
On Thursday morning, Payne escorted Palmer's wife, Kit, to the first tee and draped the golfer's green jacket over an empty white chair. As he spoke to the throng of patrons surrounding the first tee for the ceremony, honorary starters Gary Player and Jack Nicklaus brushed back tears.
"Arnold Palmer was my friend. He was your friend," the chairman said. "Despite all of his fame and fortune, he always had time for all of us."
He concluded his remarks by asking for a moment of silence to remember Palmer before calling on Player to hit the first tee shot. Nicklaus followed, lifting his hat and looking skyward before striking his ball.
Augusta National also gave a button that read, "I am a Member of Arnie's Army," to every patron on the grounds for the opening round.
Other fan favorites were missing in action from the 81st Masters as well. Tiger Woods had announced the Friday before the tournament that health reasons would prevent him from competing for the third time in four years, and Dustin Johnson withdrew Thursday afternoon.
Johnson, who was ranked number one in the world at the time and already had three consecutive PGA tour victories in 2017, injured his back when he slipped and fell at his rental house Wednesday afternoon. Hitting balls on the range just before his tee time, he realized he was unable to play. "I couldn't make a good backswing," Johnson said. "Every time right at impact, it would just catch."
Weather continued to be a factor when the tournament got underway. The 93 players left in the field after Johnson's withdrawal battled harsh conditions all day in cool temperatures and blustery winds with 30- to 40-mph gusts. At the end of the first round, Charley Hoffman sat atop the leaderboard with a four-shot lead. He carded a 65 on a day that the average score was 74.978.
Garcia had 17 pars and a birdie on No. 8 to shoot 1-under-par 71 on Thursday, finishing six shots behind Hoffman in an eight-way tie for fourth place. "It's very difficult when it's this gusty. It's hard to figure out the right clubs, and you need to get a few breaks," he said after his bogey-free round.
The cold and wind continued on Friday, before dying down in the afternoon. Garcia got off to a hot start, birdieing the first three holes. He had six birdies and three bogies in the second round to shoot 3-under-par 69 and finish at 4-under in a four-way tie for the lead with Hoffman, Thomas Pieters and Rickie Fowler.
"The more experience you have here, the more you know how to approach some of these holes and know what's going on," said Garcia, who was playing in his 19th Masters. "But it definitely helps if you've been around a little bit, because you know what to expect, and once you realize that sometimes funny things are going to happen with good shots, and you can accept that, then you can do better."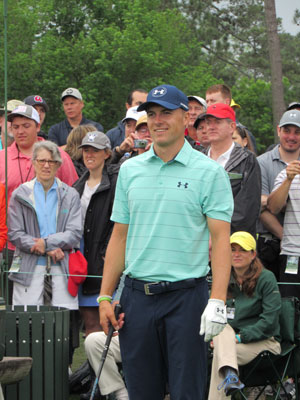 Lucky 13
At the end of the second round, 53 players, including two of five amateurs, made the cut at 6-over-par 150.
In the third round Garcia had four birdies in a two-under round of 70, tying Rose for the 54-hole lead at 6-under-par. One of those birdies came at the 13th hole after his second shot on the dogleg par 5 bounced onto the bank of the Rae's Creek tributary and stayed dry. He nearly holed his chip shot, leaving a tap-in for birdie.
"I've definitely had some good breaks through all three rounds – 13 obviously was one of them," Garcia said.
He wasn't the only one to conjure up a little magic on No. 13. After Jordan Spieth's tee shot landed in the pine straw to the right of the fairway, he knew just what to do with his second shot. He could be heard on Masters.com "Amen Corner" coverage discussing the situation with his caddie, Michael Greller. "What would Arnie do?" Spieth asked.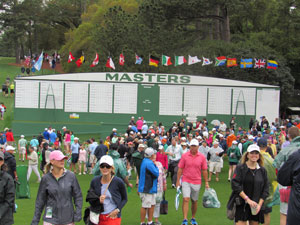 "Hit it to 20 feet," the caddie replied without hesitation.
Spieth's four-iron shot stopped 29 feet from the pin on the par-5, and he two-putted for birdie.
Rose, the 2013 U.S. Open champion and reigning Olympic gold medalist, birdied five of the final seven holes, including No. 13, to post the best round of the day – a 5-under-par 67.
"You've got to sort of pick your moments and stay disciplined out there," he said. "That's the good thing about this golf course is that if you are spot on and you are on top of your game, it will reward you."
Garcia said he would try to make as many birdies as he could in the final round. "Having a chance of winning a major and winning here at Augusta, it's extra exciting," he said.
His luck continued at the 13th hole on Sunday after his tee shot nicked a tree and landed against a bush, forcing him to take a one-stroke penalty for an unplayable lie. He punched out and hit a wedge to the green, draining an eight-foot putt to save par. Rose maintained his two-shot lead after missing a six-foot birdie putt.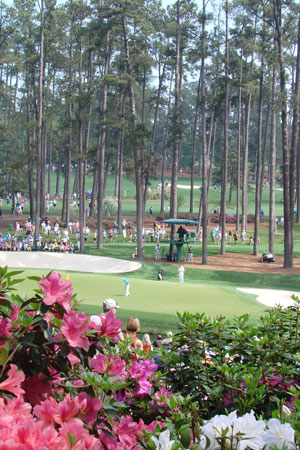 "That little two-shot swing there was kind of when he was back in the tournament," Rose said. "I feel like if he misses at that point, I make – I'm four clear and I've got my eye on Thomas Pieters and Matt Kuchar instead."
Riding his momentum, Garcia birdied No. 14 and eagled No. 15. Rose answered with a birdie at the 15th hole and gained a one-stroke advantage with a birdie at No. 16. After Rose bogeyed the 17th hole, the two competitors headed to the 18th tee tied at 9-under.
Belief and Encouragement
Both players settled for par on No. 18 after missing birdie tries on the 72nd hole to set up the final showdown. After his drive landed in the trees to the right of the 18th fairway, Rose bogeyed the first hole of the sudden death playoff. This time Garcia's putt curled into the hole from the left side for a birdie, and the green jacket belonged to him. The appreciative gallery, recognizing his long-overdue major championship, chanted "Ser-gee-oh."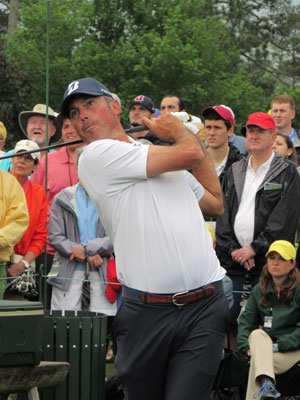 Charl Schwartzel, the 2011 Masters champion, finished in third place with a Sunday charge that included six birdies and two bogeys. Kuchar, whose final round 67 included an ace on No. 16, and Pieters, a Masters rookie, finished T4.
"It came down to the back nine on Sunday here, which is what this tournament is famous for," Rose said.
Playing in his 74th major championship, Garcia at long last found the calm and equanimity he needed to win. He credited his victory to a positive attitude that was fostered by self-belief and words of encouragement from friends, family, his then-fiancé and one of his idols – Olazabal.
"To be able to join him and Seve as Masters champions from Spain, it's unbelievable," Garcia said. 
By Betsy Gilliland