A look inside the new Masters Golf Shop that opened in 2018
Need a Masters Tournament garden gnome dressed in a white caddie jumpsuit? How about an infant caddie jumpsuit onesie for the future golf star in the family? Maybe Masters playing cards, pajama pants, bowties, vintage signage, temperature-controlled cups, dog leashes or dog bowls are more your style. A new Masters Golf Shop, which opened last year, has it all – along with plenty of other items you never knew you needed.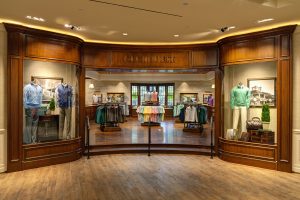 Patrons who enter the Augusta National Golf Club grounds through the main gate can't miss the Golf Shop, located along the pedestrian corridor between the tournament practice facility and the No. 1 fairway. And whether you're buying for friends, family members or yourself, it's hard to resist the Masters merchandise inside.
In a project that took 20 weeks to complete from the demolition of the old edifice to the construction of the new building, the Golf Shop has double the floor space of the previous shop. Throughout the shop, 385 mannequins (yes, there's even a dog mannequin) model apparel featuring the famous Masters logo. Hats are the top seller, and the merchandise area has 125 different styles along the headgear wall in the back and throughout the shop.
The shop includes 64 checkout registers, and an expanded check stand and shipping facility are attached to the exit area for those who want to watch golf unencumbered by their purchases.
There are two other golf shops on the grounds, plus additional merchandise stands throughout the golf course. (Of course, there's also the clubhouse pro shop, but the average bear can't go in there.) Happy shopping, y'all.
By Betsy Gilliland