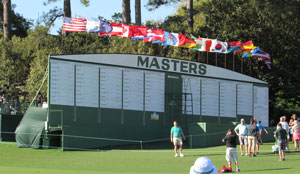 Magnolia Lane – tree-lined main entrance to Augusta National
Founders Circle – two plaques honoring founding members Clifford Roberts and Bobby Jones at the base of the flagpole in front of the clubhouse
Crow's Nest – a cupola atop the clubhouse that provides tournament housing for amateur players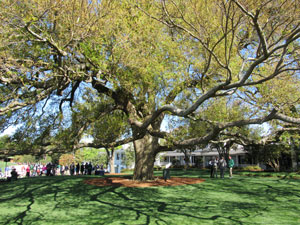 Big Oak Tree – a gathering spot for media interviews behind the clubhouse
Rae's Creek between the 11th and 12th greens
Hogan Bridge at No. 12 green
Nelson Bridge at No. 13 tee
Sarazen Bridge at No. 15 green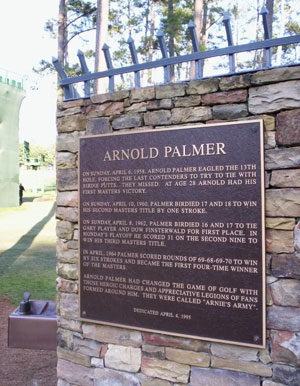 Arnold Palmer Plaque behind No. 16 tee
Jack Nicklaus Plaque between Nos. 16 and 17
Record Fountain to the left of No. 17 green
Augusta National Golf Club cabins
Ike's Pond – a spring-fed, 3-acre pond on the Par-3 Course behind Eisenhower Cabin
Par 3 Fountain – adjacent to No. 1 tee on Par 3 course; includes list of Par 3 Contest winners
Prohibited Items
• Cell phones, beepers, tablets and other electronic devices
• Any device capable of transmitting photo/video*
• Backpacks, bags and purses larger than 10" x 10" x 12" (in its natural state)
• Cameras on tournament days**
• Weapons of any kind (regardless of permit)
• Radios/TVs/noise- or music-producing devices
• Two-way or other talk radios
• Folding armchairs/rigid type chairs
• Flags/banners/signs
• Strollers
• Food/beverages/coolers
• Golf shoes with metal spikes
• Ladders/periscopes/selfie sticks
*Fitness tracking bands and electronic watches are permitted. However, they cannot be used for phone calls, emails, text messages and other photo, video or data recording and transmission.
**Cameras (still photography/personal use only) are allowed at practice rounds on Monday, Tuesday and Wednesday.
Violation of these policies will subject the ticket holder to removal from the grounds and the ticket purchaser to the permanent loss of credentials.
Tournament Amenities: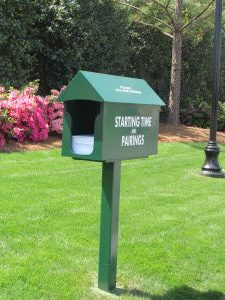 Automated teller machines
Concession stands
First aid stations
Golf shops
Information centers
Lost and found
Merchandise shipping/check stands
Message center
Pairing sheets with course map and tee times
Parking
Picnic areas
Patron photos (tournament days only)
Restrooms
Scoring information
Spectator guides
Telephones
Water fountains
Autograph Policy
Autograph seeking is only allowed around the practice range and on the Par 3 course during the Par 3 Contest. A No Autograph Policy will be enforced on the golf course for practice and tournament days. 2021 Note: To help maintain social distancing, there is a no autograph policy enforced on the grounds at all times.
Re-Entry Policy
Patron tickets will be limited to a total of three entries per day. 2021 Note: Patron tickets are valid for one gate entry per day. Additional entry will not be permitted.
Parking
Free Masters parking is available at Augusta National Golf Club on a first-come, first-serve basis.