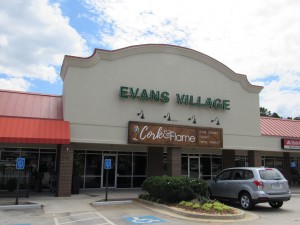 Columbia County has a plateful of new dining establishments as well. Cork & Flame, which includes fine dining, tapas and a wine market, opened this summer on Evans to Locks Road. 
Diablo's Southwest Grill opened in Mullins Colony on Washington Road earlier this year, and several other eateries including McAlister's Deli, Cold Stone and Tropical Smoothie Café are coming to the shopping center. In addition, Edible Arrangements has moved into Mullins Colony. Nothing Bundt Cakes has opened in Mullins Crossing. 
Dunkin' Donuts opened a store on Furys Ferry Road in the former Sonic location this summer. Bogey's Grill opened in the Village at Furys Ferry in the former Birddog Grille site on Evans to Locks Road this summer as well.
Chicken Salad Chick opened in a new building on the former Evans Diner site in January. The Flying Biscuit Café and Rooted Coffeehouse are among several restaurants that have located in the Market Place at Riverwood. Ironwood Tavern also is coming to the Riverwood area.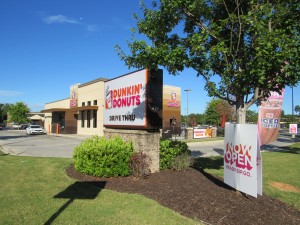 In the past year several new restaurants have opened in the Gateway area including Starbucks, Firehouse Subs, McAlister's Deli and Your Pie. A new Shane's Rib Shack location also opened in the Gateway area in February. Dunkin' Donuts, Dairy Queen and La Cocina De El Rey have opened in the area as well. In addition, Habanero's and Teriyaki Express are coming to the Gateway area. A&M Beverage also opened on Lewiston Road.
Grovetown will get a new restaurant when Embers Grille, which closed its Martinez location last year, opens on East Robinson Avenue this fall. Olde Time Burgers also has opened in the Shoppes at Ivy Falls
In Harlem work was slated to begin in late summer or early fall on a new Hardee's on the former site of Watts Auto and Tire on West Milledgeville Road. The building will be solid brick and include outdoor dining as well as an ingress and egress for golf cars. 
Another restaurant also could be on the menu for Harlem at the current Oliver Hardy Museum. The museum is slated to relocate to the Columbia Theatre building, and the city's Urban Redevelopment Authority, which has an option on the property, plans to market it as a new restaurant site. 
"The city would have to sell the building to the highest bidder, but URAs can seek out specific businesses," says Cook. "We're hopeful that we'll get a restaurant in Harlem."