Pumpkin Bread Pudding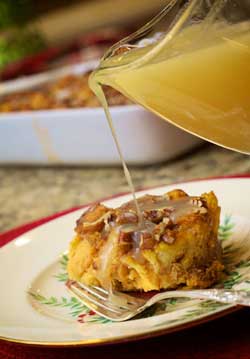 1 large loaf challah or French bread, cut into cubes (about 10 cups)
2 cups heavy cream
2 cups milk
5 eggs
1 1/2 cups sugar
1 1/2 teaspoons cinnamon
1 (15-ounce) can pumpkin
1/2 cup chopped pecans
Preheat oven to 350 degrees. In large bowl, whisk together cream, milk, eggs, sugar, cinnamon and pumpkin. Add bread cubes and toss gently to coat. Let sit for 15 minutes. Lightly coat a 10-by-14-inch baking pan with butter or cooking spray. Pour bread and egg mixture into pan and press gently. Sprinkle pecans evenly over top. Bake 50-60 minutes or until toothpick inserted in center comes out clean. Serve warm or room temperature with Rum Sauce (recipe below). Makes 12 servings.
Rum Sauce

1/2 cup (1 stick) butter
1/2 cup heavy whipping cream
1 1/2 tablespoons rum or 1 teaspoon rum extract
1 cup sugar 
Combine all ingredients in saucepan over medium heat. Cook and stir until mixture is smooth and sugar is dissolved. Do not boil. Makes about 2 cups.
By Ginny McCormack Ehrhart, Georgia cookbook author, radio personality and business