Tradition and nostalgia at a working farm in North Georgia are a magical way to get in the holiday spirit
The young and the young-at-heart might stay awake for hours on Christmas Eve, hoping to catch a glimpse of Comet and Cupid, Donner and Blitzen and company. Most likely, however, they'll drift off to sleep before they hear the prancing and pawing of each little hoof on the rooftop.
Before the eight tiny reindeer begin their trek around the globe on the night before Christmas, however, Comet and Cupid will be accepting visitors.
People can find the reindeer – and lots more – at Pettit Creek Farms in the North Georgia foothills of Cartersville, just north of Lake Allatoona.
Animal Instincts
With live reindeer and Christmas light displays, Pettit Creek Farms, an 80-acre working family farm, offers all the warmth and charm of a Country Christmas. No reservations are required for groups of 25 or fewer people. Having fun, however, is a must.
To get in the holiday mood, visitors can take a drive or a hayride through more than a mile of Christmas lights. All packages also include a visit with Santa (Thursday – Sunday) and the live reindeer at Santa's Cottage and access to the petting zoo.
Santa and his reindeer love to pose for pictures, too. However, St. Nick has other plans on November 29, December 3 and December 4, so he will not be at the farm those evenings.
Visitors can experience a live nativity with animals as well. Anyone who feeds the camel a treat just might get rewarded with a grateful smooch.
The petting zoo includes the usual suspects such as a cow, donkey, chicken, turkey, pig, goats, ponies and sheep. However, they are joined by some exotic friends such as the aforementioned camel, a zebra, a Patagonian cavy, an emu and buffalo.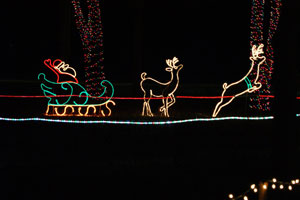 Warm & Fuzzy
In case visitors start to get a little chilly, they can warm up by the fire and enjoy s'mores, funnel cakes, hot chocolate and more from the onsite concession stands. Patio heaters will be available as well (but drinking hot chocolate is more fun).
To complete the prefect Country Christmas, visitors come together as a family and select a fresh-cut tree for their homes. The farm offers #1 Premium Christmas Trees, and they're standing in water to stay fresh.
For guests to make the most of their visit to the farm, Pettit Creek offers a few tips:
Keep vehicle headlights on while driving through the lights display for everyone's safety.
Wear shoes that can get dirty or are easy to clean. After all, this is a working farm, and there is much fun to be had off the gravel path.
Bring a small blanket for the hayride to stay warm on cold nights.
In addition, masks are not required. However, they are highly recommended in places where social distancing is not possible.
If You Go:
What: A Country Christmas
Where: Pettit Creek Farms, Cartersville, Georgia
When: Thanksgiving – December 30; 6 p.m. – 9 p.m. Tuesday-Thursday and Sunday; 6 p.m. – 10 p.m. Friday-Saturday; closed Monday; open Christmas Eve and Christmas Day
How Much: Drive thru is $20 per carload (1 – 8 people), $25 per van (9 – 15 people), $35 per bus (16 – 22 people, $3 each for any additional people); hayride is $10 per person age 2 and older. Nonrefundable tickets are available online or at the gate. The date of online tickets can be changed, however.
More Information: pettitcreekfarms.com
By Morgan Davis