Covington sets the stage for visitors passionate about film tours, shopping, dining and romance
Breaking away from routine is one way to rekindle the flames of romance. Take time to focus on your love and light things up during an escape to Covington, Georgia, an ideal destination for a romantic retreat any time of year.
Covington, located about a two-hour drive west of Augusta along Interstate 20, has a picturesque historic square — so photogenic, in fact, that it portrayed the fictional town of Mystic Falls on the popular TV series "The Vampire Diaries" throughout its eight-season run.
Dubbed "Hollywood of the South," Covington is a key site for Georgia's film industry and has been home to more than 80 film productions, including "In The Heat of the Night," Vacation and Life of the Party to name just a few. Routinely on screen, Covington can spark a déjà vu feeling of familiarity even among first-time visitors.
Scene I: Snuggle In
Featured in many of the productions that have come to town, including "The Vampire Diaries," the Twelve Oaks Bed & Breakfast is a luxurious place to stay and gracefully staged for romance. Listed on the National Register of Historic Places, the home is considered to be an outstanding example of antebellum architecture — plus one of the largest at 12,000 square feet.
"The house was built in 1836, so it's actually older than the city of Atlanta," says Nicole Munn, founder and manager of the bed and breakfast.
Twelve Oaks' rich history includes a documented tie to Gone With The Wind. Munn explains that in February 1939 Margaret Mitchell saw a photograph of the house in the Atlanta Journal and sent the clipping to Wilbur Kurtz, an Atlanta historian and Civil War authority who was in Hollywood consulting with the set designers of Gone With the Wind, along with a note saying that she liked it for Ashley's home.
After purchasing Twelve Oaks out of foreclosure in 2011, Munn managed property renovations with meticulous attention to detail, balancing goals to preserve the structure's historic character with efforts to add modern amenities and conveniences — so you might use a skeleton key to enter a room with a flat screen TV.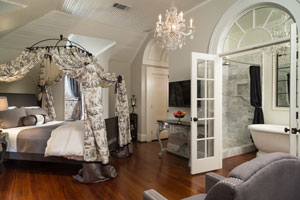 The inn's success can be measured by many accolades, including being named one of the "Most Romantic Places in Georgia" by Georgia Public Broadcasting (2016), "Top 10 Inns in the U.S." by BedandBreakfast.com (2015) and "Romantic Luxury Hotel of the Year" by Luxury Travel Guide (2016). The bed and breakfast is a member of Select Registry and the Southern Living Hotel Collection.
Once renovations were complete, the first two floors opened to guests in October 2012. The third floor opened the following year. All guestrooms boast remote control fireplaces and private bathrooms equipped with fixtures like a spa tub with aromatherapy and chromo-therapy, a copper bateau tub or an original ribcage shower from the late 1800s like the kind installed in Biltmore Estate and Buckingham Palace.
The beds are so cozy there's a temptation to sleep late, but breakfast aromas waft throughout the house each morning as an invitation to wander into the dining room between 9 and 9:30 a.m. and sit at either a romantic table-for-two by one of the windows or at the large table positioned under the home's most spectacular chandelier. Featuring fresh, local ingredients, the Southern breakfast serves dishes like sausage biscuits and gravy, peaches-and-cream-stuffed French toast, and strawberry shortcake pancakes with bourbon whipped cream.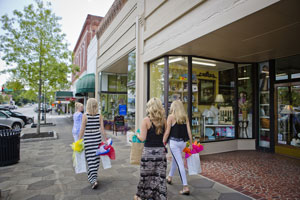 Scene II: Step Out
While you might be content to linger at Twelve Oaks, it's a short walk to historic downtown Covington's charming square lined by shops and restaurants. Discover hotspots on your own or be an informed explorer by picking up free maps of "Covington's Walk of Stars" and "Popular Television Shooting Locations" for free at On Location Gifts.
For ideas of neighborhoods to explore beyond the square, stop by the Visitors Information Center for details about Newton County's self-guided historical marker tour or Covington's self-guided architecture walking/driving tour featuring many restored Greek Revival mansions and Victorian cottages.
If music is among your shared passions, stop by McKibbens Music to shop for basic accessories and instruments from keyboards to banjos. Fletcher's Jewelry, The Alley Gift Shop and Sherwood's Flowers & Gifts may also be appropriate stops on a romantic shopping spree. Consider also the many clothing retailers, furniture and home décor boutiques, antique stores and specialty food shops.
Visit The Cork Boutique and Gifts to taste your pick among eight different wines any time the store is open (four half-glasses are $9). If you prefer beer, visit The Cork Growler & Cigar Shop next door (four two-ounce tastes are $7). Town Square Olive Oil stocks an array of olive oils and balsamic vinegars; taste them all for free in order to choose favorites to buy.
Indulge in a pampering spa treatment at Charmed Salon, Spa & Boutique. A couple's massage is one soothing possibility ($70 for 30 minutes; $130 for an hour). Other treatment options include deep tissue, hot stone, Thai yoga and Swedish massages, a variety of facials and foot reflexology.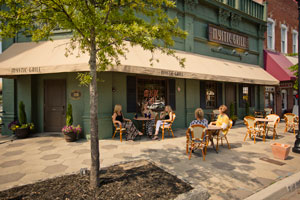 Hungry? Mystic Grill serves updated interpretations of Southern favorites like cilantro lime shrimp & grits, sweet tea fried chicken and braised pork pappardelle in various dining areas including a rooftop overlooking the square, which is especially romantic at sunset. RL's Off the Square features New Orleans-style Cajun favorites like gumbo, crawfish etouffee, red beans and rice, plus barbecued and blackened pork. Milazzo's Ristorante specializes in Italian and vegetarian fare, with mouthwatering dishes like truffle mushroom ravioli, eggplant parmesan and seafood alfredo, among others. Scoops is an ice cream shop meets Candyland that appeals to sweet teeth of all ages.
Mingle your creative juices at WildArt, painting a canvas together during an open "Just Paint" studio session or during a class of mutual interest. Painting classes also are available at Southern Heartland Visual Arts Center. Both studios sell work by local artists, perfect if you like art but don't consider your own talents worthy of framed display inside your home.
Get your hearts pumping at Chimney Park. The former Martin-Patterson estate is now a 12-acre urban green space that offers a multi-use fitness trail among its natural, quiet serenity. The Eastside Trail is a 2.5-mile long, 10-feet wide concrete path that runs among pastures and woods from Newton County Library to Eastside High School. As with any relationship, you choose how fast you want to go.
For more information, visit thetwelveoaks.com or gocovington.com.
By Hope S. Philbrick