Snow tubing, ice skating, light displays, carnival rides and more offer a flurry of fun all winter long
Swapping out swimsuits and flip flops for mittens and snow boots is a cool way to warm up the festivities at Margaritaville at Lanier Islands, near Atlanta.
With the debut of the attraction's License to Chill Snow Island, along with the updated Magical Nights of Lights, the "tropical" paradise is transformed into a winter wonderland for the holidays.
"Who's to say we can't have a parrot wearing a scarf?" asks Darby Campbell, president of Safe Harbor Development, which operates the entertainment venue.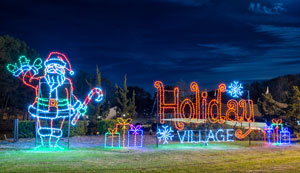 Let It Snow
Safe Harbor invested $3.5 million to create the snow-based activities and to upgrade the lights displays. License to Chill Snow Island offers a number of activities including two snow slides, an ice skating rink, two snow play areas, carnival rides and fire pits to make s'mores.
The snow tubing mountain is more than 400 feet high, and six large snow-making machines keep it covered with plenty of fresh snow.
"It's the longest, fastest snow tubing ride in the Southeast and potentially the whole East," says Campbell. "We graded the mountain and created the slope from scratch. We got to create it exactly the way we want it."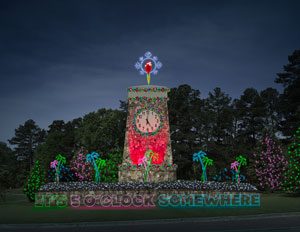 Reservations for 90-minute time slots are required for guests to visit the snow tubing mountain.
"Everybody likes snow in the winter," Campbell says.
Snow also blankets flat terrain, where kids or kids at heart can make snow angels, engage in spirited snowball fights or show off their skills in snowman contests.
Children also can have their photo taken with Santa Claus at Landshark Landing, one of several restaurants onsite where their parents can enjoy specialty winter drinks or adult beverages.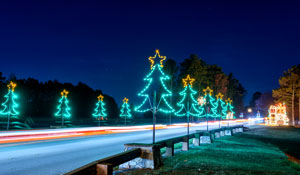 Carnival rides include a Ferris wheel and a merry-go-round. Snow Island also features warming stations and hot chocolate stations.
Light Up the Night
To get to Snow Island, visitors travel through the Magical Nights of Lights display. Celebrating its 26th year, Magical Nights of Lights has been revamped with 600,000 additional lights and a Margaritaville twist.
New light displays are added each year to make the experience memorable, and this season the brightly colored holiday lights exhibit features 19 new displays. They include the It's 5 O'clock Somewhere clock tower, a surfboard Christmas tree, a parrot wearing a Santa hat, giant candy canes, hanging snowflakes and a Christmas train. Classic favorites such as the 12 Days of Christmas display are back this year as well.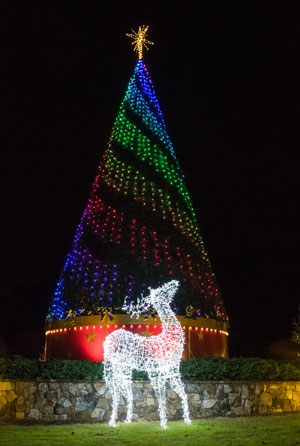 "The light show is 7 miles long, but there are very few spots that aren't filled with lights," says Campbell. "It is the largest in the Southeast in total investment."
Daily admission tickets as well as season passes to Margaritaville at Lanier Islands are available. A tram transports guests from the parking area to Snow Island and Landshark Landing.
"We went all out to provide a wonderful experience for our guests," says Campbell. "It's great fun, and it truly is done right. We want to turn Lanier Islands into one of the best places in the entire Southeast. With Snow Island and the Magical Nights of Lights, it is a year-round destination."
If You Go:
What: License to Chill Snow Island and Magical Nights of Lights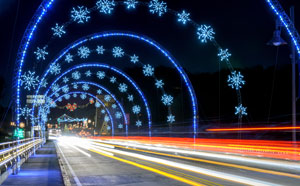 When: Snow Island is open through February 24, hours vary; Magical Nights of Lights is open through January 6 from 5 p.m. until 10 p.m. or 5 p.m. – 11 p.m. Thanksgiving and Christmas holidays
Where: Margaritaville at Lanier Islands, Buford, Georgia
How Much: Tickets to License to Chill Snow Island start at $24.99; entrance to Magical Nights of Lights starts at $43 per vehicle
More Info: margaritavilleatlanierislands.com
By Morgan Davis